Greece Teacher's Day
Greece Teacher's Day is held on January 30. This event in the third decade of the month January is annual.
Help us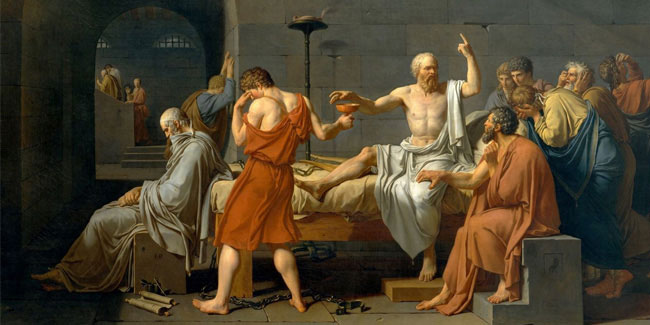 In Greece, the teacher has the following additional duties: answering the phones, filling out every bureaucratic form required by superiors, supervising students at recess, opening the school door for visitors to enter, making minor repairs. All this because there is no secretariat in the schools. Given that all teachers teach (even the principal) there is not one person to answer the phone. It's answered by a random person who just happens to be passing by. Of course there is no janitor to supervise the students at recess, open the door and make minor repairs like changing a broken lock.
Every year, on 30 January, the Christian Church commemorates together the three Great Fathers and ecumenical teachers, Basil the Great, Gregory the Theologian and John Chrysostom. In Greece, the Three Hierarchs are honoured as patrons of education and letters.
The feast of the Three Hierarchs was introduced into the Church in the mid-11th century by the scholar and metropolitan of Euchaea, John Mauropoda (1000-1070), during the reign of Emperor Constantine IX Monomachos (1000-1055). The feast of the Three Hierarchs, apart from its ecclesiastical character, also has an educational character in our country.
The educational character of the feast of the Three Hierarchs was established on 9 August 1841 by the academic council of the Othonian University (now the National and Kapodistrian University of Athens) and was first celebrated on 30 January 1842.
Similar holidays and events, festivals and interesting facts

International Day of Education on January 24
(3 December 2018 A/RES/73/25. Education is key to sustainable development);

National School Counseling Week in USA on February 5
(Held from the first monday of February);

National African American Parent Involvement Day on February 12
(second monday of february - NAAPID is a day for all parents to come to their child's school, see what their day is like and to support their child's educational future);

National FFA Week in USA on February 17
(National FFA Week always runs Saturday to Saturday and encompasses Feb. 22, George Washington's birthday. FFA is a dynamic youth organization that changes lives and prepares members for premier leadership, personal growth and career success through agricultural education. The letters "FFA" stand for Future Farmers of America);

Teachers' Day in Arab states on February 28
;

Social Work Month in USA on March 1
;

National Music in Our Schools Month in USA on March 1
;

Theatre for Life Month in USA on March 1
;

Youth Art Month in USA on March 1