Day of the Dead in Mexico
Day of the Dead in Mexico is held on November 1. Celebrated until November 2. This event in the first decade of the month November is annual.
Help us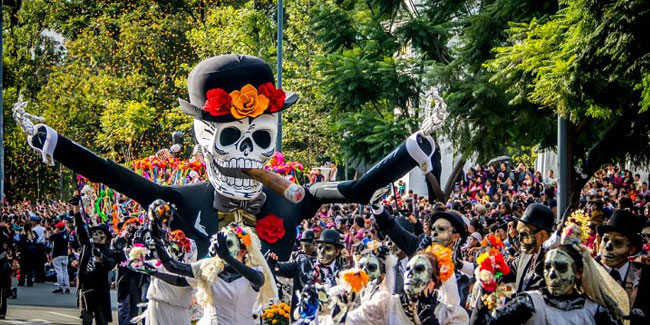 The Day of the Dead is a Mexican tradition celebrated on November 1 and 2. Its roots go back thousands of years, long before the arrival of the Spaniards. It has become a blend of Catholic tradition and Mexican mysticism, commemorating death as an element of life and as a way to remember and honor loved ones.
According to the belief, during this "Day of the Faithful Departed", the souls of the adults return back to the earthly world to enjoy the food that was prepared for them by their relatives and placed in the ofrenda. The objects they cherished the most, as well as their photographs are also placed on the Day of the Dead altars, so that people know to whom the ritual and the accompaniment is dedicated.
Similar holidays and events, festivals and interesting facts

World City Day on October 31
;

All Saints' Day a holy day of obligation on November 1
(a national holiday in many historically Catholic countries. And its related observance: Day of the Innocents, The first day of Day of the Dead or El Dia de los Muertos celebration. - Mexico, Haiti);

Santa Muerte on November 1
(Folk Catholicism, Mexico and Southwestern United States);

World Ecology and Ecologists Day on November 1
;

Day of the Dead on November 2
(the second day of Day of the Dead or El Dia de los Muertos celebration in Mexico);

World Sandwich Day on November 3
;

International Jeweler and Watchmaker Day on November 3
;

International Day for Biosphere Reserves on November 3