World Kindness Day
World Kindness Day is held on November 13. This event in the second decade of the month November is annual.
Help us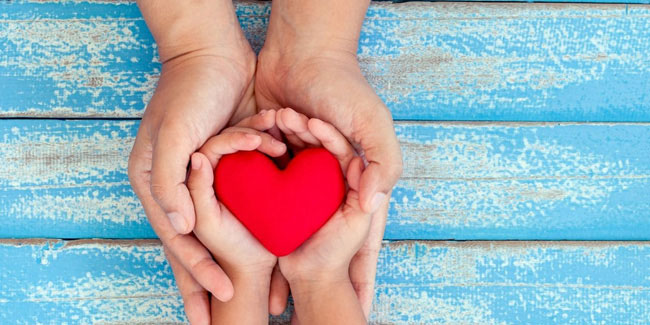 Kindness is a topic of interest in philosophy and religion. Kindness is a type of behavior marked by acts of generosity, consideration, rendering assistant or concern for others, without expecting praise or reward in return. Kindness was one of the main topics in the Bible.
World Kindness Day is an international observance on 13 November. It was introduced in 1998 by the World Kindness Movement, a coalition of nations' kindness NGOs (à non-governmental organization). It is observed in many countries, including Canada, Australia, Nigeria and the United Arab Emirates. Singapore observed the day for the first time in 2009. Italy and India also observed the day. In the UK, it is fronted by David Jamilly, who co-founded Kindness Day UK with Louise Burfitt-Dons.
Similar holidays and events, festivals and interesting facts

United Arab Emirates Flag Day on November 3
(The UAE Flag Day is commemorated on November 3 every year since it was first launched in 2013 by His Highness Sheikh Mohammed bin Rashid Al Maktoum, Vice-President and Prime Minister of the UAE and Ruler of Dubai);

International Day of Islamic Art on November 18
;

Ogoni Day on January 4
(Movement for the Survival of the Ogoni People);

Nigeria Armed Forces Remembrance Day on January 15
;

International Day of Human Fraternity on February 4
;

Mothering Sunday or Mother's Day on March 10
(United Kingdom, Western Christianity; celebrated on the fourth Sunday of Lent: Guernsey, Ireland, Isle of Man, Jersey, Nigeria);

Mother's Day in most of the Arab world on March 21
(Bahrain, Comoros, Djibouti, Egypt, Iraq, Jordan, Kuwait, Libya, Lebanon, Mauritania, Oman, Palestine, Qatar, Saudi Arabia, Somalia, Sudan, Syria, United Arab Emirates, Yemen)