Indonesia Mobile Brigade Day
Indonesia Mobile Brigade Day is held on November 14. This event in the second decade of the month November is annual.
Help us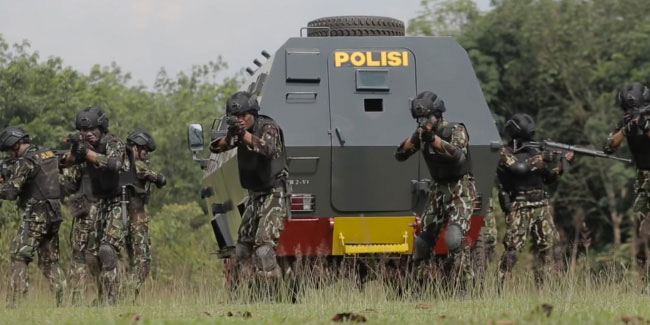 The Mobile Brigade Corps abbreviated Brimob is the special operations, paramilitary, and tactical unit of the Indonesian National Police (Polri). It is one of the oldest existing units within Polri. Some of its main duties are counter-terrorism, riot control, high-risk law enforcement where the use of firearms are present, search and rescue, hostage rescue, and bomb disposal operations. The Mobile Brigade Corps is a large component of the Indonesian National Police trained for counter-separatist and counter-insurgency duties, often in conjunction with military operations.
On 14 November 1946, Prime Minister Sutan Sjahrir reorganised the Polisi Istimewa into the Mobile Brigade (Mobrig). This day is celebrated as the anniversary of this Blue Beret Corps. This Corps was reconstituted to suppress military and police conflicts and even coups d'etat.
As of 14 November 1961, the Mobrig changed its name to Korps Brigade Mobil (Brimob), and its troops took part in the military confrontation with Malaysia in the early 1960s and in the conflict in East Timor in the mid-1970s. After that, Brimob was placed under the command of the Indonesian National Police.
Similar holidays and events, festivals and interesting facts

Father's Day in Indonesia on November 12
;

Teachers' Day in Indonesia on November 25
(Hari Guru);

Nusantara Day on December 13
(Indonesia);

Mother's Day in Indonesia on December 22
;

Ocean Duty Day in Indonesia on January 15
;

National Nutrition Day in Indonesia on January 25
;

Nyepi in Indonesia on March 11