Wedding day of Elizabeth II
Wedding day of Elizabeth II is held on November 20. United Kingdom. This event in the second decade of the month November is annual.
Help us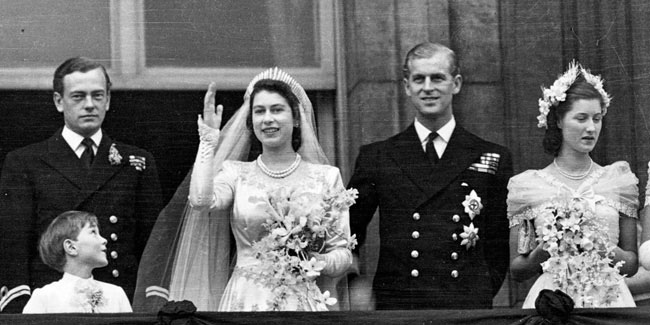 The wedding took place at 10:30 a.m. on November 20, 1947, in Westminster Abbey. On April 26 1923, The Queen's parents King George VI and Queen Elizabeth (then the Duke and Duchess of York) were also married at the Abbey. The Queen (then Princess Elizabeth) was the 10th member of The Royal Family to be married at Westminster Abbey.
The diamond fringe tiara was lent to The Queen on her wedding day, the frame of the gem broke as the bridge was putting it on and it had to be quickly repaired.
The Queen was the only person in the UK who does not need to have a driver's license in order to drive on public roads. After her father became King in 1936, Princess Elizabeth began studying constitutional history and law. Her Majesty also studied French, German and music when she was educated at home.
Similar holidays and events, festivals and interesting facts

Ben-Gurion Day in Israel on November 19
(Date for 2023. יום בן-גוריון);

Brazil Flag Day on November 19
(The current design of the national flag was officially adopted by Brazil on November 19, 1889);

Martyr Edmund Day in England on November 20
(Edmund the Martyr also known as St Edmund or Edmund of East Anglia, died 20 November 869, was king of East Anglia from about 855 until his death);

Martyrdom of Guru Tegh Bahadur in India on November 24
;

King Vajiravudh Memorial Day in Thailand on November 25
;

Maaveerar Day on November 27
(Tamil Eelam, Sri Lanka);

Day to Mark the Departure and Expulsion of Jews from the Arab Countries and Iran in Israel on November 30
(יום לציון היציאה והגירוש של היהודים מארצות ערב ומאיראן);

Day of Remembrance for all Victims of Chemical Warfare on November 30
(OPCW C-20/DEC.10)