Spitak Remembrance Day in Armenia
Spitak Remembrance Day in Armenia is held on December 7. This event in the first decade of the month December is annual.
Help us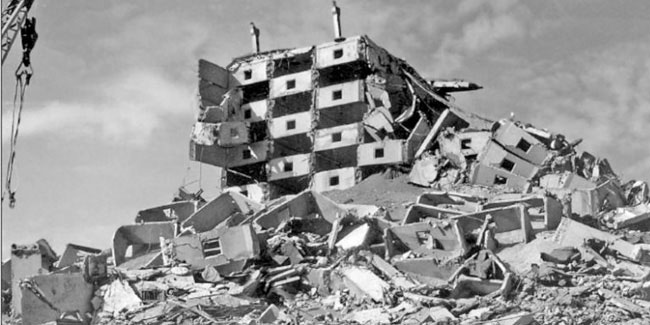 December 7 is the Spitak Earthquake Remembrance Day in Armenia. On this day, Armenian citizens commemorate the victims of the 1988 Armenian earthquake. Remembrance Day is marked with wreath-laying ceremonies and special church services.
The cities of Spitak, Gyumri, and Vanadzor were affected the most. Many buildings were destroyed. Most hospitals in the region collapsed, killing about 75 % of the medical personnel and destroying medicine and equipment. The Spitak earthquake killed 25,000 to 50,000 people and 31,000 to 130,000 people were injured. The city of Spitak was almost entirely destroyed during the earthquake.
The Spitak earthquake occurred on December 7, 1988, in the northern region of Armenia. It measured 6.8 on the surface wave magnitude scale. Some of the strongest shakings occurred in industrial areas with power plants, electrical substations, chemical, and food processing plants.
Similar holidays and events, festivals and interesting facts

National Day of Remembrance and Action on Violence Against Women in Canada on December 6
;

Martial Law Victims Remembrance Day in Poland on December 13
(Dzień Pamięci Ofiar Stanu Wojennego);

Nanjing Massacre Commemoration Day in China on December 13
;

Commemoration Day of 47 rōnin in Japan on December 14
;

National Wreaths Across America Day on December 16
;

Bo Aung Kyaw Day in Myanmar on December 20
;

Tenth of Tevet on December 22
(Date for 2023)