Nanking Massacre Memorial Day
Nanking Massacre Memorial Day is held on December 13. China. This event in the second decade of the month December is annual.
Help us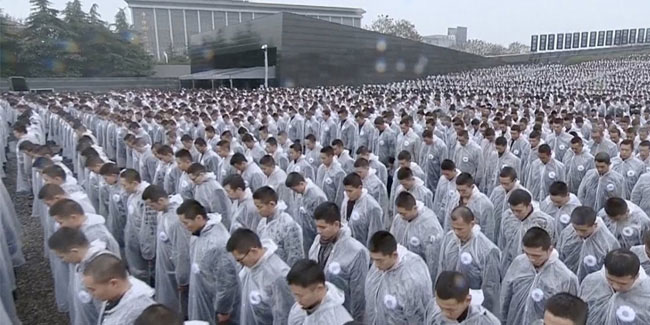 The National Memorial Day for the Victims of the Nanjing Massacre is a national memorial day observed in China on 13 December annually in honor of the Chinese victims of the Second Sino-Japanese War. The observance draws attention to Japanese war crimes during this period. It was established in 2014 by the Standing Committee of the 12th National People's Congress.
Starting on 13 December 1937, soldiers in the Imperial Japanese Army carried out the Nanjing Massacre in Nanjing, the capital of the Republic of China. The massacre lasted into January 1938 and killed numerous people (hundreds to hundreds of thousands according to Japanese publications, or over 300,000 according to most Chinese historians). This constituted a crime under international law, for which the perpetrators were tried in the International Military Tribunal for the Far East and the Nanjing War Crimes Tribunal after World War II.
Similar holidays and events, festivals and interesting facts

Birth of Sun Yat-Sen, also Doctors' Day and Cultural Renaissance Dayin the Republic of China on November 12
(Taiwan);

Nanjing Massacre Commemoration Day in China on December 13
;

Macau Special Administrative Region Establishment Day on December 20
;

Dong Zhi in East Asia on December 21
(Dongzhi Festival);

Learn from Lei Feng Day in China on March 5
;

Arbor Day in China on March 12
;

White Day in Japan on March 14
(also South Korea, Vietnam, Taiwan, Hong Kong, Malaysia and China on March 14, one month after Valentine's Day - ホワイトデ)