Day of victory over the counter-revolution in Cuba
Day of victory over the counter-revolution in Cuba is held on April 17. Since 1961. This event in the second decade of the month April is annual.
Help us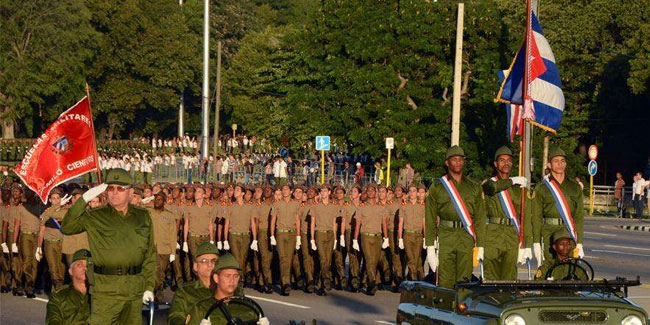 The Cuban Revolution was an armed revolt conducted by Fidel Castro and his fellow revolutionaries of the 26th of July Movement and its allies against the military dictatorship of Cuban President Fulgencio Batista. The revolution began in July 1953, and continued sporadically until the rebels finally ousted Batista on 31 December 1958, replacing his government. 26 July 1953 is celebrated in Cuba as Dia de la Revolución (from Spanish: "Day of the Revolution").
The Bay of Pigs Invasion was a failed landing operation on the southwestern coast of Cuba in 1961 by Cuban exiles who opposed Fidel Castro's Cuban Revolution. Covertly financed and directed by the U.S. government, the operation took place at the height of the Cold War, and its failure led to major shifts in international relations between Cuba, the United States.
Similar holidays and events, festivals and interesting facts

World Seagrass Day on March 1
;

Agrarian Reform Day or Peasant's Day in Cuba on May 17
;

Republic of Cuba Independence Day on May 20
(celebrates the independence of Cuba from the United States in 1902);

International Dravet Syndrome Day on June 23
;

International Family Planning Day on August 3
;

International Day against Dengue on August 26
;

World Turner Syndrome Day on August 28