Total Defence Day in Singapore
Total Defence Day in Singapore is held on February 15. This event in the second decade of the month February is annual.
Help us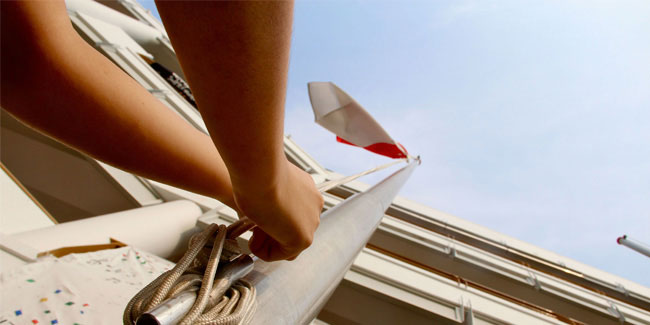 Total Defence in Singapore comprises the 6 pillars viz. Military, Civil, Economic, Social, Digital and Psychological Defence.
Military Defence is having a strong Singapore Armed Forces to deter aggression and protect the country.
Civil Defence provides for the safety and basic needs of the whole community so that life may go on as normally as possible during emergencies.
Economic Defence is the government, business and industry organising themselves to support the economy at all times.
Social Defence is about people living and working together in harmony and spending time on the interests of the nation and community.
Digital Defence requires every individual is the first line of defence against threats from the digital domain.
Psychological Defence is each person's commitment to and confidence in the nation's future.
Similar holidays and events, festivals and interesting facts

Grandparents Day in Singapore on November 26
(Fourth Sunday in November);

Motherís Day on May 12
(Anguilla, Antigua and Barbuda, Aruba, Australia, Austria, Bahamas, Bangladesh, Barbados, Belgium, Belize, Bermuda, Bhutan, Bonaire, Botswana, Brazil, Brunei, Canada, Cambodia, Cayman Islands, Central African Republic, Chad, Chile, China, Colombia, Congo, Dem. Rep., Congo, Rep., Cote d'Ivoire, Croatia, Cuba, Curaçao, Cyprus, Czech Republic, Denmark, Dominica, Ecuador, Equatorial Guinea, Estonia, Ethiopia, Faroe Islands, Fiji, Finland, Germany, Gabon, Gambia, Greenland, Ghana, Greece, Grenada, Guyana, Honduras, Hong Kong, Iceland, India, Italy, Jamaica, Japan, Kenya, Latvia, Liberia, Liechtenstein, Macau, Malaysia, Malta, Myanmar, Namibia, Netherlands, New Zealand, Pakistan, Papua New Guinea, Peru, Philippines, Puerto Rico, Saint Kitts and Nevis, Saint Lucia, Saint Vincent and the Grenadines, Samoa, Singapore, Sint Maarten, Slovakia, South Africa, Sri Lanka, Suriname, Switzerland, Taiwan, Tanzania, Tonga, Trinidad and Tobago, Turkey, Uganda, Ukraine, United States, Uruguay, Vietnam, Venezuela, Zambia, Zimbabwe);

Buddha's Birthday on May 15
(Buddhist festival - 灌仏会 - Matsuri, which is held in Japan. It is also referred to as Hana Matsuri, "Flower Festival");

Father's Day on June 16
(—elebrated on the third Sunday of June ÝÚ Argentina, Aruba, Canada, Costa Rica, France, Greece, Hong Kong, Hungary, India, Ireland, Kenya, Japan, Macao, Malaysia, Malta, Mexico, Netherlands, Pakistan, Peru, Puerto Rico, Singapore, Slovakia, South Africa, Sri Lanka, Trinidad and Tobago, Turkey, Venezuela, United Kingdom);

International Day of Deafblind Persons on June 27
;

Armed Forces Day in Singapore on July 1
;

Youth Day in Singapore on July 7