National Shortbread Day and National Bean Day in USA
National Shortbread Day and National Bean Day in USA is held on January 6. This event in the first decade of the month January is annual.
Help us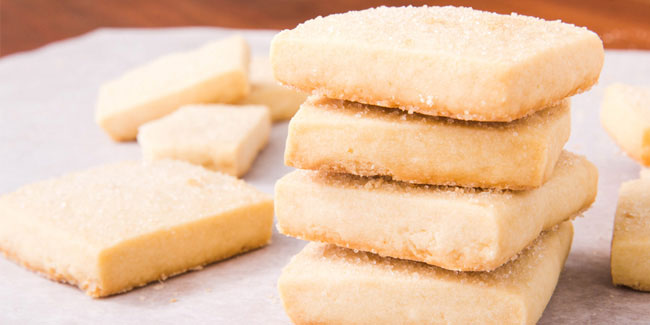 Shortbread is so named because of its crumbly texture (from an old meaning of the word "short", as opposed to "long", or stretchy). The cause of this texture is its high fat content, provided by the butter. The short or crumbly texture is a result of the fat inhibiting the formation of long protein (gluten) strands.
Shortbread may have been made as early as the 12th Century, however its invention is often attributed to Mary, Queen of Scots in the 16th Century. Petticoat Tails were a traditional form of shortbread said to be enjoyed by the queen.
It seems that shortbread cookies originated in Scotland, as the first printed recipe dates back to 1736 from a Scottish woman named Mrs. McLintock. Shortbread was defended by early Scottish bakers who fought to prevent shortbread from being classified as a biscuit to avoid paying a government tax on biscuits.
Similar holidays and events, festivals and interesting facts

National Whipped Cream Day in USA on January 5
;

International Fasting Day on January 5
;

Sausage Day in Clitheroe, Lancashire, UK on January 5
;

Strawberry Day in Japan on January 5
;

Epiphany Cake in Germany on January 6
;

National Bean Day in USA on January 6
;

Apple Tree Day on January 6
;

National Tempura Day in USA on January 7