National Ranch Dressing Day in USA
National Ranch Dressing Day in USA is held on March 10. This event in the first decade of the month March is annual.
Help us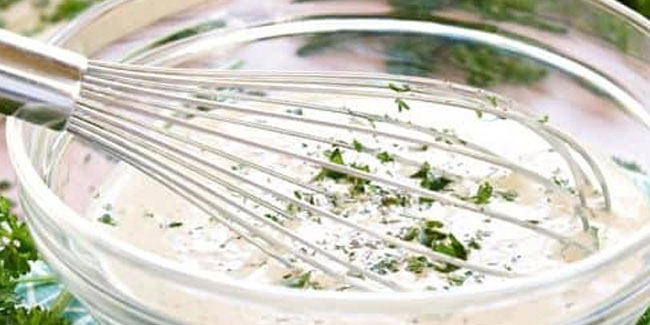 Ranch dressing is an American salad dressing usually made from buttermilk, salt, garlic, onion, mustard, herbs, and spices mixed into a sauce based on mayonnaise or another oil emulsion. Sour cream and yogurt are sometimes used in addition to, or as a substitute for, buttermilk and mayonnaise.
Ranch dressing was created in 1949 by a plumber-turned-cowboy. While working as a contract plumber in Alaska, Steve Henson started cooking for his coworkers and perfecting his buttermilk dressing recipe. Five years later he moved to California with his wife Gayle and bought a ranch. His famous buttermilk dressing soon became a staple at the dinner table of Hidden Valley Ranch and before long the Hensons started selling it to guests and local supermarkets. Over two decades later in 1972, the couple sold their name and recipe to Clorox for $8 million.
Similar holidays and events, festivals and interesting facts

National Meatball Day and National Crab / Crabmeat Day in USA on March 9
;

Tortilla Day or Saint Joan's Day in Spain on March 9
;

National Blueberry Popover Day in USA on March 10
;

Pretzel Sunday or Bretzelsonndeg in Luxembourg on March 10
(Fourth Sunday in Lent);

National "Eat Your Noodles" Day in USA on March 11
;

Oatmeal Nut Waffles Day in USA on March 11
;

National Milky Way Day in USA on March 12
;

National Baked Scallops Day in USA on March 12