National Pumpkin Spice Day in USA
National Pumpkin Spice Day in USA is held on October 1. This event in the first decade of the month October is annual.
Help us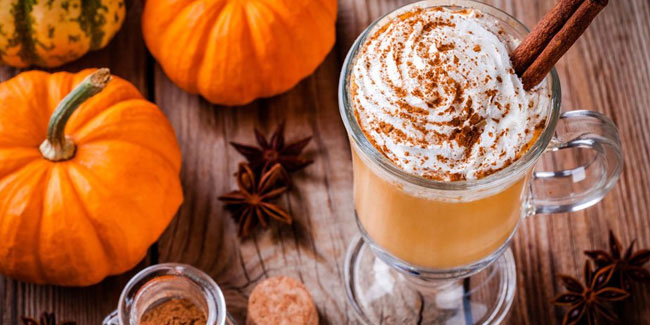 The word "pumpkin" showed up for the first time in the fairy tale Cinderella. Whether you love it or hate it, you can't deny that it's a staple of autumn in America.
"Pumpkin spice" was a thing well before Starbucks. According to Chicagoist, spice companies like McCormick started bundling common spices used in pumpkin pie as "pumpkin pie spice" in the 1950s. Pumpkin pies predated the premade spice by centuries.
Over 1.5 billion pounds of pumpkin are produced each year in the United States. Happy National Pumpkin Day!
How did pumpkin spice get to be so synonymous with the fall season? And just as there are devoted pumpkin spice aficionados, a divide exists. It seems like there isn't a middle ground - you either really, really, really like pumpkin spice or you really, really, really don't.
Similar holidays and events, festivals and interesting facts

National Chewing Gum Day and National Hot Mulled Cider Day in USA on September 30
;

Extra Virgin Olive Oil Day on September 30
(since 2016);

World Vegetarian Day on October 1
;

National Coffee Day in Japan and Sri Lanka on October 1
;

International Coffee Day on October 1
(At a meeting on 3–7 March 2014, a decision was taken by the International Coffee Organization to launch the first official International Coffee Day in Milan as part of Expo 2015);

World Cocoa and Chocolate Day on October 1
;

Coffee Day in El Salvador on October 1
(Día de la caficultura);

Peruvian Cocoa and Chocolate Day on October 1
;

Cocoa Day in Venezuela on October 1
;

Herring Holiday in Finland on October 2
;

World Farm Animals Day on October 2
;

Tofu Day in Japan on October 2
(Tofu No Hi)