No Bra Day
No Bra Day is held on October 13. On this day women are encouraged to forgo wearing no bra as a means to encourage breast cancer awareness. This event in the second decade of the month october is annual.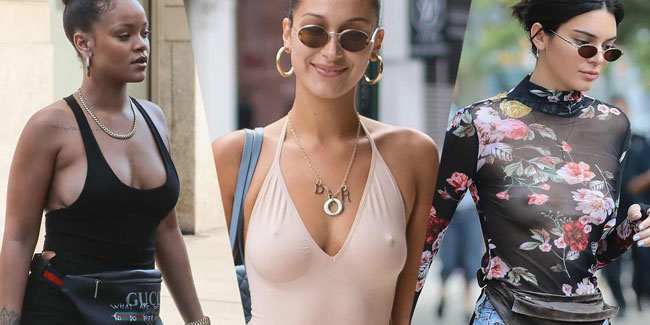 The movement started in 2011 and largely takes place on social media. See Instagram or Facebook or Google photos and videos from #NoBraDay. This hashtag was trending on Twitter. As of 2017 the day was observed by women in 30 countries, including New Zealand, Romania, Czech Republic, Greece, Malaysia, Scotland, India, and Ghana.
On this day, millions of women leave their bras at home to promote the cause of breast cancer awareness and remind women everywhere that they should get screened for breast cancer on a regular basis.
Some women embrace No Bra Day as a political statement while others prefer the comfort of discarding what they view as a restrictive, uncomfortable garment. The No Bra Day is meant to promote breast cancer awareness and to help raise money for research, so tell others about this National Day.
Go Topless women's rights movement and Go Topless Day, a protest in which women assert their legal right to go both braless and shirtless.
You're not raising awareness of anything but your boobs, and that's fine, but don't pretend. About 12% of women will be affected by breast cancer in their lifetime. Some 50,000 Brits are diagnosed with breast cancer every year.
Yes. The beautiful bikini top is perfect for summer wear, belly dance or night wear with jeans or shorts.
Similar events