Make Your Bed Day
Make Your Bed Day is held on September 11. This event in the second decade of the month September is annual.
Help us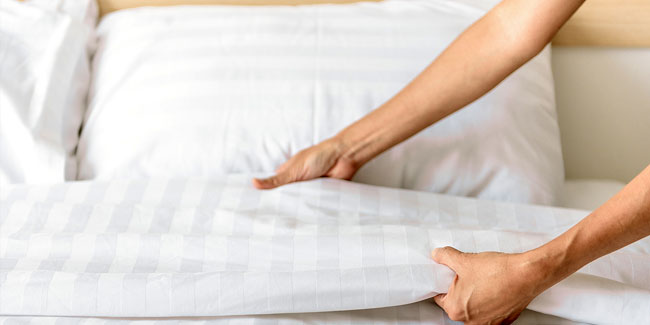 Your bed-making habits reveal a lot about your personality. According to a poll commissioned by Sleepopolis, who make their beds are morning people. If you don't like to make your bed, you're likely a night owl.
Making your bed can reduce your stress levels more than you have idea. If you keep your bed clean and organized, it will reflect in your entire personal space and your state of mind. It's important to feel everything in the right place so we can have a more organized mind and, consequently, a more organized life.
Similar holidays and events, festivals and interesting facts

Swap Ideas Day on September 10
;

No News Is Good News Day on September 11
;

Video Games Day on September 12
(The Nimrod was a computer built and displayed at the Festival of Britain in 1951 and designed to play a game called Nim);

Defy Superstition Day on September 13
;

Blame Somebody Else Day on September 13
;

Positive Thinking Day on September 13
;

Roald Dahl Day on September 13
;

Uncle Sam Day on September 13
;

Super Mario Bros Day on September 13
;

Fist of the North Star Day on September 13