Lucia Festival
Lucia Festival is held on December 13. A tradition that is widespread in the countries of Northern Europe: Sweden, Denmark, Norway. This event in the second decade of the month December is annual.
Help us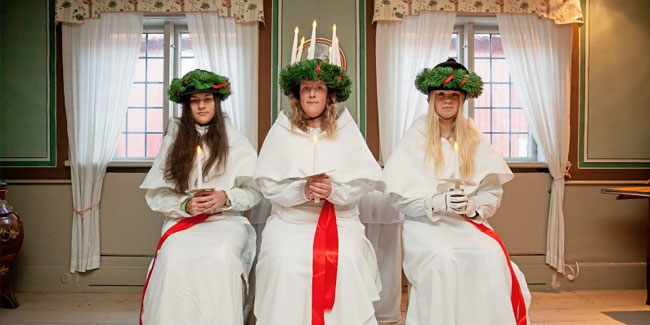 December 13 is just another day to most Americans, however in Sweden, it's a holiday. Saint Lucia's Day is one of the most unique elements of the Swedish holiday season.
St. Lucy was one of the early Christian martyrs, and the monks who brought Christianity to the Nordic countries. She also brought along tales of her martyrdom. St. Lucy died a horrible, gruesome death in 304 AD after she refused to give up her vow of chastity to marry the pagan to whom she was betrothed.
In the old "Julian" calendar, St. Lucia's Day generally fell on the same date as the Winter Solstice, when the days finally start to get longer again. In Sweden, it has come to mark the end of winter's darkness and cold.
The annual candlelit Lucia procession on 13 December is perhaps one of the more exotic-looking Swedish customs, with girls and boys clad in white full-length gowns singing songs together.
Similar holidays and events, festivals and interesting facts

Alfred Nobel Day or Nobeldagen on December 10
(Sweden);

Saint Lucia Day on December 13
(Denmark, Finland, Norway, Sweden and parts of Italy. Dedicated to Saint Lucia's independence from the United Kingdom in 1979);

Birthday of the Queen Silvia in Sweden on December 23
(an official Flag Day);

Christmas Eve in Austria, Denmark, Norway, Sweden, and Botswana on December 24
;

Boxing Day on December 26
(Belgium, Fiji, The Bahamas, Guyana, Trinidad and Tobago, Samoa...);

Second day of Christmas on December 26
(Western Christianity. Public holiday in the Netherlands, Poland, Norway);

St. Stephen's Day on December 26
(public holiday in Alsace, Austria, Andorra, Catalonia, Croatia, the Czech Republic, Germany, Hong Kong, Italy, Ireland, Luxembourg, Poland, Slovakia and Switzerland)