Vodici in Macedonia
Vodici in Macedonia is held on January 19. Baptism of Jesus Christ. This event in the second decade of the month January is annual.
Help us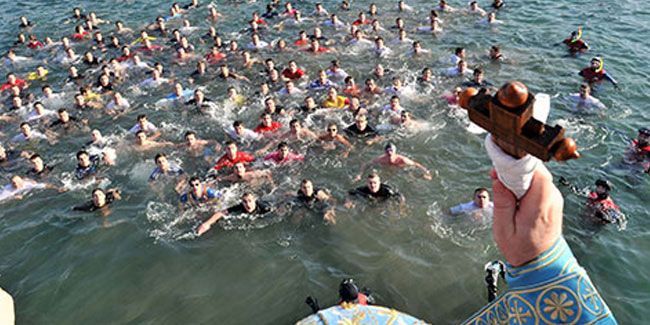 According to Orthodox beliefs, Vodici (also known as the Baptism of Jesus Christ) represents the day when St. John the Baptist baptizes Jesus Christ in Jordan. The baptism in the Orthodox Church represents a spiritual birth and beginning of the human life in faith.
The celebrations have two segments and last two days – the first one on 19th January is named "Mashki Vodici" (Male Vodici), and the second on 20th January is named "Zhenski Vodici" (Female Vodici). Historically, in Skopje there was a custom that on these days the sons-in-law and their first-born sons, as well as the daughters-in-law and their first born daughters, respectively, were bathed in the river Vardar and sprayed with holy water by a priest.
Each day brings with it some lesson. If you pay close attention to everything that is happening during the day you will notice that you see something new every day, you will notice that you are learning new things.
Similar holidays and events, festivals and interesting facts

Student's Day in Macedonia on December 8
;

Tree Day in Republic of Macedonia on March 12
;

Feast of Slavic illuminators in Macedonia on May 24
;
Republic Day in the Republic of Macedonia on August 2
;

Armed Forces Day in Macedonia on August 18
;

Feast of the Mother of God on August 28
(Eastern Orthodox Church, a public holiday in the Republic of Macedonia, Serbia, and Georgia);

Macedonia Independence Day on September 8
(celebrates the independence of Macedonia from Yugoslavia in 1991)