Saint Martin's Day in France
Saint Martin's Day in France is held on November 10. This event in the first decade of the month November is annual.
Help us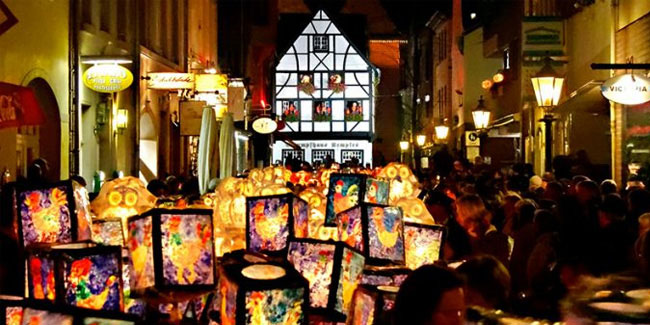 Saint-Martin is celebrated on November 10 or November 11 in memory of Martin of Tours. The date corresponds to his burial on November 11. Since the end of the First World War it is generally celebrated on November 10 in French Flanders and sometimes in Belgium. It remains celebrated on November 11 in the Netherlands, on the island of Saint-Martin and sometimes in Belgium, Switzerland, Germany and Austria as well as in the Scandinavian countries. This feast held a role similar to that of the feast of Saint-Nicolas and this is still the case in some places.
The tradition is particularly strong in Flanders, whether French or Belgian. The tradition is to make carved beets and distribute speculoos and folards (or voelaren) to children.
Saint-Martin is also celebrated in Belgian Limburg and in the eastern cantons.
Similar holidays and events, festivals and interesting facts

National Day in Northern Catalonia, France on November 7
(after Treaty of the Pyrenees);

Armistice Day on November 11
(New Zealand, France, Belgium and Serbia. End of World War I-related observances);

Memorial Day of Abbon from Fleury on November 13
(he was a monk of the Benedictine order, an abbot of the Fleury monastery in France, a prominent church and political figure, a supporter of the Kluni reform, a scholar and encyclopedist of the X century);

European Dystonia Day on November 15
;

Musician's Day on November 22
;

World Red Wine Day on November 24
;

World Futures Day on December 2