Acadia National Festival
Acadia National Festival is held on August 15. This event in the second decade of the month August is annual.
Help us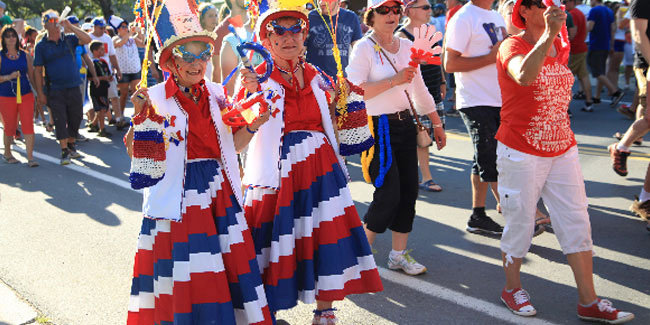 The National Acadian Day is the first of the Acadian symbols that was chosen. It was at the first national convention held in Memramcook in 1881 that the Acadian elites had the mandate to choose the date of this celebration. The choice of the date generated a debate among the executive of the convention.
On the one hand, some advocated June 24, St-Jean-Baptiste Day (the feast of French Canadians at the time and the national holiday of Quebec today). On the other side, we advocated the adoption of the feast on August 15, Assumption Day.
Since June 19, 2003, a "National Acadian Day" has existed under a law passed by the Parliament of Canada.
Similar holidays and events, festivals and interesting facts

Stephen on August 3
(Discovery of the relic. Christian feast day);

Feast day of the Assumption of Mary on August 15
(Christian feast day, one of the Catholic holy days of obligation a public holiday in Austria, Belgium, Benin, Bosnia, Burundi, Cameroon, Chile, Colombia, Croatia, Cyprus, France, Germany, Greece, Guatemala, Hungary, Italy, Ivory Coast, Lebanon, Liechtenstein, Lithuania, Luxembourg, Macedonia, Madagascar, Malta, Mauritius, Monaco, Paraguay, Poland, Portugal, Romania, Senegal, Seychelles, Slovenia, Spain, Switzerland, Togo, and Vanuatu);

Twins Day in Pleucadeuc on August 15
(Morbihan, France. Deux et plus);

Xicolatada on August 16
(Palau-de-Cerdagne, France);

World Kite Day on August 16
;

Sanofi S.A. Day on August 20
(We are an innovative global healthcare company, driven by one purpose: we chase the miracles of science to improve people's lives);

France Liberation Day on August 25