Cyber Monday
Cyber Monday is held on November 27. The online version of Black Friday, where online retailers offered big discounts to match their brick-and-mortar counterparts. This event in the third decade of the month November is annual.
Help us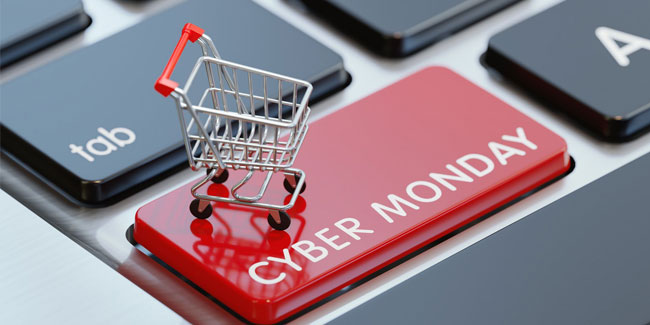 Cyber Monday is an e-commerce term referring to the Monday following the U.S. Thanksgiving weekend. As brick-and-mortar stores do with Black Friday, online retailers usually offer special promotions, discounts, and sales on this day. Meanwhile, traditional retailers offer exclusive, website-only deals.
According to Scott Silverman, the head of Shop.org, the term was coined based on 2004 research showing "one of the biggest online shopping days of the year" was the Monday after Thanksgiving (12th-biggest day historically).
Cyber Monday was first used in 2005 by the National Retail Federation to encourage people to shop online. Cyber Monday is often considered to be the online shopping equivalent of Black Friday, which dates back to at least the 1950s and has historically been one of the busiest shopping days of the year.
Similar holidays and events, festivals and interesting facts

Anti Obesity Day on November 26
(International observance);

International Day of the Bible on November 26
(is an initiative from the United States and especially the Association of the Bible who wanted to promote this day from November 24, 2014);

International Laksa Day in Darwin, Australia on November 26
(Last Sunday in November);

The Feast of Christ the King on November 26
(Date for 2023. Celebrated on the last Sunday before Advent. Roman Catholic Church);

World Olive Day on November 26
;

World Day Against the Indiscriminate Use of Agrochemicals on November 26
;

Metal Rocker Woman Day on November 26
;

International Women Human Rights Defenders Day on November 29
;

World Anteater Day and World Tamandua Day on November 29
(since 2014);

International Jaguar Day on November 29