Øya Festival in Oslo, Norway
Øya Festival in Oslo, Norway is held on August 6. Øyafestivalen is a four-day music fest that brings together about 60,000 people on the green grass of Tøyen Park, who are excited to listen to tunes from internationally acclaimed stars. This event in the first decade of the month August is annual.
Help us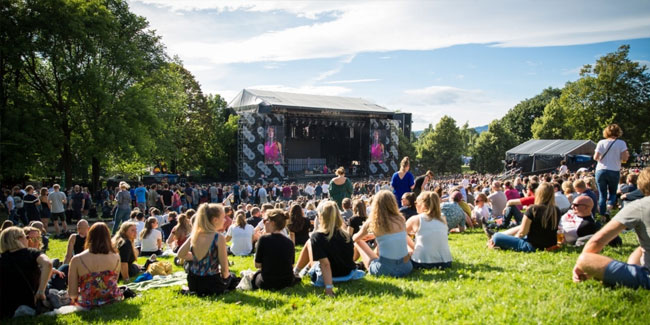 Øyafestivalen started modestly in 1999 with around 1,000 guests. Since then it has grown tenfold, which makes it one of Oslo's largest music events that welcomes around 280 acts every year. The festival takes place in the Tøyen Park over 4 days in August.
The Øya Festival took over from the Kalvøya Festival, which was held on the island Kalvøya from 1971 to 1997, with legends like Frank Zappa, Jackson Browne and Nirvana on stage. The new festival appeared in 1999 under the name Øya, which means "island", and the name was kept when the festival moved off the island and into the city in 2001. 2001–2013 the Øya Festival took place in the Medieval Park, but moved to Tøyen Park (Tøyenparken) in 2014 – still in beautiful green surroundings on Oslo's east side, still near the centre of Oslo.
In August every year the Øya Festival draws around 60,000 music lovers to Oslo's east side, where they can enjoy four days of everything from international stars to up-and-coming artists.
Similar holidays and events, festivals and interesting facts

Peruvian Cajon Day on August 2
;

Duran Duran Appreciation Day on August 10
;

Vinyl Record Day on August 12
(organized by a US non-profit organization dedicated to the collection of music, culture and sound preserved on these media);

WorlWide KPOP Day on August 13
;

Bon Festival or Awa Dance Festival in Japan on August 15
(阿波踊り observances: Tokushima Prefecture);

National Chilean Trap Day on August 21
;

Umhlanga Day in Swaziland on August 23