National French Fried Clam Day in USA
National French Fried Clam Day in USA is held on November 1. This event in the first decade of the month November is annual.
Help us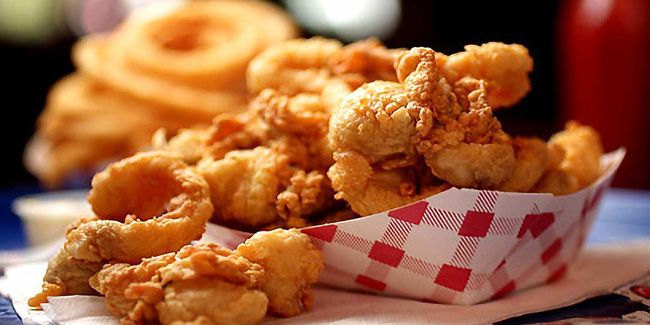 Fried clams are clams dipped in milk, floured, and deep-fried.
To fry whole belly clams, you'll want a simple dredge. The classic formula is a mixture of flour and corn flour with salt and cayenne pepper (optional). On July 3, 1916, Lawrence 'Chubby' Woodman invented the fried clam – or at least as we know the revered mollusk today. It happened on a hot, steamy day in Essex, Mass. Chubby Woodman and his wife Bessie had opened a small concession stand on Main Street two years earlier.
In addition to the international food years, the UN has declared several foodie days. Today, November 1st, is World Vegan Day. August 29 is "More Herbs, Less Salt Day," October 1 is World Vegetarian Day and October 16th is World Food Day. It's enough to make you wonder how much more time the UN will need to fill up every day of the calendar with a food-related holiday of some kind – much as the US national calendar is stuffed to the gills right now with all kinds of National. According to that calendar, today is also National French Fried Clam Day.
Similar holidays and events, festivals and interesting facts

National Caramel Apple Day and Candy Apple Day in USA on October 31
;

Rakfisk Festival in Fagernes, Norway on October 31
(The Norwegian Rakfisk Festival in Fagernes is all about a semi-fermented trout called rakfisk, that has a unique flavor thanks to its long fermenting process);

International Rice Day on October 31
;

National Pâté Day and National Vinegar Day in USA on November 1
;

National Cook for Your Pets Day in US on November 1
;

International Xinomavro Day on November 1
;

National Eating Healthy Day in USA on November 1
;

National Sushi Day in USA on November 1
;

National Deviled Egg Day in USA on November 2
;

Men Make Dinner Day on November 2
(celebrated on the first Thursday of November)