International Lamington Day
International Lamington Day is held on July 21. This event in the third decade of the month July is annual.
Help us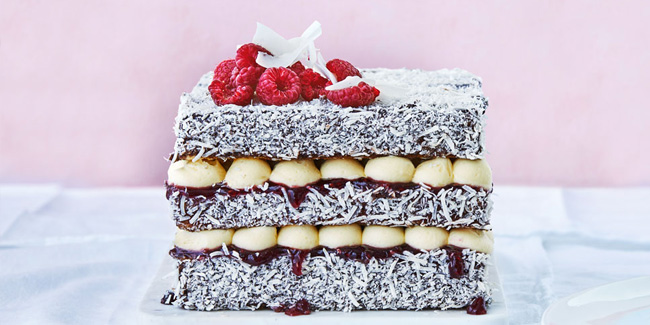 A lamington is an Australian cake made from squares of butter cake or sponge cake coated in an outer layer of chocolate sauce and rolled in desiccated coconut. The thin mixture is absorbed into the outside of the sponge cake and left to set, giving the cake a distinctive texture. A common variation has a layer of cream or strawberry jam between two lamington halves.
Lamington Day is dedicated to the history of - and insatiable interest in - Australia's most famous culinary icon: The humble Aussie lamington created by Lord Lamington, Governor of Queensland 1896 - 1901, following a kitchen mix-up.
This Australian culinary icon, which consists of sponge cake dipped in chocolate and liberally sprinkled with fine desiccated coconut, was created through an accident at work by a maid-servant to Lord Lamington, the thoroughly-British eighth Governor of Queensland. The maid-servant was working at Government House in Brisbane when she accidentally dropped the Governor's favourite sponge cake into some melted chocolate. Lord Lamington was not a person of wasteful habits and suggested that it be dipped in coconut to cover the chocolate to avoid messy fingers.
Similar holidays and events, festivals and interesting facts

International Cake Day on July 20
;

National Lollipop Day and Fortune Cookie Day in USA on July 20
;

Michigan Brown Trout Festival on July 20
(10 days. Third through fourth weekend in July);

National Junk Food Day and National Ice Cream Day in USA on July 21
;

International Day of Junk Food on July 21
;

Dog Day in Latin America on July 21
;

National Penuche Day in USA on July 22
;

World Brain Day on July 22
(was launched by the World Federation of Neurology on 22 July 2014 and is dedicated to a different neurological disease or topic every year);

International Homework Day on July 22