Peace Day in El Salvador
Peace Day in El Salvador is held on January 16. Día de la paz - Firma de los acuerdos de paz. This event in the second decade of the month January is annual.
Help us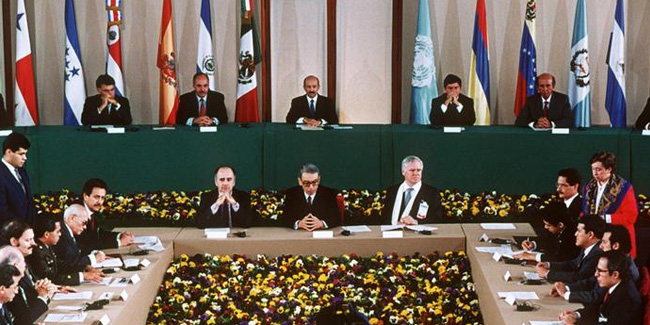 The Chapultepec Peace Accords were a set of agreements signed on Thursday, January 16, 1992, between the Government of El Salvador and the Farabundo Martí National Liberation Front (FMLN) in Chapultepec Castle, Mexico, which put an end to twelve years of Civil War of El Salvador in the country. On January 11, the ruling Assembly agreed to repeal January 16 as "Peace Day" and replace it with the "National Day of the Victims of the Armed Conflict."
The date on which the end of nearly 12 years of civil war in El Salvador is commemorated has been the cause of controversy between civil society groups and the president, who refuses to commemorate the date and has described it as "business." and the armed conflict as "a farce".
January 16, 2022 marks the 30th anniversary of the signing of the Peace Accords that put an end to 12 years of civil war in El Salvador, which left more than 75,000 dead, some 9,000 missing and millionaire losses to the economy.
With the peace accords, the judicial system was readjusted, new human rights institutions were created, and three security forces were declared outlawed and replaced by a new civilian police force.
The army submitted to political power, 7,900 combatants from the Farabundo Martí National Liberation Front (FMLN) disarmed, and the organization formed a political party that governed the country between 2009 and 2019.
Similar holidays and events, festivals and interesting facts

Doce uvas on December 31
(the Spanish New Year's tradition of eating twelve grape varieties, one for each of the twelve clock strokes by midnight, subsequently spread in such Spanish-speaking countries as Mexico, Bolivia, Venezuela, Ecuador, El Salvador, Peru, Colombia, Puerto Rico, Nicaragua, Costa Rica et al);

National Nahuat Language Day in El Salvador on February 21
(Día Nacional de la Lengua Náhuat);

Clinical Laboratory Worker Day in El Salvador on February 26
(Día del profesional en laboratorio clínico);

National for the Blind in El Salvador on March 1
(Nacional de Las Personas Ciegas);

Pediatrician's Day in El Salvador on March 11
(Día del pediatra);

Business Administrator Day in El Salvador on March 19
(Día del administrador de empresas);

Saint Romero's Day in El Salvador on March 24
(Día de San Romero, mártir de América)