Tahiti Missionary Day in French Polynesia
Tahiti Missionary Day in French Polynesia is held on March 5. This event in the first decade of the month March is annual.
Help us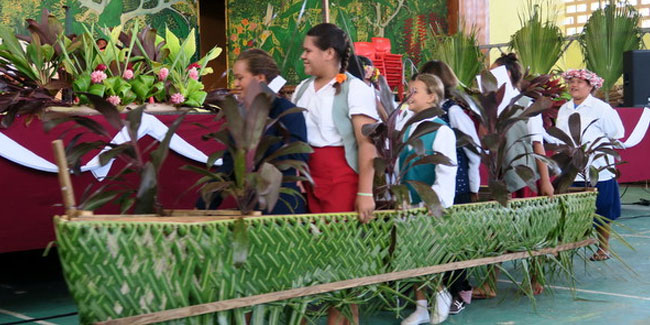 This holiday marks the commemoration of the first missionaries who entered Polynesia in 1797, also called "Arrival of the Gospel". During the vacation, various events and cultural street performances are held, especially the traditional re-enactment of the arrival of the first missionaries in 1797 at the Willy Bambridge Stadium complex in Papeete, Tahiti, and Afareaitu in Moorea. The concerts and the various stages are free for the public to enjoy.
The whole of the Polynesian islands as French was not established until 1889 when it came under French administration and its legal protectorate. We are talking about about 5.2 million square kilometers of islands, which is about the size of Europe, (excluding Eurasia). Inhabited by about 250,000 people.
There is evidence that the island was inhabited by Polynesians as early as 300 CE, specifically the Marquesas Islands, and in 800 CE the Society Islands. Several Europeans reached the islands, including the Spanish explorer Ferdinand Magellan. Magellan who first sailed to the island in 1521, passing through Pukapuka, Jakob Roggeveen (Bora Bora) in 1772, Samuel Wallis in 1767, including French navigator Louis Antoine de Bougainville in 1768 and James Cook in 1769.
Spanish priests were among the first Christian missionaries to reach the shores of French Polynesia; in particular, the island of Tahiti in 1774 for the purpose of a permanent settlement of missionaries, permitted in 1797 by the ministers of the London Missionary Society. The declaration of Polynesia as a protectorate state of France was a result of the missionary practice on the island. This is why this day is commemorated in Polynesia.
Similar holidays and events, festivals and interesting facts

International Day Against Sexual Exploitation on March 4
;

BNP Paribas Day on March 7
;

National French Onion Soup Day on March 8
;

National Hearing Day in France on March 8
;

European Day of Remembrance for the Victims of Terrorism on March 11
(commemorating the terrorist attacks in Madrid on March 11, 2004, which killed 191 people);

Paris Commune Day in France on March 18
(celebrated since February 20, 1872);

La Madunuccia in Ajaccio, Corsica, France on March 18