Truant's Day
Truant's Day is held on March 21. Poland, Faroe Islands. This event in the third decade of the month March is annual.
Help us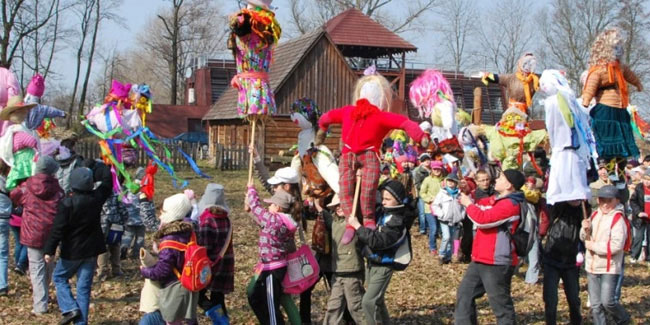 The long, dark, and cold days of winter nearly come to an end. Just like in any other part of the world, people are waiting for the natural sign of spring shown by the warm climates, birds chirping, until the blooming of the flower bulbs. On the first day of the long-awaited spring (March 21st), people celebrate it with unique traditions that maybe surprise you.
Poland has a special celebration for this day, that is called Truant's Day. This unofficial holiday is devoted to all people, who like truancy, i.e., to the students. Spring equinox, that falls on March 20 or 21, is the official first day of the spring.
On the first day of spring in Poland, there is an old tradition namely the drowning of a Marzanna doll (topienie Marzanny). Marzanna or Morana was a Slavic goddess portrayed as a figure representing death, winter, and disease.
Similar holidays and events, festivals and interesting facts

Grækarismessa in the Faroe Islands on March 12
(celebrated since 1943);

Flag Day in the Faroe Islands on April 25
;

Mother's Day on May 12
(Anguilla, Antigua and Barbuda, Aruba, Australia, Austria, Bahamas, Bangladesh, Barbados, Belgium, Belize, Bermuda, Bhutan, Bonaire, Botswana, Brazil, Brunei, Canada, Cambodia, Cayman Islands, Central African Republic, Chad, Chile, China, Colombia, Congo, Dem. Rep., Congo, Rep., Cote d'Ivoire, Croatia, Cuba, Curaçao, Cyprus, Czech Republic, Denmark, Dominica, Ecuador, Equatorial Guinea, Estonia, Ethiopia, Faroe Islands, Fiji, Finland, Germany, Gabon, Gambia, Greenland, Ghana, Greece, Grenada, Guyana, Honduras, Hong Kong, Iceland, India, Italy, Jamaica, Japan, Kenya, Latvia, Liberia, Liechtenstein, Macau, Malaysia, Malta, Myanmar, Namibia, Netherlands, New Zealand, Pakistan, Papua New Guinea, Peru, Philippines, Puerto Rico, Saint Kitts and Nevis, Saint Lucia, Saint Vincent and the Grenadines, Samoa, Singapore, Sint Maarten, Slovakia, South Africa, Sri Lanka, Suriname, Switzerland, Taiwan, Tanzania, Tonga, Trinidad and Tobago, Turkey, Uganda, Ukraine, United States, Uruguay, Vietnam, Venezuela, Zambia, Zimbabwe);

Constitution Day on the Faroe Island on June 5
;

Ólavsøka Eve on July 28
(Faroe Islands);

Olsok or St. Olaf's Day on July 29
(King Olaf II Haraldsson of Norway is remembered as Rex perpetuus Norvegiae, the Eternal King of Norway. Olsok is a national day of celebration in the Nordic countries of Norway and the Faroe Islands, and also in the provinces of Härjedalen in Sweden and Savonlinna in Finland);

Kashubian Unity Day in Poland on March 19
;

Day of Hungarian-Polish Friendship on March 23
(Hungary and Poland)