Arbor Day in Tanzania
Arbor Day in Tanzania is held on April 1. This event in the first decade of the month April is annual.
Help us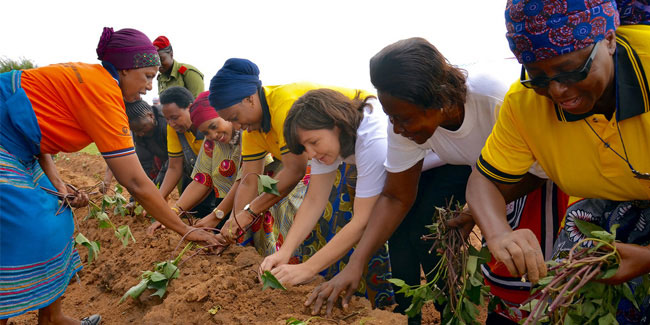 Tanzania is home to many of the best and biggest parks in Africa, and some of the most varied and unique landscapes that you'll ever see. Arbor Day—which literally translates to "tree" day from the Latin origin of the word arbor—is a holiday that celebrates the planting, upkeep and preservation of trees. The National Tree Planting Day in Tanzania is an action day and tooks place annually on April 1st.
Similar holidays and events, festivals and interesting facts

Zanzibar Revolution Day in Tanzania on January 12
;

National Tree Planting Day in Tanzania on April 1
;

Tanzania Union Day on April 26
;

Mother's Day on May 12
(Anguilla, Antigua and Barbuda, Aruba, Australia, Austria, Bahamas, Bangladesh, Barbados, Belgium, Belize, Bermuda, Bhutan, Bonaire, Botswana, Brazil, Brunei, Canada, Cambodia, Cayman Islands, Central African Republic, Chad, Chile, China, Colombia, Congo, Dem. Rep., Congo, Rep., Cote d'Ivoire, Croatia, Cuba, Curaçao, Cyprus, Czech Republic, Denmark, Dominica, Ecuador, Equatorial Guinea, Estonia, Ethiopia, Faroe Islands, Fiji, Finland, Germany, Gabon, Gambia, Greenland, Ghana, Greece, Grenada, Guyana, Honduras, Hong Kong, Iceland, India, Italy, Jamaica, Japan, Kenya, Latvia, Liberia, Liechtenstein, Macau, Malaysia, Malta, Myanmar, Namibia, Netherlands, New Zealand, Pakistan, Papua New Guinea, Peru, Philippines, Puerto Rico, Saint Kitts and Nevis, Saint Lucia, Saint Vincent and the Grenadines, Samoa, Singapore, Sint Maarten, Slovakia, South Africa, Sri Lanka, Suriname, Switzerland, Taiwan, Tanzania, Tonga, Trinidad and Tobago, Turkey, Uganda, Ukraine, United States, Uruguay, Vietnam, Venezuela, Zambia, Zimbabwe);

Saba Saba Day in Tanzania on July 7
;

Wakulima ya Nane Nane Day in Tanzania on August 8
(The local name of this holiday is Nane Nane, that in Swahili, the national language in Tanzania, means 'eight eight'. The day refers to the holiday's occurrence on the eighth day of the eighth month of the year.);

Engineer's Day in Tanzania on September 15