Motherhood and Beauty Day in Armenia
Motherhood and Beauty Day in Armenia is held on April 7. This event in the first decade of the month April is annual.
Help us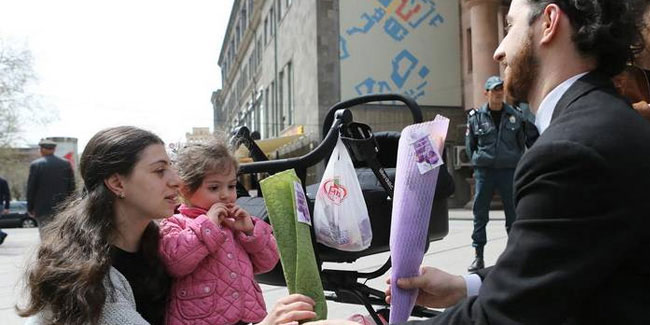 Patriarchy always reigned among the Armenian people, however, Armenian men do know how to appreciate and worship women, and no wonder why there are two women's days in Armenia. In addition to the international women's day celebrated on March 8, Armenians have beauty and motherhood day on April 7. On this beautiful spring day, the locals present flowers and gifts to mothers, grandmothers, sisters, and beloved women.
In Armenia, the period from March 8 to April 7 is called "the women's month" during which their beauty and feminity and is celebrated with special attention and love. Of course, it is said that a real man should show his care and love for no reason, but on holidays, women especially need to be in the spotlight.
Similar holidays and events, festivals and interesting facts

International Cleavage Day on March 31
;

Women's Day in Mozambique on April 7
;

Women's Day in Gabon on April 17
(Women's Rights Day);

Kartini Day in Indonesia on April 21
;

Red Hat Society Day on April 25
(The Red Hat Society [RHS] is an international social organization that was founded in 1998 in the United States for women age 50 and beyond, but now open to women of all ages. There are over 20,000 chapters in the United States and over 30 other countries);

Wiener Töchtertag or Daughter's Day in Austria on April 25
(an annual event where girls can broaden their horizons in choosing a career. The initiative of a woman adviser, Catherine Gaal, in cooperation with the Vienna Economic Chamber and the Directorate of Education in Vienna);

International Girls in ICT Day on April 25
(aims to encourage and empower girls and young women to consider studies and car eers in the growing field of Information and communications technology)