Vietnam Book Day in Vietnam
Vietnam Book Day in Vietnam is held on April 21. This event in the third decade of the month April is annual.
Help us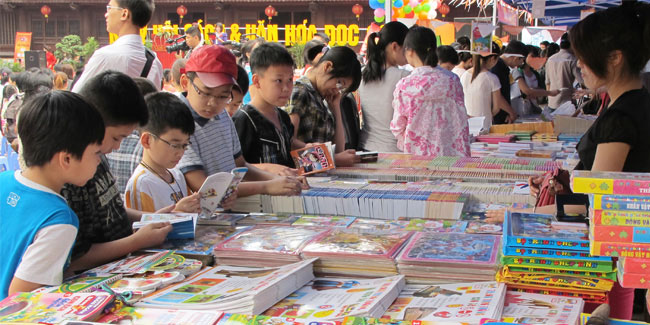 The early history of printing in Vietnam was facilitated by the fact that the Vietnamese Chữ Nôm script shared similarities with Chinese and that Vietnam had many cultural, linguistic and political connections to China that were less developed in other parts of Southeast Asia.
Private publishing in Vietnam has been allowed only since 2004 when Vietnam became a signatory of the Berne Convention for the Protection of Literary and Artistic Works. Before that, only state-owned publishing houses were allowed to publish books, and there are now 60 of them.
In our report on the longlist announced for the 2017 International Dublin Literary Award, it was noted that Vietnamese author Viet Thanh Nguyenís Pulitzer-winning ĎThe Sympathizerí is part of the pool.
At major bookselling fairs in Hanoi and Ho Chi Minh City, private publishing houses have big stalls and many events.
Similar holidays and events, festivals and interesting facts

World Party Day on April 3
;

Victory Day and Vietnam Reunification Day on April 30
;

Dien Bien Phu Victory Day in Vietnam on May 7
;

Vietnam Human Rights Day on May 11
;

Motherís Day on May 12
(Anguilla, Antigua and Barbuda, Aruba, Australia, Austria, Bahamas, Bangladesh, Barbados, Belgium, Belize, Bermuda, Bhutan, Bonaire, Botswana, Brazil, Brunei, Canada, Cambodia, Cayman Islands, Central African Republic, Chad, Chile, China, Colombia, Congo, Dem. Rep., Congo, Rep., Cote d'Ivoire, Croatia, Cuba, Curaçao, Cyprus, Czech Republic, Denmark, Dominica, Ecuador, Equatorial Guinea, Estonia, Ethiopia, Faroe Islands, Fiji, Finland, Germany, Gabon, Gambia, Greenland, Ghana, Greece, Grenada, Guyana, Honduras, Hong Kong, Iceland, India, Italy, Jamaica, Japan, Kenya, Latvia, Liberia, Liechtenstein, Macau, Malaysia, Malta, Myanmar, Namibia, Netherlands, New Zealand, Pakistan, Papua New Guinea, Peru, Philippines, Puerto Rico, Saint Kitts and Nevis, Saint Lucia, Saint Vincent and the Grenadines, Samoa, Singapore, Sint Maarten, Slovakia, South Africa, Sri Lanka, Suriname, Switzerland, Taiwan, Tanzania, Tonga, Trinidad and Tobago, Turkey, Uganda, Ukraine, United States, Uruguay, Vietnam, Venezuela, Zambia, Zimbabwe);

Hồ Chí Minh's Birthday in Vietnam on May 19
;

Tết Đoan ngọ in Vietnam on June 10
(celebrated on the 5th day of the 5th lunar month);

Dragon Boat Festival or Duanwu Festival on June 10