Discovery Day in Brazil
Discovery Day in Brazil is held on April 22. Dia do Descobrimento do Brasil. This event in the third decade of the month April is annual.
Help us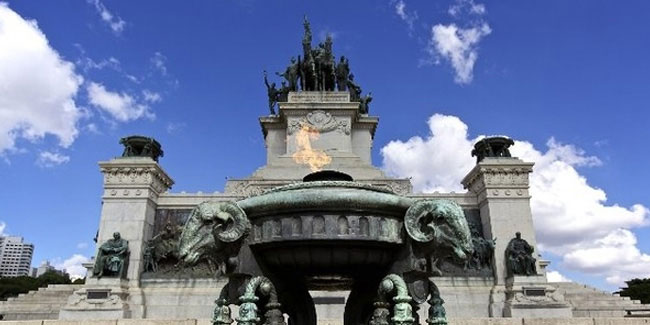 The 22nd of April is marked in our country as the "day of the discovery of Brazil", that is, the day that the Portuguese arrived here, in the year 1500, which was due to the expedition of Pedro Álvares Cabral. This expedition had a dual mission: the investigation of Portugal's possibilities in America and the purchase of spices in India.
The arrival of the Portuguese in our territory started the Brazilian colonization, although, in the first decades, their presence was very timid. For a long time, it was believed that this arrival had taken place on the 3rd of May, but the discovery of Pero Vaz de Caminha's letter confirmed the real date.
Similar holidays and events, festivals and interesting facts

Tiradentes' Day in Brazil on April 21
(Joaquim José da Silva Xavier known as Tiradentes);

National Choro Day in Brazil on April 23
(Dia Nacional do Choro);

Saint George's Day on April 23
;

Engineer Cartographer Day in Brazil on May 6
;

Mother's Day on May 12
(Anguilla, Antigua and Barbuda, Aruba, Australia, Austria, Bahamas, Bangladesh, Barbados, Belgium, Belize, Bermuda, Bhutan, Bonaire, Botswana, Brazil, Brunei, Canada, Cambodia, Cayman Islands, Central African Republic, Chad, Chile, China, Colombia, Congo, Dem. Rep., Congo, Rep., Cote d'Ivoire, Croatia, Cuba, Curaçao, Cyprus, Czech Republic, Denmark, Dominica, Ecuador, Equatorial Guinea, Estonia, Ethiopia, Faroe Islands, Fiji, Finland, Germany, Gabon, Gambia, Greenland, Ghana, Greece, Grenada, Guyana, Honduras, Hong Kong, Iceland, India, Italy, Jamaica, Japan, Kenya, Latvia, Liberia, Liechtenstein, Macau, Malaysia, Malta, Myanmar, Namibia, Netherlands, New Zealand, Pakistan, Papua New Guinea, Peru, Philippines, Puerto Rico, Saint Kitts and Nevis, Saint Lucia, Saint Vincent and the Grenadines, Samoa, Singapore, Sint Maarten, Slovakia, South Africa, Sri Lanka, Suriname, Switzerland, Taiwan, Tanzania, Tonga, Trinidad and Tobago, Turkey, Uganda, Ukraine, United States, Uruguay, Vietnam, Venezuela, Zambia, Zimbabwe);

Pretos Veljos Festival in Brazil on May 13
(or Preto Velho, anniversary of the abolition of slavery in the country);

Festa do Divino in Paraty, Brazil on May 19
(in the south of the Rio de Janeiro state. The week-long celebration happens 50 days after Easter and is one of the most important folkloric festivals in the area)