Flag Day in the Faroe Islands
Flag Day in the Faroe Islands is held on April 25. This event in the third decade of the month April is annual.
Help us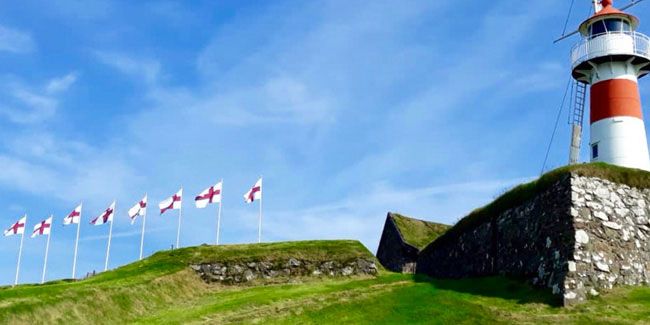 The flag represents the aim for national identity, for cultural autonomy and a commitment to a bright future. The flag of the Faroe Islands is an offset cross, representing Christianity. It follows the traditions of other Nordic flags, such as Dannebrog (Flag of Denmark). The flag is called Merkið, meaning ďthe bannerĒ or ďthe markĒ. It was designed in 1919 by Jens Oliver Lisberg and other students in Copenhagen. The flag was first used at sea many years before it was legalised. Óla Jákup Kristoffersen from Vestmanna was a captain onboard the fishing smack Neptun when he as the first person flagged onboard a vessel with the Faroese flag. He did it in the 1920s more than 10 years before the flag was recognised.
Flag Day known as Flaggdagur is held in several villages across the archipelago. The Flag Day is a Public Holiday and is marked with parades, speeches, and brass music. The flag celebration gives the islanders a sense of belonging.
Similar holidays and events, festivals and interesting facts

Flag Day in American Samoa on April 17
;

National Flag Day in Swaziland on April 25
;

Moldova Flag Day on April 27
;

Flag Day in Poland on May 2
(Rzeczypospolitej Polskiej);

Motherís Day on May 12
(Anguilla, Antigua and Barbuda, Aruba, Australia, Austria, Bahamas, Bangladesh, Barbados, Belgium, Belize, Bermuda, Bhutan, Bonaire, Botswana, Brazil, Brunei, Canada, Cambodia, Cayman Islands, Central African Republic, Chad, Chile, China, Colombia, Congo, Dem. Rep., Congo, Rep., Cote d'Ivoire, Croatia, Cuba, Curaçao, Cyprus, Czech Republic, Denmark, Dominica, Ecuador, Equatorial Guinea, Estonia, Ethiopia, Faroe Islands, Fiji, Finland, Germany, Gabon, Gambia, Greenland, Ghana, Greece, Grenada, Guyana, Honduras, Hong Kong, Iceland, India, Italy, Jamaica, Japan, Kenya, Latvia, Liberia, Liechtenstein, Macau, Malaysia, Malta, Myanmar, Namibia, Netherlands, New Zealand, Pakistan, Papua New Guinea, Peru, Philippines, Puerto Rico, Saint Kitts and Nevis, Saint Lucia, Saint Vincent and the Grenadines, Samoa, Singapore, Sint Maarten, Slovakia, South Africa, Sri Lanka, Suriname, Switzerland, Taiwan, Tanzania, Tonga, Trinidad and Tobago, Turkey, Uganda, Ukraine, United States, Uruguay, Vietnam, Venezuela, Zambia, Zimbabwe);

Flag and Universities Day in Haiti on May 18
;

Constitution Day and Flag Day of Turkmenistan on May 18
(celebration of rebirth, unity and poetry of Magtymula Piragia)