Memorial Day in Turkmenistan
Memorial Day in Turkmenistan is held on January 12. Day of mourning in honor of the Turkmen killed on January 12, 1881 at the hands of Russian invaders at the Battle of Geok-Tepe, near Ashgabat. This event in the second decade of the month January is annual.
Help us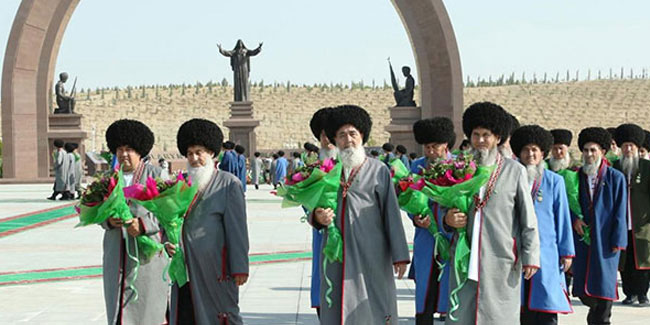 The Memorial Day is an official holiday of Turkmenistan, commemorated on 12 January. It is one of two mourning days in Turkmenistan (the other being Day of Remembrance). The country has marked Memorial Day since its independence in 1991 in commemoration of all those who gave their lives. The holiday is celebrated as a national day of mourning, with the resistance often being cited as a source of national pride.
National flags are traditionally lowered in the capital of Ashgabat as well as in the Provinces of Turkmenistan. Funeral prayers are performed in mosques, the largest of which is held at Saparmurat Hajji Mosque. According to tradition, the main public prayer as well as a national memorial service (with the President of Turkmenistan in attendance) is held in Goktepe, at the mosque standing on the site of the Battle of Geok Tepe. Ritual meals are offered all over the country. It is also a non-working holiday.
Similar holidays and events, festivals and interesting facts

Margaret Thatcher Day on Falkland Islands on January 10
;

Stephen Foster Memorial Day on January 13
(United States);

Army Day in India on January 15
;

Nigeria Armed Forces Remembrance Day on January 15
;

Ocean Duty Day in Indonesia on January 15
;

Kyborgs Memorial Day in Ukraine on January 16
;

Royal Thai Armed Forces Day in Thailand on January 18
;

Margaret of Hungary on January 18
(Christian feast day)