Peru Flag Day
Peru Flag Day is held on June 7. Día de la Bandera. This event in the first decade of the month June is annual.
Help us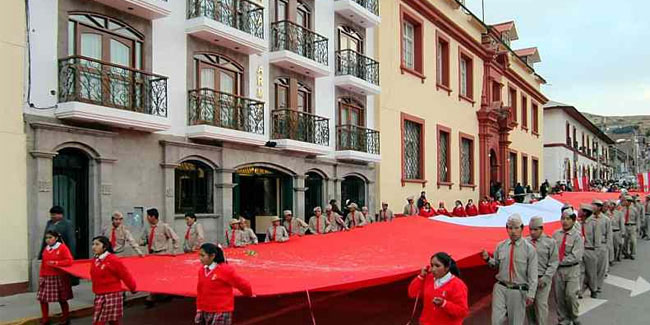 The original national flag of Peru was displayed for the first time in the Plaza Mayor of Lima, on July 28, 1821, at the time of the proclamation of independence by General José de San Martín. The design of this first flag was different from the current one, and only its colors have been maintained. The Peruvian army has used the national flag since 1821 to differentiate itself from other military forces. The current flag was established on February 25, 1825, during the government of Simón Bolívar.
On June 7, the Day of the Flag is celebrated, in commemoration of the anniversary of the battle of Arica; and on August 28 the Procession of the Flag, in the city of Tacna.
Similar holidays and events, festivals and interesting facts

Birthday of Carl Gustaf Emil Mannerheim & Flag Day celebration of the Finnish Defence Forces on June 4
(Finland);

Estonia Flag Day on June 4
;

Engineer's Day in Peru on June 8
;

Computer Day in Peru on June 12
(Día del Informático or Fiesta de los informáticos);

Andean Song Day in Peru on June 15
;

Day of Valdemar and Reunion Day in Denmark on June 15
(Flag Day);

Ica Day in Peru on June 17