Nigeria Armed Forces Remembrance Day
Nigeria Armed Forces Remembrance Day is held on January 15. This event in the second decade of the month January is annual.
Help us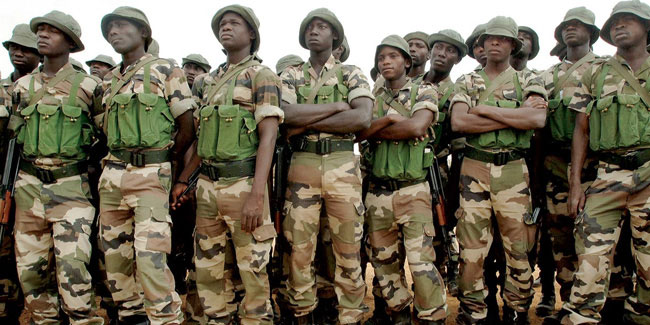 According to Global Firepower, the Nigerian Armed Forces are the fourth-most powerful military in Africa, and ranked 35th on its list, internationally. With a force of more than 223,000 active personnel, the Nigerian military is one of the largest uniformed combat services in Africa.
The Nigerian Armed Forces (NAF) are the combined military forces of Nigeria. It consists of three uniformed service branches: the Nigerian Army, Nigerian Navy, and Nigerian Air Force. The Nigerian Air Force was formally established in January 1964, with technical assistance from West Germany.
The President of Nigeria functions as the commander-in-chief of the armed forces, exercising his constitutional authority through the Ministry of Defence, which is responsible for the management of the military and its personnel. The operational head of the AFN is the Chief of the Defence Staff, who is subordinate to the Nigerian Defence Minister.
The Armed Forces Remembrance Day (AFRD), also simply known as Remembrance Day, is a public holiday in Nigeria celebrated observed on 15 January to commemorate the servicemen of the Nigerian Armed Forces.
Similar holidays and events, festivals and interesting facts

Memorial Day in Turkmenistan on January 12
(Day of mourning in honor of the Turkmen killed on January 12, 1881 at the hands of Russian invaders at the Battle of Geok-Tepe, near Ashgabat);

Army Day in India on January 15
;

Ocean Duty Day in Indonesia on January 15
;

Kyborgs Memorial Day in Ukraine on January 16
;

Royal Thai Armed Forces Day in Thailand on January 18
;

Army Day in Laos on January 20
;

Armed Forces Day in Mali on January 20
;

Day of Honoring the Defenders of Donetsk Airport in Ukraine on January 20