Polar Bear Swim Day or Polar Plunge Day
Polar Bear Swim Day or Polar Plunge Day is held on January 1. Canada and United States. This event in the first decade of the month January is annual.
Help us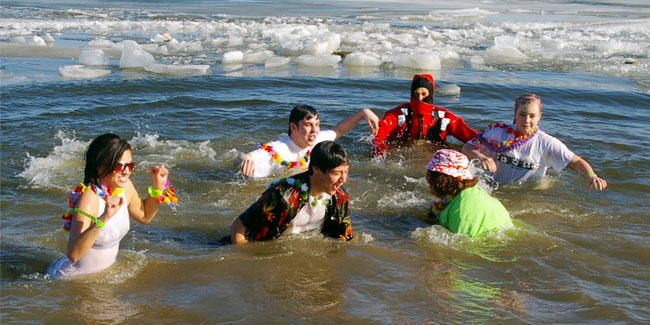 Polar Plunge Day is an event held during the winter where participants enter a body of water despite the low temperature. In the United States, Polar Plunge Day are usually held to raise money for a charitable organization. In Canada, polar bear swims are usually held on New Year's Day to celebrate the new year.
In Canada, "Polar Bear Swims", "plunges" or "dips" are a New Year's Day tradition in numerous communities across the country.
Vancouver, BC's annual Polar Bear Swim Club has been active since 1920 and typically has 1,000 to 2,000 registered participants, with a record 2,128 plunging into English Bay in 2000.
Similar holidays and events, festivals and interesting facts