Romania Flag Day
Romania Flag Day is held on June 26. This event in the third decade of the month June is annual.
Help us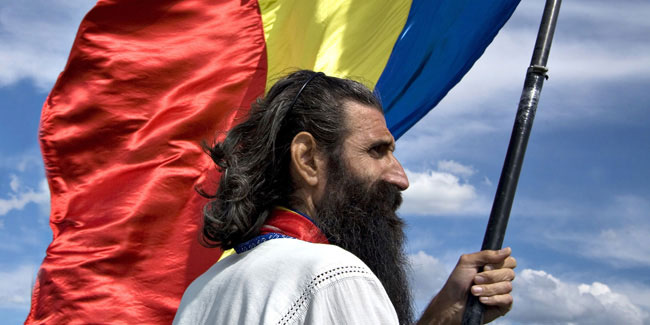 On the 26th June every year the Romanians have a 'flag day' to celebrate their flag. The blue band was said to represent liberty, the yellow band was said to represent justice, and the red was said to stand for fraternity.
The flag of the Romanian Socialist Republic with the communist logo used to be perceived as the as a symbol of Nicolae Ceauşescu's dictatorial regime. Thus, at Revolution in December 1989, the protesters made a hole in it and the ripped flag became one of the symbols of Revolution.
The first modern tricolour was used as the "Justice, Fraternity" flag of the Wallachian revolutionaries in 1848. When Wallachia finally joined with Moldiavia to become the United Principalities of Wallachia and Moldavia in 1859 the flag was the Romanian horizontal Tricolour. From 1881 to 1947 the Kingdom of Romania was created under the constitutional monarchy of Carlo I of Romania and ended in 1947 with the abdication of Michael I of Romania. The Flag during this time was a blue-yellow-red vertical tricolour.
Similar holidays and events, festivals and interesting facts

Argentina National Flag Day on June 20
(Día de la Bandera);

Crimean Tatars National Flag Day in Ukraine on June 26
;

Curaçao Flag Day on July 2
;

Mongolia Flag Day on July 10
;

Birthday of Victoria, Crown Princess of Sweden, an official flag day on July 14
(Sweden);

Manu'a Cession Day or Manu'a Flag Day in American Samoa on July 16
;

Ka Hae Hawaiʻi Day on July 31
(Hawaii, United States)