Eleventh Night in Northern Ireland
Eleventh Night in Northern Ireland is held on July 11. This event in the second decade of the month July is annual.
Help us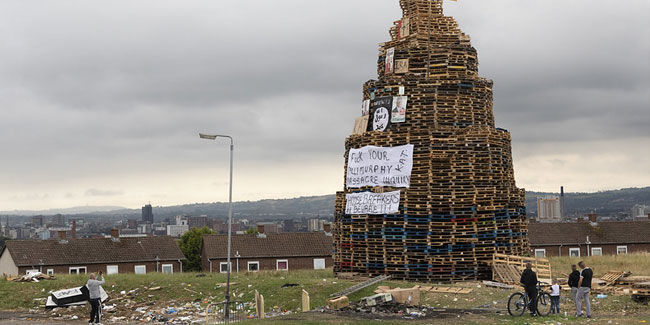 In Northern Ireland, the Eleventh Night or 11th Night, also known as "bonfire night", is the night before the Twelfth of July, an Ulster Protestant celebration. On this night, large towering bonfires are lit in Protestant loyalist neighbourhoods, and are often accompanied by street parties and loyalist marching bands.
During the Troubles, loyalist paramilitary groups like the Ulster Defence Association and Ulster Volunteer Force used Eleventh Night bonfires to hold "shows of strength", which involved masked gunmen firing volleys of shots into the air.
It is a tradition that dates back centuries; in 1690 bonfires were lit by Protestants to guide William of Orange to Ireland's shores. The Dutch King went on to defeat the Catholic King James at the Battle of the Boyne on 12th July and the date has been commemorated fondly ever since.
Similar holidays and events, festivals and interesting facts

World Microbiome Day on June 27
(was launched by the APC Microbiome Ireland. Microbiomes are communities of bacteria, fungi and virus that are found everywhere, from inside our bodies to soil and water);

The Twelfth, also known as Orangemen's Day on July 12
(Northern Ireland, Scotland, Newfoundland and Labrador);

National Day of Commemoration in Ireland on July 14
(It occurs on the Sunday nearest July 11, the anniversary of the date in 1921 that a truce was signed ending the Irish War of Independence);

Glasgow Fair Starts, Scotland on July 20
;

Lughnasadh in the Northern hemisphere, Imbolc in the Southern hemisphere on August 1
(traditionally begins on the eve of August 1. Gaels, Ireland, Scotland, Neopagans);

Stephen on August 3
(Discovery of the relic. Christian feast day);

August Bank Holiday in Ireland on August 5
(celebrated on the first Monday of August)