Australia Day
Australia Day is held on January 26. Millions of listeners tune in annually on Australia Day to the Triple J Hottest 100 to find out which song has been voted number one. This event in the third decade of the month January is annual.
Help us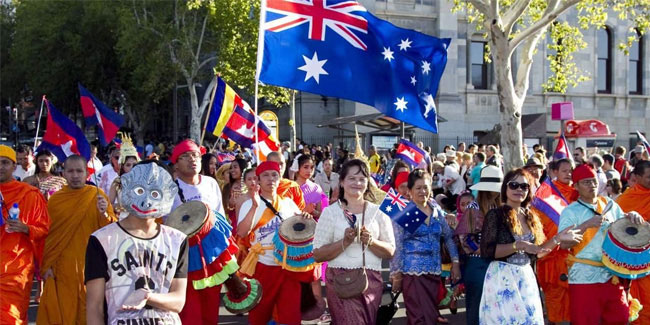 Australia is the only continent in the world without an active volcano. Australia has three times more sheep than people. The largest Greek population in the world beside Athens in Greece can be found in Melbourne Victoria. An Australian man once tried to sell New Zealand on eBay.
Australia Day, celebrated on January 26, is Australia's official national day, marked by festivities and celebrations, as well as civic events. Australia Day commemorates the arrival of Arthur Phillip with the eleven ships of the First Fleet at Sydney Harbour on January 26, 1788.
In Sydney, the country's largest city, the date is commemorated with a parade of ships near the Harbour Bridge. There are performances by entertainers in Darling Harbour, where, at the end of the day, the best ships in the parade gather.
The evening ends with everyone singing Advance Australia Fair (Australia's national anthem) in front of the illuminated and imposing Australian flag that flies over the bay.
The main ceremonies, and also the most traditional, are the presentation of the Order of Australia (Order of Australia) and the appointment of the Australian of the year (Australian of the year). Both events are intended to honor people who have achieved some honor for the country.
Similar holidays and events, festivals and interesting facts

World Day for African and Afrodescendant Culture on January 24
;

Cockroach Racing In Australia on January 26
(The event features 14 different types of races, which also includes a steeple chase race);

World Singles Day on February 13
;

For Pete's Sake Day on February 26
(if there's a Pete in your life, why not do something for his sake?);

Labor Day in Western Australia on March 4
;

Foundation Day on Norfolk Island on March 6
;

Canberra Day on March 11
(Australian Capital Territory; celebrated on the second Monday in March);

Labor Day in Victoria and Tasmania, Australia on March 11
(is celebrated on the second Monday in March)