Republic Day in India
Republic Day in India is held on January 26. This event in the third decade of the month January is annual.
Help us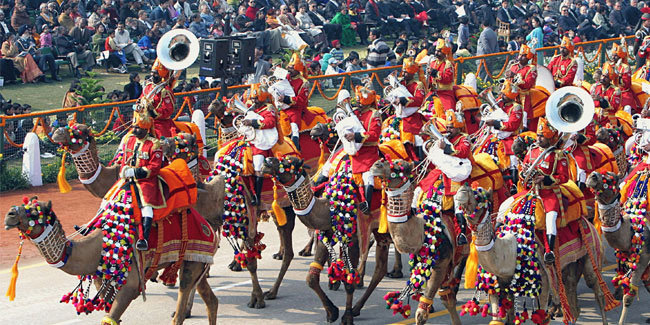 While India's Independence Day celebrates the country's freedom from British Rule, Republic Day commemorates the adoption of the country's constitution in 1950. Every year, the leader of a particular nation is invited to be the chief guest for the Republic Day parade. President Sukarno of Indonesia was the first to attend India's Republic Day celebrations as chief guest in 1950.
Republic Day marks the adoption of the constitution of India and the transition of the country to a republic on January 26, 1950. Every year, the celebrations marking the day feature spectacular military and cultural pageantry. In New Delhi, armed forces personnel march along the Rajpath, in an elaborate display of military might. The epic show on Rajpath eclipses everything else happening across the country on this auspicious day.
Similar holidays and events, festivals and interesting facts

National Voters' Day in India on January 25
;

Martyrs' Day in India on January 30
;

Amartithi on January 31
(Meherabad, India, followers of Meher Baba);

Propose Day in India on February 8
;

National Women's Day in India on February 13
;

Parents' Worship Day in India on February 14
(Hindi: मातृ-पितृ पूजन दिवस as an alternative to Valentine's Day);

Shivaji Jayanti in Maharashtra, India on February 19