Sunday 15 January 2023 Calendar with holidays, observances and special days
Calendars
:
Environmental Dates
,
Sports and Fitness Special Days
,
US Holidays
,
Unusual Holidays (Weird and Funny Holidays)
,
Worldwide Holidays
,
Bolivia
,
Career Holidays (Recognition Holidays)
,
Chile
,
Food holidays
,
Guatemala
,
India
,
Mexico
,
Pet and Animal Holidays
,
Smart events
,
Sri Lanka
,
Venezuela
,
Wine holidays
Holidays and observances
Events
In 2018 University of Pennsylvania announces in the United States National Library of Medicine human clinical trials, that will encompass the use of CRISPR technology to modify the T cells of patients with multiple myeloma, sarcoma and melanoma cancers, to allow the cells to more effectively combat the cancers, the first of their kind trials in the US.
2005 – ESA's SMART-1 lunar orbiter discovers elements such as calcium, aluminum, silicon, iron, and other surface elements on the Moon.
1991 – Elizabeth II, in her capacity as Queen of Australia, signs letters patent allowing Australia to become the first Commonwealth realm to institute its own Victoria Cross in its honours system.
1967 – The first Super Bowl is played in Los Angeles. The Green Bay Packers defeat the Kansas City Chiefs 35–10.
1966 – The First Nigerian Republic, led by Abubakar Tafawa Balewa is overthrown in a military coup d'état.
1936 – The first building to be completely covered in glass, built for the Owens-Illinois Glass Company, is completed in Toledo, Ohio.
1919 – Great Molasses Flood: A wave of molasses released from an exploding storage tank sweeps through Boston, Massachusetts, killing 21 and injuring 150.
1910 – Construction ends on the Buffalo Bill Dam in Wyoming, United States, which was the highest dam in the world at the time, at 325 ft (99 m).
1908 – The Alpha Kappa Alpha sorority becomes the first Greek-letter organization founded and established by African American college women.
1876 – The first newspaper in Afrikaans, Die Afrikaanse Patriot, is published in Paarl.
1870 – A political cartoon for the first time symbolizes the Democratic Party with a donkey ("A Live Jackass Kicking a Dead Lion" by Thomas Nast for Harper's Weekly).
1865 – American Civil War: Fort Fisher in North Carolina falls to the Union, thus cutting off the last major seaport of the Confederacy.
1815 – War of 1812: American frigate USS President, commanded by Commodore Stephen Decatur, is captured by a squadron of four British frigates.
1777 – American Revolutionary War: New Connecticut (present-day Vermont) declares its independence.
Births
2004 – Grace VanderWaal, American singer. She earned wide notice at an early age and is known for her distinctive vocals, often accompanying herself on the ukulele.
1988 – Skrillex, American DJ and producer. Sonny John Moore (born January 15, 1988), known professionally as Skrillex, is an American record producer, DJ, musician, singer and songwriter.
1987 – Barbara Blank, American model and former professional wrestler. Barbara Jean Blank (born January 15, 1987) is an American model, actress, reality television personality, and professional wrestler, better known by her ring name Kelly Kelly.
1984 – Ben Shapiro, American author and pundit. Benjamin Aaron Shapiro (born January 15, 1984) is an American conservative political commentator, public speaker, author, and lawyer.
1982 – Benjamin Agosto, American skater. With partner Tanith Belbin, Agosto is the 2006 Olympic silver medalist, a four-time World medalist, the 2004–2006 Four Continents champion, and 2004–2008 U.S. champion.
1982 – Brett Lebda, American ice hockey player. Brett Steven Lebda (born January 15, 1982) is a former American professional ice hockey defenseman, who last played with the Binghamton Senators of the American Hockey League (AHL).
1981 – Pitbull, American rapper and producer. Pit bull is the common name for a type of dog descended from bulldogs and terriers.
1980 – Matt Holliday, American baseball player. Matthew Thomas Holliday (born January 15, 1980) is an American former professional left fielder and first baseman.
1979 – Drew Brees, American football player. Drew Christopher Brees (/briːz/; born January 15, 1979) is an American football quarterback for the New Orleans Saints of the National Football League (NFL).
1978 – Eddie Cahill, American actor. Edmund Patrick "Eddie" Cahill (born January 15, 1978) is an American actor known for portraying "Miracle on Ice" goalie Jim Craig in the movie Miracle, and for playing the roles of Tag Jones in Friends and Detective Don Flack in CSI: NY.
1976 – Doug Gottlieb, American basketball player and sportscaster. He now works for FOX Sports, Pac-12 Network and CBS Sports after tenures with ESPN.
1975 – Mary Pierce, Canadian-American tennis player and coach. Mary Caroline Pierce (born 15 January 1975) is a retired tennis professional who represented France internationally in team competitions and the Olympics.
1972 – Shelia Burrell, American heptathlete. Her best Olympic finish was fourth place.
1971 – Regina King, American actress. Time magazine named King one of the 100 most influential people in the world in 2019.
1970 – Shane McMahon, American wrestler and businessman. Shane Brandon McMahon (born January 15, 1970) is an American businessman, professional wrestler, and the vice-chairman of Seven Stars Cloud Group, Inc, formerly Wecast Holdings Inc.
1969 – Delino DeShields, American baseball player and manager. Delino Lamont DeShields (born January 15, 1969), also nicknamed "Bop", is an American former professional baseball second baseman and current first base coach for the Cincinnati Reds.
1968 – Chad Lowe, American actor, director, and producer. He won an Emmy Award for his supporting role in Life Goes On as a young man living with HIV.
1967 – Ted Tryba, American golfer. Ted Tryba (born January 15, 1967) is an American professional golfer who has played on the PGA Tour and the Nationwide Tour.
1966 – Lisa Lisa, American R&B singer. Lisa Velez (born January 1967), better known by her stage name Lisa Lisa, is an American singer and actress.
1965 – Bernard Hopkins, American boxer and coach. He is one of the most successful boxers of the past three decades, having held multiple world championships in two weight classes, including the undisputed middleweight title from 2004 to 2005, and the lineal light heavyweight title from 2011 to 2012.
1963 – Bruce Schneier, American cryptographer and author. He worked for IBM since they acquired Resilient Systems where Schneier was CTO until he left at the end of June 2019.
1957 – David Ige, American politician. David Yutaka Ige (/ˈiːɡeɪ/; born January 15, 1957) is an American politician serving as the eighth governor of Hawaii.
1957 – Mario Van Peebles, American actor and director. Mario Cain "Chip" Van Peebles (born January 15, 1957) is an American film director and actor best known for directing New Jack City in 1991 and USS Indianapolis: Men of Courage in 2016.
1957 – Marty Lyons, American football player and sportscaster, was a defensive tackle in the National Football League for eleven seasons during the 1970s and 1980s. Lyons played college football for the University of Alabama, and earned All-American honors.
1956 – Marc Trestman, American football player and coach. He led the Alouettes to two consecutive Grey Cup championships and was named CFL Coach of the Year in 2009.
1949 – Howard Twitty, American golfer. Howard Allen Twitty (born January 15, 1949) is an American professional golfer who played on the PGA Tour in the 1970s, 1980s, and 1990s; and played on the Champions Tour from 1999 until 2007.
1949 – Luis Alvarado, Puerto Rican-American baseball player (d. 2001), was a utility infielder in Major League Baseball.
1948 – Ronnie Van Zant, American singer-songwriter (d. 1977), was an American musician, known as the lead vocalist, primary lyricist, and founding member of the Southern rock band Lynyrd Skynyrd. He was the older brother of two other rock vocalists: current Lynyrd Skynyrd lead vocalist Johnny Van Zant and Donnie Van Zant, the founder and vocalist of 38 Special.
1947 – Andrea Martin, American-Canadian actress, singer, and screenwriter. Andrea Louise Martin (born January 15, 1947) is a Canadian-American actress, singer, author and comedian, best known for her work in the television series SCTV and Great News.
1945 – Vince Foster, American lawyer and political figure (d. 1993), was a Deputy White House Counsel during the first six months of President Bill Clinton's administration. He had been a partner at Rose Law Firm in Little Rock, Arkansas, where he was a colleague and friend of Hillary Rodham Clinton's and where, as The Washington Post later wrote, he rose to "the pinnacle of the Arkansas legal establishment." At the White House he was unhappy with work in politics and spiraled into depression, and in July 1993 he was found dead by gunshot in a Virginia park.
1945 – William R. Higgins, American colonel (d. 1990), was a colonel in the United States Marine Corps who was captured in 1988 while serving on a United Nations (UN) peacekeeping mission in Lebanon. He was held hostage, tortured and eventually murdered by his captors.
1943 – Stuart E. Eizenstat, American lawyer and diplomat, United States Ambassador to the European Union. Stuart Elliott "Stu" Eizenstat (born January 15, 1943) is an American diplomat and attorney.
1942 – Frank Joseph Polozola, American academic and judge (d. 2013), was a United States District Judge of the United States District Court for the Middle District of Louisiana.
1941 – Captain Beefheart, American singer-songwriter, musician, and artist (d. 2010), was an American singer, songwriter, multi-instrumentalist, and visual artist best known by the stage name Captain Beefheart. He conducted a rotating ensemble called the Magic Band, with whom he recorded 13 studio albums between 1964 and 1982.
1937 – Margaret O'Brien, American actress and singer. Margaret O'Brien (born Angela Maxine O'Brien; January 15, 1937) is an American film, radio, television, and stage actress.
1933 – Ernest J. Gaines, American author and academic, was an American author whose works have been taught in college classrooms and translated into many languages, including French, Spanish, German, Russian and Chinese. Four of his works were made into television movies.
1931 – Lee Bontecou, American painter and sculptor. Lee Bontecou (born January 15, 1931 in Providence, Rhode Island) is an American sculptor and printmaker and a pioneer figure in the New York art world.
1930 – Eddie Graham, American wrestler and promoter (d. 1985). He was also the promoter and booker for Championship Wrestling from Florida and President of the NWA in the 1970s.
1929 – Earl Hooker, American guitarist (d. 1970), was a Chicago blues guitarist known for his slide guitar playing. Considered a "musician's musician", he performed with blues artists such as Sonny Boy Williamson II, Junior Wells, and John Lee Hooker and fronted his own bands.
1929 – Martin Luther King, Jr., American minister and activist, Nobel Prize laureate (d. 1968), was an American Christian minister and activist who became the most visible spokesperson and leader in the Civil Rights Movement from 1955 until his assassination in 1968. Born in Atlanta, Georgia, King is best known for advancing civil rights through nonviolence and civil disobedience, inspired by his Christian beliefs and the nonviolent activism of Mahatma Gandhi.
1927 – Phyllis Coates, American actress. Phyllis Coates (born Gypsie Ann Evarts Stell; January 15, 1927) is an American actress best known for her portrayal of reporter Lois Lane in the 1951 film Superman and the Mole Men and in the first season of the television series Adventures of Superman.
1925 – Ruth Slenczynska, American pianist and composer. Ruth Slenczynska (born January 15, 1925) is an American pianist.
1920 – Steve Gromek, American baseball player (d. 2002), was an American right-handed pitcher in Major League Baseball who played for 17 seasons in the American League with the Cleveland Indians and Detroit Tigers. In 447 career games, Gromek pitched 2,064⅔ innings and posted a win–loss record of 123–108 with 92 complete games, 17 shutouts, and a 3.41 earned run average (ERA).
1913 – Lloyd Bridges, American actor (d. 1998), was an American film, stage and television actor who starred in a number of television series and appeared in more than 150 feature films. He was the father of four children, two are the actors Beau Bridges and Jeff Bridges.
1909 – Gene Krupa, American drummer, composer, and actor (d. 1973), was an American jazz drummer, band leader, actor, and composer known for his energetic style and showmanship. His drum solo on "Sing, Sing, Sing" (1937) elevated the role of the drummer from an accompanying line to an important solo voice in the band.
1908 – Edward Teller, Hungarian-American physicist and academic (d. 2003), was a Hungarian-American theoretical physicist who is known colloquially as "the father of the hydrogen bomb" (see the Teller–Ulam design), although he did not care for the title, and was only part of a team who developed the technology. Throughout his life, Teller was known both for his scientific ability and for his difficult interpersonal relations and volatile personality.
1903 – Paul A. Dever, American lieutenant and politician, 58th Governor of Massachusetts (d. 1958), was an American Democratic politician from Boston, Massachusetts. He served as the 58th Governor of Massachusetts and was its youngest-ever Attorney General.
1896 – Marjorie Bennett, Australian-American actress (d. 1982), was an Australian-born television and film actress, who worked mainly in Great Britain and the United States. She began her acting career during the silent film era.
1891 – Ray Chapman, American baseball player (d. 1920). He spent his entire career as a shortstop for the Cleveland Indians.
1885 – Grover Lowdermilk, American baseball player (d. 1968), was an American Major League Baseball pitcher with the St. Louis Cardinals, Chicago Cubs, St.
1877 – Lewis Terman, American psychologist, eugenicist, and academic (d. 1956), was an American psychologist and author. He was noted as a pioneer in educational psychology in the early 20th century at the Stanford Graduate School of Education.
1870 – Pierre S. du Pont, American businessman and philanthropist (d. 1954), was an American entrepreneur, businessman, philanthropist and member of the prominent du Pont family.
1869 – Ruby Laffoon, American lawyer and politician, 43rd Governor of Kentucky (d. 1941), was an American politician who served as the 43rd Governor of Kentucky from 1931 to 1935. A Kentucky native, at age 17 Laffoon moved to Washington, D.C., to live with his uncle, U.S.
1842 – Mary MacKillop, Australian nun and saint, co-founded the Sisters of St Joseph of the Sacred Heart (d. 1909), was an Australian nun who has been declared a saint by the Catholic Church, as St Mary of the Cross. Of Scottish descent, she was born in Melbourne but is best known for her activities in South Australia.
1834 – Samuel Arza Davenport, American lawyer and politician (d. 1911), was a Republican member of the U.S. House of Representatives from Pennsylvania.
1815 – William Bickerton, English-American religious leader, 3rd President of the Church of Jesus Christ (d. 1905), was a leader in the Latter Day Saint movement after the 1844 succession crisis. In 1862, Bickerton became the founding president of the church now known as The Church of Jesus Christ (Bickertonite), which is one of many churches that claim to be a continuation of the Church of Christ founded by Joseph Smith in 1830.
1716 – Philip Livingston, American merchant and politician (d. 1778), was an American merchant and statesman from New York City. He represented New York at the October 1774 First Continental Congress, where he favored imposing economic sanctions upon Great Britain as a way of pressuring the British Parliament to repeal the Intolerable Acts.
Deaths
2016 – Francisco X. Alarcón, American poet and educator (b. 1954)
2015 – Ervin Drake, American songwriter and composer (b. 1919)
2015 – Kim Fowley, American singer-songwriter, producer, and manager (b. 1939)
2015 – Ray Nagel, American football player and coach (b. 1927)
2014 – Curtis Bray, American football player and coach (b. 1970)
2013 – John Thomas, American high jumper (b. 1941)
2012 – Ed Derwinski, American soldier and politician, 1st United States Secretary of Veterans Affairs (b. 1926)
2012 – Hulett C. Smith, American lieutenant and politician, 27th Governor of West Virginia (b. 1918)
2012 – Samuel Jaskilka, American general (b. 1919)
2008 – Robert V. Bruce, American historian, author, and academic (b. 1923)
2007 – James Hillier, Canadian-American computer scientist and academic, co-invented the electron microscope (b. 1915)
2005 – Elizabeth Janeway, American author and critic (b. 1913)
2005 – Ruth Warrick, American actress (b. 1916)
2004 – Olivia Goldsmith, American author (b. 1949)
2002 – Michael Anthony Bilandic, American politician, 49th Mayor of Chicago (b. 1923)
1998 – Junior Wells, American singer-songwriter and harmonica player (b. 1934)
1996 – Les Baxter, American pianist and composer (b. 1922)
1994 – Harry Nilsson, American singer-songwriter (b. 1941)
1993 – Sammy Cahn, American songwriter (b. 1913)
1987 – Ray Bolger, American actor, singer, and dancer (b. 1904)
1983 – Shepperd Strudwick, American actor (b. 1907)
1982 – Red Smith, American journalist (b. 1905)
1974 – Harold D. Cooley, American lawyer and politician (b. 1897)
1973 – Coleman Francis, American actor, director, and producer (b. 1919)
1970 – William T. Piper, American engineer and businessman, founded Piper Aircraft (b. 1881)
1968 – Bill Masterton, Canadian-American ice hockey player (b. 1938)
1964 – Jack Teagarden, American singer-songwriter and trombonist (b. 1905)
1955 – Yves Tanguy, French-American painter (b. 1900)
1950 – Henry H. Arnold, American general (b. 1886)
1948 – Josephus Daniels, American publisher and diplomat, 41st United States Secretary of the Navy (b. 1862)
1929 – George Cope, American painter (b. 1855)
1896 – Mathew Brady, American photographer and journalist (b. 1822)
1885 – Leopold Damrosch, German-American composer and conductor (b. 1832)
1876 – Eliza McCardle Johnson, American wife of Andrew Johnson, 18th First Lady of the United States (b. 1810)
Martin Luther King Jr. Day in Wisconsin Public Schools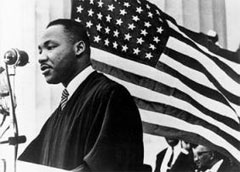 Wisconsin's 21 special observance days are part of state statutes governing general school operations (Wis. Stat. sec. 118.02). Federal law has moved the celebration of m..→