Tuesday 15 January 2019 Calendar with holidays, observances and special days
Holidays and observances
Army Day in India
Earliest day on which Martin Luther King Jr. Day can fall, while January 21 is the latest; celebrated on the third Monday in January. (United States)
Hat Day
Makar Sankranti in India
National Fresh Squeezed Juice Day and National Strawberry Ice Cream Day in USA
Ocean Duty Day in Indonesia
Thai Pongal in Sri Lanka (is a harvest festival dedicated to the Sun. It is a four-day festival which according to the Tamil calendar is usually celebrated from January 14 to January 17)
Thai Pongal, Tamil harvest festival in India
Events
In 2018 University of Pennsylvania announces in the United States National Library of Medicine human clinical trials, that will encompass the use of CRISPR technology to modify the T cells of patients with multiple myeloma, sarcoma and melanoma cancers, to allow the cells to more effectively combat the cancers, the first of their kind trials in the US.
2005 – ESA's SMART-1 lunar orbiter discovers elements such as calcium, aluminum, silicon, iron, and other surface elements on the Moon.
1991 – Elizabeth II, in her capacity as Queen of Australia, signs letters patent allowing Australia to become the first Commonwealth realm to institute its own Victoria Cross in its honours system.
1967 – The first Super Bowl is played in Los Angeles. The Green Bay Packers defeat the Kansas City Chiefs 35–10.
1966 – The First Nigerian Republic, led by Abubakar Tafawa Balewa is overthrown in a military coup d'état.
1936 – The first building to be completely covered in glass, built for the Owens-Illinois Glass Company, is completed in Toledo, Ohio.
1919 – Great Molasses Flood: A wave of molasses released from an exploding storage tank sweeps through Boston, Massachusetts, killing 21 and injuring 150.
1910 – Construction ends on the Buffalo Bill Dam in Wyoming, United States, which was the highest dam in the world at the time, at 325 ft (99 m).
1908 – The Alpha Kappa Alpha sorority becomes the first Greek-letter organization founded and established by African American college women.
1876 – The first newspaper in Afrikaans, Die Afrikaanse Patriot, is published in Paarl.
1870 – A political cartoon for the first time symbolizes the Democratic Party with a donkey ("A Live Jackass Kicking a Dead Lion" by Thomas Nast for Harper's Weekly).
1865 – American Civil War: Fort Fisher in North Carolina falls to the Union, thus cutting off the last major seaport of the Confederacy.
1815 – War of 1812: American frigate USS President, commanded by Commodore Stephen Decatur, is captured by a squadron of four British frigates.
1777 – American Revolutionary War: New Connecticut (present-day Vermont) declares its independence.
Births
2004 – Grace VanderWaal, American singer
1988 – Skrillex, American DJ and producer
1987 – Barbara Blank, American model and former professional wrestler
1986 – Fred Davis, American football player
1984 – Ben Shapiro, American author and pundit
1982 – Benjamin Agosto, American skater
1982 – Brett Lebda, American ice hockey player
1981 – Pitbull, American rapper and producer
1980 – Matt Holliday, American baseball player
1979 – Drew Brees, American football player
1978 – Eddie Cahill, American actor
1976 – Doug Gottlieb, American basketball player and sportscaster
1975 – Mary Pierce, Canadian-American tennis player and coach
1974 – Ray King, American baseball player
1972 – Shelia Burrell, American heptathlete
1971 – Regina King, American actress
1970 – Shane McMahon, American wrestler and businessman
1969 – Delino DeShields, American baseball player and manager
1968 – Chad Lowe, American actor, director, and producer
1967 – Ted Tryba, American golfer
1966 – Lisa Lisa, American R&B singer
1965 – Bernard Hopkins, American boxer and coach
1963 – Bruce Schneier, American cryptographer and author
1957 – David Ige, American politician
1957 – Mario Van Peebles, American actor and director
1957 – Marty Lyons, American football player and sportscaster
1956 – Marc Trestman, American football player and coach
1953 – Randy White, American football player
1949 – Howard Twitty, American golfer
1949 – Luis Alvarado, Puerto Rican-American baseball player (d. 2001)
1948 – Ronnie Van Zant, American singer-songwriter (d. 1977)
1947 – Andrea Martin, American-Canadian actress, singer, and screenwriter
1946 – Charles Brown, American actor (d. 2004)
1945 – Vince Foster, American lawyer and political figure (d. 1993)
1945 – William R. Higgins, American colonel (d. 1990)
1943 – Mike Marshall, American baseball player
1943 – Stuart E. Eizenstat, American lawyer and diplomat, United States Ambassador to the European Union
1942 – Frank Joseph Polozola, American academic and judge (d. 2013)
1941 – Captain Beefheart, American singer-songwriter, musician, and artist (d. 2010)
1937 – Margaret O'Brien, American actress and singer
1933 – Ernest J. Gaines, American author and academic
1932 – Lou Jones, American sprinter (d. 2006)
1931 – Lee Bontecou, American painter and sculptor
1930 – Eddie Graham, American wrestler and promoter (d. 1985)
1929 – Earl Hooker, American guitarist (d. 1970)
1929 – Martin Luther King, Jr., American minister and activist, Nobel Prize laureate (d. 1968)
1927 – Phyllis Coates, American actress
1925 – Ruth Slenczynska, American pianist and composer
1920 – John O'Connor, American cardinal (d. 2000)
1920 – Steve Gromek, American baseball player (d. 2002)
1913 – Lloyd Bridges, American actor (d. 1998)
1909 – Gene Krupa, American drummer, composer, and actor (d. 1973)
1908 – Edward Teller, Hungarian-American physicist and academic (d. 2003)
1903 – Paul A. Dever, American lieutenant and politician, 58th Governor of Massachusetts (d. 1958)
1896 – Marjorie Bennett, Australian-American actress (d. 1982)
1891 – Ray Chapman, American baseball player (d. 1920)
1885 – Grover Lowdermilk, American baseball player (d. 1968)
1877 – Lewis Terman, American psychologist, eugenicist, and academic (d. 1956)
1875 – Thomas Burke, American sprinter, coach, and journalist (d. 1929)
1870 – Pierre S. du Pont, American businessman and philanthropist (d. 1954)
1869 – Ruby Laffoon, American lawyer and politician, 43rd Governor of Kentucky (d. 1941)
1842 – Mary MacKillop, Australian nun and saint, co-founded the Sisters of St Joseph of the Sacred Heart (d. 1909)
1834 – Samuel Arza Davenport, American lawyer and politician (d. 1911)
1815 – William Bickerton, English-American religious leader, 3rd President of the Church of Jesus Christ (d. 1905)
1754 – Richard Martin, Irish activist and politician, co-founded the Royal Society for the Prevention of Cruelty to Animals (d. 1834)
1716 – Philip Livingston, American merchant and politician (d. 1778)
Deaths
2016 – Francisco X. Alarcón, American poet and educator (b. 1954)
2015 – Ervin Drake, American songwriter and composer (b. 1919)
2015 – Kim Fowley, American singer-songwriter, producer, and manager (b. 1939)
2015 – Ray Nagel, American football player and coach (b. 1927)
2014 – Curtis Bray, American football player and coach (b. 1970)
2014 – John Dobson, Chinese-American astronomer and author (b. 1915)
2013 – John Thomas, American high jumper (b. 1941)
2012 – Ed Derwinski, American soldier and politician, 1st United States Secretary of Veterans Affairs (b. 1926)
2012 – Hulett C. Smith, American lieutenant and politician, 27th Governor of West Virginia (b. 1918)
2012 – Samuel Jaskilka, American general (b. 1919)
2008 – Robert V. Bruce, American historian, author, and academic (b. 1923)
2007 – James Hillier, Canadian-American computer scientist and academic, co-invented the electron microscope (b. 1915)
2005 – Elizabeth Janeway, American author and critic (b. 1913)
2005 – Ruth Warrick, American actress (b. 1916)
2004 – Olivia Goldsmith, American author (b. 1949)
2003 – Doris Fisher, American singer-songwriter (b. 1915)
2002 – Michael Anthony Bilandic, American politician, 49th Mayor of Chicago (b. 1923)
1998 – Junior Wells, American singer-songwriter and harmonica player (b. 1934)
1996 – Les Baxter, American pianist and composer (b. 1922)
1994 – Harry Nilsson, American singer-songwriter (b. 1941)
1993 – Sammy Cahn, American songwriter (b. 1913)
1987 – Ray Bolger, American actor, singer, and dancer (b. 1904)
1983 – Shepperd Strudwick, American actor (b. 1907)
1982 – Red Smith, American journalist (b. 1905)
1974 – Harold D. Cooley, American lawyer and politician (b. 1897)
1973 – Coleman Francis, American actor, director, and producer (b. 1919)
1970 – William T. Piper, American engineer and businessman, founded Piper Aircraft (b. 1881)
1968 – Bill Masterton, Canadian-American ice hockey player (b. 1938)
1964 – Jack Teagarden, American singer-songwriter and trombonist (b. 1905)
1955 – Yves Tanguy, French-American painter (b. 1900)
1950 – Henry H. Arnold, American general (b. 1886)
1948 – Josephus Daniels, American publisher and diplomat, 41st United States Secretary of the Navy (b. 1862)
1929 – George Cope, American painter (b. 1855)
1896 – Mathew Brady, American photographer and journalist (b. 1822)
1885 – Leopold Damrosch, German-American composer and conductor (b. 1832)
1876 – Eliza McCardle Johnson, American wife of Andrew Johnson, 18th First Lady of the United States (b. 1810)
Tuesday 15 January 2019
Martin Luther King Jr. Day in Wisconsin Public Schools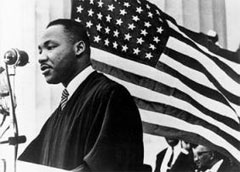 Wisconsinís 21 special observance days are part of state statutes governing general school operations (Wis. Stat. sec. 118.02). Federal law has moved the celebration of m..→