Monday 30 January 2023 Calendar with holidays, observances and special days
Calendars
:
Health Calendar
,
US Holidays
,
Worldwide Holidays
,
Argentina
,
Azerbaijan
,
Brazil
,
Career Holidays (Recognition Holidays)
,
Food holidays
,
Greece
,
India
,
Mexico
,
Spain
,
Unusual Holidays (Weird and Funny Holidays)
,
Venezuela
Holidays and observances
Events
2013 – Naro-1 becomes the first carrier rocket launched by South Korea.
1995 – Workers from the National Institutes of Health announce the success of clinical trials testing the first preventive treatment for sickle-cell disease.
1989 – Closure of the American embassy in Kabul, Democratic Republic of Afghanistan.
1982 – Richard Skrenta writes the first PC virus code, which is 400 lines long and disguised as an Apple boot program called "Elk Cloner".
1975 – The Monitor National Marine Sanctuary is established as the first United States National Marine Sanctuary.
1968 – Vietnam War: Tet Offensive launch by forces of the Viet Cong and North Vietnamese Army against South Vietnam, the United States, and their allies.
1960 – The African National Party is founded in Chad, through the merger of traditionalist parties.
1956 – African-American civil rights leader Martin Luther King, Jr.'s home is bombed in retaliation for the Montgomery Bus Boycott.
1945 – World War II: Raid at Cabanatuan: One hundred twenty-six American Rangers and Filipino resistance fighters liberate over 500 Allied prisoners from the Japanese-controlled Cabanatuan POW camp.
1911 – The destroyer USS Terry makes the first airplane rescue at sea saving the life of Douglas McCurdy ten miles from Havana, Cuba.
1908 – Indian pacifist and leader Mohandas Karamchand Gandhi is released from prison by Jan C. Smuts after being tried and sentenced to two months in jail earlier in the month.
1902 – The first Anglo-Japanese Alliance is signed in London.
1862 – The first American ironclad warship, the USS Monitor is launched.
1858 – The first Hallé concert is given in Manchester, England, marking the official founding of The Hallé orchestra as a full-time, professional orchestra.
1835 – In the first assassination attempt against a President of the United States, Richard Lawrence attempts to shoot president Andrew Jackson, but fails and is subdued by a crowd, including several congressmen as well as Jackson himself.
1826 – The Menai Suspension Bridge, considered the world's first modern suspension bridge, connecting the Isle of Anglesey to the north West coast of Wales, is opened.
1820 – Edward Bransfield sights the Trinity Peninsula and claims the discovery of Antarctica.
Births
1995 – Danielle Campbell, American actress. She is known for her starring roles as Jessica Olson in the 2010 Disney Channel Original Movie StarStruck, Simone Daniels in the 2011 Disney film Prom, Davina Claire in the 2013 CW television drama series The Originals and Kayla Powell in the 2018 CBS All Access television psychological thriller series Tell Me a Story.
1989 – Jahvid Best, former American football player. He played college football at California, setting several school records, including most all-purpose yards in a single season and most rushing yards in a single game.
1988 – Rob Pinkston, American actor and director. William Robert "Rob" Pinkston IV (born January 30, 1988) is an American actor who appeared during the fourth season of MTV's hidden camera practical joke television series, Punk'd.
1985 – Trae Williams, American football player. He played college football at South Florida.
1981 – Jonathan Bender, American basketball player. Jonathan Rene Bender (born January 30, 1981) is an American former professional basketball player who played for the Indiana Pacers and New York Knicks in the National Basketball Association (NBA).
1980 – Wilmer Valderrama, American actor and producer. He was also host of the MTV series Yo Momma (2006–07), the voice of Manny in the children's show Handy Manny (2006–13) and has had recurring roles on Grey's Anatomy as well as The Ranch (both in 2016).
1977 – Dan Hinote, American ice hockey player and coach. Daniel Chester Hinote (born January 30, 1977) is an American former professional ice hockey player and former assistant coach for the Columbus Blue Jackets of the National Hockey League.
1976 – Andy Milonakis, American actor and rapper. In 2013, he began a recurring role as Roman Armond on the Comedy Central sketch Kroll Show.
1973 – Jalen Rose, American basketball player and sportscaster. Jalen Anthony Rose (born January 30, 1973) is an American former professional basketball player, current sports analyst for ESPN, and cofounder of the Jalen Rose Leadership Academy.
1972 – Jill McGill, American golfer. Jill McGill (born January 30, 1972) is an American professional golfer on the LPGA Tour.
1972 – Lupillo Rivera, Mexican-American singer-songwriter. Guadalupe Rivera Saavedra better known by the stage name Lupillo Rivera is a Mexican-American singer-songwriter.
1971 – Kimo von Oelhoffen, American football player. He played college football at Boise State.
1967 – Jay Gordon, American singer-songwriter and producer. He is best known as the lead singer and original member of the band Orgy which he founded in 1994.
1966 – Neal Chase, American educator. The Bahá'ís Under the Provisions of the Covenant (BUPC) is a small Bahá'í sect founded by Leland Jensen in the early 1970s.
1959 – Jody Watley, American singer-songwriter and producer. Jody Vanessa Watley (born January 30, 1959) is an American singer, songwriter, record producer, and artist whose music crosses genres including pop, R&B, jazz, dance, and electronic soul.
1957 – Payne Stewart, American golfer (d. 1999), was an American professional golfer who won eleven PGA Tour events, including three major championships in his career, the last of which occurred a few months before he died in an airplane accident at the age of 42.
1955 – Curtis Strange, American golfer and sportscaster. Open titles and a member of the World Golf Hall of Fame and Virginia Sports Hall of Fame.
1955 – John Baldacci, American politician, 73rd Governor of Maine. A Democrat, he also served as a member of the United States House of Representatives from 1995 to 2003.
1955 – Tom Izzo, American basketball player and coach. Tom Izzo (/ˈɪzoʊ/, Italian pronunciation: ); born January 30, 1955), is an American college basketball coach who has been the head coach at Michigan State University since 1995.
1953 – Fred Hembeck, American author and illustrator. Fred Hembeck (born January 30, 1953) is an American cartoonist best known for his parodies of characters from major American comic book publishers.
1951 – Charles S. Dutton, American actor and director. His other accolades include three Primetime Emmy Awards and three NAACP Image Awards.
1949 – Peter Agre, American physician and biologist, Nobel Prize laureate. Peter Agre /ˈɑːɡriː/ (born January 30, 1949) is an American physician, Nobel Laureate, and molecular biologist, Bloomberg Distinguished Professor at the Johns Hopkins Bloomberg School of Public Health and Johns Hopkins School of Medicine, and director of the Johns Hopkins Malaria Research Institute.
1945 – Michael Dorris, American author and scholar (d. 1997), was an American novelist and scholar who was the first Chair of the Native American Studies program at Dartmouth College. His works include the novel A Yellow Raft in Blue Water (1987) and the memoir The Broken Cord (1989).
1944 – Lynn Harrell, American cellist and academic. Lynn Harrell (born January 30, 1944) is an American classical cellist.
1943 – Davey Johnson, American baseball player and manager. Johnson played in Major League Baseball from 1965 to 1975, then played for two seasons in the Nippon Professional Baseball league before returning to play in Major League Baseball for the Philadelphia Phillies and the Chicago Cubs from 1977 to 1978.
1942 – Marty Balin, American singer-songwriter and guitarist, was an American singer, songwriter, and musician best known as the founder and one of the lead singers and songwriters of Jefferson Airplane and Jefferson Starship.
1941 – Dick Cheney, American businessman and politician, 46th Vice President of the United States. He is also one of the most unpopular politicians in the history of the US, holding an approval rating of just 13% at the time of leaving office.
1941 – Gregory Benford, American astrophysicist and author. Gregory Benford (born January 30, 1941) is an American science fiction author and astrophysicist who is Professor Emeritus at the Department of Physics and Astronomy at the University of California, Irvine.
1935 – Richard Brautigan, American novelist, poet, and short story writer (d. 1984). Richard Gary Brautigan (January 30, 1935 – ca.
1934 – Tammy Grimes, American actress and singer (d. 2016). She won two Tony Awards in her career, the first for originating the role of Molly Tobin in the musical The Unsinkable Molly Brown and the second for starring in a 1970 revival of Private Lives as Amanda Prynne.
1931 – Shirley Hazzard, Australian-American novelist, short story writer, and essayist (d. 2016). She was born in Australia and also held United States citizenship.
1930 – Gene Hackman, American actor. In a career that spanned more than six decades, Hackman won two Academy Awards, four Golden Globes, one Screen Actors Guild Award, and two BAFTAs.
1928 – Harold Prince, American director and producer, was an American theatrical producer and director associated with many of the best-known Broadway musical productions of the 20th century.
1925 – Dorothy Malone, American actress. Her film career began in 1943, and, in her early years, she played small roles, mainly in B-movies.
1925 – Douglas Engelbart, American computer scientist, invented the computer mouse (d. 2013), was an American engineer and inventor, and an early computer and Internet pioneer. He is best known for his work on founding the field of human–computer interaction, particularly while at his Augmentation Research Center Lab in SRI International, which resulted in creation of the computer mouse, and the development of hypertext, networked computers, and precursors to graphical user interfaces.
1924 – Lloyd Alexander, American soldier and author (d. 2007), was an American author of more than forty books, primarily fantasy novels for children and young adults. His most famous work is The Chronicles of Prydain, a series of five high fantasy novels whose conclusion, The High King, was awarded the 1969 Newbery Medal for excellence in American children's literature.
1923 – Marianne Ferber, Czech-American economist and author (d. 2013). Ferber (January 30, 1923 – May 11, 2013) was an American feminist economist and the author of many books and articles on the subject of women's work, the family, and the construction of gender.
1920 – Delbert Mann, American director and producer (d. 2007), was an American television and film director. He won the Academy Award for Best Director for the film Marty (1955), adapted from a 1953 teleplay of the same name which he had also directed.
1919 – Fred Korematsu, American activist (d. 2005), was an American civil rights activist who objected to the internment of Japanese Americans during World War II. Shortly after the Imperial Japanese Navy launched its attack on Pearl Harbor, President Franklin D.
1918 – David Opatoshu, American actor and screenwriter (d. 1996). He is best known for his role in the film Exodus (1960).
1914 – David Wayne, American actor (d. 1995), was an American stage and screen actor with a career spanning over 50 years.
1912 – Barbara W. Tuchman, American historian and author (d. 1989). She won the Pulitzer Prize twice, for The Guns of August (1962), a best-selling history of the prelude to and the first month of World War I, and Stilwell and the American Experience in China (1971), a biography of General Joseph Stilwell.
1912 – Francis Schaeffer, American pastor and theologian (d. 1984), was an American Evangelical Christian theologian, philosopher, and Presbyterian pastor. He is best known for establishing the L'Abri community in Switzerland.
1911 – Roy Eldridge, American jazz trumpet player (d. 1989). His sophisticated use of harmony, including the use of tritone substitutions, his virtuosic solos exhibiting a departure from the dominant style of jazz trumpet innovator Louis Armstrong, and his strong impact on Dizzy Gillespie mark him as one of the most influential musicians of the swing era and a precursor of bebop.
1899 – Max Theiler, South African-American virologist and academic, Nobel Prize laureate (d. 1972), was a South African-American virologist and physician. He was awarded the Nobel Prize in Physiology or Medicine in 1951 for developing a vaccine against yellow fever in 1937, becoming the first African-born Nobel laureate.
1882 – Franklin D. Roosevelt, American lawyer and politician, 32nd President of the United States (d. 1945), was an American politician who served as the 32nd president of the United States from 1933 until his death in 1945. A member of the Democratic Party, he won a record four presidential elections and became a central figure in world events during the first half of the 20th century.
1866 – Gelett Burgess, American author, poet, and critic (d. 1951), was an artist, art critic, poet, author and humorist. An important figure in the San Francisco Bay Area literary renaissance of the 1890s, particularly through his iconoclastic little magazine, The Lark, he is best known as a writer of nonsense verse, such as "The Purple Cow", and for introducing French modern art to the United States in an essay titled The Wild Men of Paris.
1862 – Walter Damrosch, German-American conductor and composer (d. 1950), was a German-born American conductor and composer. He is best remembered today as long-time director of the New York Symphony Orchestra and for conducting the world premiere performances of George Gershwin's Piano Concerto in F (1925) and An American in Paris (1928).
1861 – Charles Martin Loeffler, French-American violinist and composer (d. 1935), was a German-born American violinist and composer.
1859 – Tony Mullane, Irish-American baseball player and manager (d. 1944), was an Irish Major League Baseball player who pitched for seven teams during his 13-season career. He is best known as a pitcher that could throw left-handed and right-handed, and for having one of the highest career win totals of pitchers not in the Baseball Hall of Fame.
1844 – Richard Theodore Greener, American lawyer, academic, and diplomat (d. 1922), was the first African American graduate of Harvard College. He later went on to become the dean of the Howard University School of Law.
1816 – Nathaniel P. Banks, American general and politician, 24th Governor of Massachusetts (d. 1894), was an American politician from Massachusetts and a Union general during the Civil War.
1754 – John Lansing, Jr., American lawyer and politician (d. 1829). Born and raised in Albany, New York, Lansing was trained as a lawyer, and was long involved in politics and government During the American Revolution he was military secretary to General Philip Schuyler.
Deaths
2016 – Georgia Davis Powers, American activist and politician (b. 1923)
2015 – Carl Djerassi, Austrian-American chemist, author, and playwright (b. 1923)
2014 – Arthur Rankin, Jr., American director, producer, and screenwriter (b. 1924)
2014 – The Mighty Hannibal, American singer-songwriter and producer (b. 1939)
2014 – William Motzing, American composer and conductor (b. 1937)
2013 – Patty Andrews, American singer (b. 1918)
2012 – Frank Aschenbrenner, American football player and soldier (b. 1925)
2009 – H. Guy Hunt, American soldier, pastor, and politician, 49th Governor of Alabama (b. 1933)
2008 – Marcial Maciel, Mexican-American priest, founded the Legion of Christ and Regnum Christi (b. 1920)
2007 – Sidney Sheldon, American author and screenwriter (b. 1917)
2006 – Coretta Scott King, American author and activist (b. 1927)
2006 – Wendy Wasserstein, American playwright and academic (b. 1950)
2001 – Joseph Ransohoff, American surgeon and educator (b. 1915)
1999 – Ed Herlihy, American journalist (b. 1909)
1999 – Huntz Hall, American actor (b. 1919)
1991 – Clifton C. Edom, American photographer and educator (b. 1907)
1991 – John Bardeen, American physicist and engineer, Nobel Prize laureate (b. 1908)
1982 – Lightnin' Hopkins, American singer-songwriter and guitarist (b. 1912)
1958 – Ernst Heinkel, German engineer and businessman; founded the Heinkel Aircraft Company (b. 1888)
1951 – Ferdinand Porsche, Austrian-German engineer and businessman, founded Porsche (b. 1875)
1948 – Orville Wright, American pilot and engineer, co-founded the Wright Company (b. 1871)
1934 – Frank Nelson Doubleday, American publisher, founded the Doubleday Publishing Company (b. 1862)
1926 – Barbara La Marr, American actress (b. 1896)
1838 – Osceola, American tribal leader (b. 1804)
1836 – Betsy Ross, American seamstress, said to have designed the American Flag (b. 1752)
Fred Korematsu Day of Civil Liberties and the Constitution in California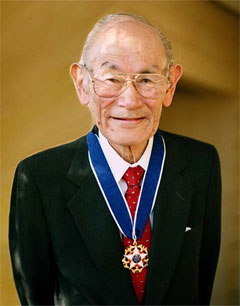 Fred Korematsu was born in Oakland, California, on January 30, 1919, to Japanese immigrant parents. Upon graduation from Castlemont High School in 1937, Fred Korematsu wa..→