Thursday 30 January 2020 Calendar with holidays, observances and special days
Holidays and observances
Events
2013 – Naro-1 becomes the first carrier rocket launched by South Korea.
1995 – Workers from the National Institutes of Health announce the success of clinical trials testing the first preventive treatment for sickle-cell disease.
1989 – Closure of the American embassy in Kabul, Democratic Republic of Afghanistan.
1982 – Richard Skrenta writes the first PC virus code, which is 400 lines long and disguised as an Apple boot program called "Elk Cloner".
1975 – The Monitor National Marine Sanctuary is established as the first United States National Marine Sanctuary.
1968 – Vietnam War: Tet Offensive launch by forces of the Viet Cong and North Vietnamese Army against South Vietnam, the United States, and their allies.
1960 – The African National Party is founded in Chad, through the merger of traditionalist parties.
1956 – African-American civil rights leader Martin Luther King, Jr.'s home is bombed in retaliation for the Montgomery Bus Boycott.
1945 – World War II: Raid at Cabanatuan: One hundred twenty-six American Rangers and Filipino resistance fighters liberate over 500 Allied prisoners from the Japanese-controlled Cabanatuan POW camp.
1911 – The destroyer USS Terry makes the first airplane rescue at sea saving the life of Douglas McCurdy ten miles from Havana, Cuba.
1908 – Indian pacifist and leader Mohandas Karamchand Gandhi is released from prison by Jan C. Smuts after being tried and sentenced to two months in jail earlier in the month.
1902 – The first Anglo-Japanese Alliance is signed in London.
1862 – The first American ironclad warship, the USS Monitor is launched.
1858 – The first Hallé concert is given in Manchester, England, marking the official founding of The Hallé orchestra as a full-time, professional orchestra.
1835 – In the first assassination attempt against a President of the United States, Richard Lawrence attempts to shoot president Andrew Jackson, but fails and is subdued by a crowd, including several congressmen as well as Jackson himself.
1826 – The Menai Suspension Bridge, considered the world's first modern suspension bridge, connecting the Isle of Anglesey to the north West coast of Wales, is opened.
1820 – Edward Bransfield sights the Trinity Peninsula and claims the discovery of Antarctica.
Births
1995 – Danielle Campbell, American actress
1989 – Jahvid Best, former American football player
1988 – Rob Pinkston, American actor and director
1986 – Nick Evans, American baseball player
1985 – Trae Williams, American football player
1981 – Jonathan Bender, American basketball player
1980 – Wilmer Valderrama, American actor and producer
1978 – John Patterson, American baseball player
1977 – Dan Hinote, American ice hockey player and coach
1976 – Andy Milonakis, American actor and rapper
1973 – Jalen Rose, American basketball player and sportscaster
1972 – Jill McGill, American golfer
1972 – Lupillo Rivera, Mexican-American singer-songwriter
1971 – Kimo von Oelhoffen, American football player
1967 – Jay Gordon, American singer-songwriter and producer
1966 – Neal Chase, American educator
1964 – Otis Smith, American basketball player, coach, and manager
1959 – Jody Watley, American singer-songwriter and producer
1957 – Payne Stewart, American golfer (d. 1999)
1955 – Curtis Strange, American golfer and sportscaster
1955 – John Baldacci, American politician, 73rd Governor of Maine
1955 – Tom Izzo, American basketball player and coach
1953 – Fred Hembeck, American author and illustrator
1951 – Charles S. Dutton, American actor and director
1949 – Peter Agre, American physician and biologist, Nobel Prize laureate
1946 – John Bird, Baron Bird, English publisher, founded The Big Issue
1945 – Michael Dorris, American author and scholar (d. 1997)
1944 – Lynn Harrell, American cellist and academic
1943 – Davey Johnson, American baseball player and manager
1942 – Marty Balin, American singer-songwriter and guitarist
1941 – Dick Cheney, American businessman and politician, 46th Vice President of the United States
1941 – Gregory Benford, American astrophysicist and author
1935 – Richard Brautigan, American novelist, poet, and short story writer (d. 1984)
1934 – Tammy Grimes, American actress and singer (d. 2016)
1931 – Shirley Hazzard, Australian-American novelist, short story writer, and essayist (d. 2016)
1930 – Gene Hackman, American actor
1928 – Harold Prince, American director and producer
1925 – Dorothy Malone, American actress
1925 – Douglas Engelbart, American computer scientist, invented the computer mouse (d. 2013)
1924 – Lloyd Alexander, American soldier and author (d. 2007)
1923 – Marianne Ferber, Czech-American economist and author (d. 2013)
1922 – Dick Martin, American comedian, actor, and director (d. 2008)
1920 – Delbert Mann, American director and producer (d. 2007)
1919 – Fred Korematsu, American activist (d. 2005)
1918 – David Opatoshu, American actor and screenwriter (d. 1996)
1914 – David Wayne, American actor (d. 1995)
1914 – John Ireland, Canadian-American actor and director (d. 1992)
1912 – Barbara W. Tuchman, American historian and author (d. 1989)
1912 – Francis Schaeffer, American pastor and theologian (d. 1984)
1911 – Roy Eldridge, American jazz trumpet player (d. 1989)
1899 – Max Theiler, South African-American virologist and academic, Nobel Prize laureate (d. 1972)
1882 – Franklin D. Roosevelt, American lawyer and politician, 32nd President of the United States (d. 1945)
1866 – Gelett Burgess, American author, poet, and critic (d. 1951)
1862 – Walter Damrosch, German-American conductor and composer (d. 1950)
1861 – Charles Martin Loeffler, French-American violinist and composer (d. 1935)
1859 – Tony Mullane, Irish-American baseball player and manager (d. 1944)
1844 – Richard Theodore Greener, American lawyer, academic, and diplomat (d. 1922)
1816 – Nathaniel P. Banks, American general and politician, 24th Governor of Massachusetts (d. 1894)
1754 – John Lansing, Jr., American lawyer and politician (d. 1829)
Deaths
2016 – Georgia Davis Powers, American activist and politician (b. 1923)
2015 – Carl Djerassi, Austrian-American chemist, author, and playwright (b. 1923)
2014 – Arthur Rankin, Jr., American director, producer, and screenwriter (b. 1924)
2014 – The Mighty Hannibal, American singer-songwriter and producer (b. 1939)
2014 – William Motzing, American composer and conductor (b. 1937)
2013 – George Witt, American baseball player and coach (b. 1931)
2013 – Patty Andrews, American singer (b. 1918)
2012 – Frank Aschenbrenner, American football player and soldier (b. 1925)
2009 – H. Guy Hunt, American soldier, pastor, and politician, 49th Governor of Alabama (b. 1933)
2008 – Marcial Maciel, Mexican-American priest, founded the Legion of Christ and Regnum Christi (b. 1920)
2007 – Sidney Sheldon, American author and screenwriter (b. 1917)
2006 – Coretta Scott King, American author and activist (b. 1927)
2006 – Wendy Wasserstein, American playwright and academic (b. 1950)
2001 – Joseph Ransohoff, American surgeon and educator (b. 1915)
1999 – Ed Herlihy, American journalist (b. 1909)
1999 – Huntz Hall, American actor (b. 1919)
1991 – Clifton C. Edom, American photographer and educator (b. 1907)
1991 – John Bardeen, American physicist and engineer, Nobel Prize laureate (b. 1908)
1982 – Lightnin' Hopkins, American singer-songwriter and guitarist (b. 1912)
1958 – Ernst Heinkel, German engineer and businessman; founded the Heinkel Aircraft Company (b. 1888)
1951 – Ferdinand Porsche, Austrian-German engineer and businessman, founded Porsche (b. 1875)
1948 – Orville Wright, American pilot and engineer, co-founded the Wright Company (b. 1871)
1934 – Frank Nelson Doubleday, American publisher, founded the Doubleday Publishing Company (b. 1862)
1926 – Barbara La Marr, American actress (b. 1896)
1838 – Osceola, American tribal leader (b. 1804)
1836 – Betsy Ross, American seamstress, said to have designed the American Flag (b. 1752)
Thursday 30 January 2020
Fred Korematsu Day of Civil Liberties and the Constitution in California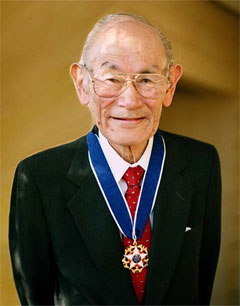 Fred Korematsu was born in Oakland, California, on January 30, 1919, to Japanese immigrant parents. Upon graduation from Castlemont High School in 1937, Fred Korematsu wa..→