Monday 11 February 2019 Calendar with holidays, observances and special days
Holidays and observances
Cædmon, first recorded Christian poet in England, circa 680 CE (Anglicanism)
Foundation Day in Japan
International Epilepsy Day (every year on the second Monday of February people join together to celebrate IED)
Inventors' Day (United States)
Events
2011 – The first wave of the Egyptian revolution culminates in the resignation of Hosni Mubarak and the transfer of power to the Supreme Military Council after 18 days of protests.
1997 – Space Shuttle Discovery is launched on a mission to service the Hubble Space Telescope.
1990 – Nelson Mandela is released from Victor Verster Prison outside Cape Town, South Africa after 27 years as a political prisoner.
1973 – Vietnam War: First release of American prisoners of war from Vietnam takes place.
1971 – Eighty-seven countries, including the United States, United Kingdom, and Soviet Union, sign the Seabed Arms Control Treaty outlawing nuclear weapons on the ocean floor in international waters.
1938 – BBC Television produces the world's first ever science fiction television program, an adaptation of a section of the Karel Čapek play R.U.R., that coined the term "robot".
1903 – Anton Bruckner's 9th Symphony receives its first performance in Vienna, Austria.
1889 – Meiji Constitution of Japan is adopted; the first National Diet convenes in 1890.
1861 – American Civil War: The United States House of Representatives unanimously passes a resolution guaranteeing noninterference with slavery in any state.
1858 – Bernadette Soubirous's first vision of the Blessed Virgin Mary in Lourdes, France.
1843 – Giuseppe Verdi's opera I Lombardi alla prima crociata receives its first performance in Milan, Italy.
1840 – Gaetano Donizetti's opera La fille du régiment receives its first performance in Paris, France.
1826 – University College London is founded as University of London.
1812 – Massachusetts governor Elbridge Gerry is accused of "gerrymandering" for the first time.
1794 – First session of United States Senate opens to the public.
Births
1993 – Ben McLemore, American basketball player
1992 – Taylor Lautner, American actor, model and martial artist
1987 – Brian Matusz, American baseball player
1985 – William Beckett, American singer-songwriter and guitarist (The Academy Is...)
1984 – Aubrey O'Day, American singer-songwriter, dancer, and actress
1981 – Kelly Rowland, American singer-songwriter, dancer, and actress
1979 – Brandy Norwood, American singer-songwriter, producer, and actress
1977 – Mike Shinoda, American singer-songwriter, guitarist, and producer
1976 – Peter Hayes, American singer and guitarist
1976 – Tony Battie, American basketball player and sportscaster
1975 – Andy Lally, American racing driver
1975 – Jacque Vaughn, American basketball player and coach
1974 – D'Angelo, American singer-songwriter, guitarist, and producer
1974 – Isaiah Mustafa, American football player and actor
1973 – Hernandez, American wrestler and promoter
1969 – Jennifer Aniston, American actress and producer
1968 – Mo Willems, American author and illustrator
1967 – Hank Gathers, American basketball player (d. 1990)
1967 – Ty Treadway, American actor and talk show host
1964 – Ken Shamrock, American martial artist and wrestler
1964 – Sarah Palin, American journalist and politician, 9th Governor of Alaska
1962 – Sheryl Crow, American singer-songwriter, guitarist, and actress
1962 – Tammy Baldwin, American lawyer and politician
1961 – Carey Lowell, American model and actress
1960 – Richard Mastracchio, American engineer and astronaut
1956 – Catherine Hickland, American actress
1956 – H.R., American punk rock singer-songwriter (Bad Brains)
1954 – Wesley Strick, American director and screenwriter
1953 – Jeb Bush, American banker and politician, 43rd Governor of Florida
1953 – Philip Anglim, American actor
1953 – Tom Veryzer, American baseball player (d. 2014)
1948 – Al Johnson, American singer-songwriter and producer (d. 2013)
1944 – Joy Williams, American novelist, short story writer, and essayist
1944 – Mike Oxley, American lawyer and politician (d. 2016)
1943 – Alan Rubin, American trumpet player (d. 2011)
1943 – Stan Szelest, American keyboard player (d. 1991)
1942 – Otis Clay, American singer-songwriter (d. 2016)
1940 – Mick Staton, American soldier and politician (d. 2014)
1939 – Gerry Goffin, American songwriter (d. 2014)
1937 – Phillip Walker, American singer and guitarist (d. 2010)
1936 – Burt Reynolds, American actor and director
1935 – Gene Vincent, American singer and guitarist (d. 1971)
1934 – Mel Carnahan, American lieutenant, lawyer, and politician, 51st Governor of Missouri (d. 2000)
1934 – Tina Louise, American actress and singer
1930 – Roy De Forest, American painter and academic (d. 2007)
1926 – Leslie Nielsen, Canadian-American actor and producer (d. 2010)
1925 – Kim Stanley, American actress (d. 2001)
1925 – Virginia E. Johnson, American psychologist and academic (d. 2013)
1924 – Budge Patty, American tennis player
1921 – Edward Seidensticker, American scholar and translator (d. 2007)
1921 – Lloyd Bentsen, American colonel and politician, 69th United States Secretary of the Treasury (d. 2006)
1921 – Ottavio Missoni, Italian hurdler and fashion designer, founded Missoni (d. 2013)
1920 – Billy Halop, American actor (d. 1976)
1920 – Daniel F. Galouye, American author (d. 1976)
1920 – Daniel James, Jr., American general and pilot (d. 1978)
1919 – Eva Gabor, Hungarian-American actress, socialite and businesswoman (d. 1995)
1917 – Sidney Sheldon, American author and screenwriter (d. 2007)
1915 – Richard Hamming, American mathematician and academic (d. 1998)
1914 – Josh White, American blues singer-songwriter, guitarist, actor, and activist (d. 1969)
1914 – Matt Dennis, American singer-songwriter and pianist (d. 2002)
1912 – Rudolf Firkušný, Czech-American pianist and educator (d. 1994)
1909 – Joseph L. Mankiewicz, American director, producer, and screenwriter (d. 1993)
1909 – Max Baer, American boxer and actor (d. 1959)
1908 – Philip Dunne, American director, producer, and screenwriter (d. 1992)
1902 – Arne Jacobsen, Danish architect, designed Aarhus City Hall and Radisson Blu Royal Hotel (d. 1971)
1898 – Leo Szilard, Hungarian-American physicist and academic (d. 1964)
1897 – Emil Leon Post, Polish-American mathematician and logician (d.1954)
1869 – Helene Kröller-Müller, German-Dutch art collector and philanthropist, founded the Kröller-Müller Museum (d. 1939)
1863 – John F. Fitzgerald, American politician; Mayor of Boston (d. 1950)
1855 – Ellen Day Hale, American painter and author (d. 1940)
1847 – Thomas Edison, American engineer and businessman, developed the light bulb and phonograph (d. 1931)
1839 – Josiah Willard Gibbs, American physicist, mathematician, and academic (d. 1903)
1833 – Melville Fuller, American lawyer and jurist, 8th Chief Justice of the United States (d. 1910)
1812 – Alexander H. Stephens, American lawyer and politician, Vice President of the Confederate States of America (d. 1883)
1805 – Jean Baptiste Charbonneau, American explorer (d. 1866)
1802 – Lydia Maria Child, American journalist, author, and activist (d. 1880)
1800 – Henry Fox Talbot, English photographer and politician, invented the calotype (d. 1877)
1799 – Basil Moreau, French priest, founded the Congregation of Holy Cross (d. 1873)
Deaths
2016 – Kevin Randleman, American mixed martial artist and wrestler (b. 1971)
2015 – Bob Simon, American journalist (b. 1941)
2015 – Jerry Tarkanian, American basketball player and coach (b. 1930)
2014 – Tito Canepa, Dominican-American painter (b. 1916)
2013 – Jim Boatwright, American basketball player and coach (b. 1952)
2012 – Whitney Houston, American singer-songwriter, producer, and actress (b. 1963)
2011 – Chuck Tanner, American baseball player and manager (b. 1928)
2010 – Alexander McQueen, English fashion designer, founded his own eponymous brand (b. 1969)
2009 – Estelle Bennett, American singer (b. 1941)
2009 – Willem Johan Kolff, Dutch-American physician and academic (b. 1911)
2008 – Frank Piasecki, American engineer (b. 1919)
2008 – Tom Lantos, American lawyer and politician (b. 1928)
2006 – Peter Benchley, American author and screenwriter (b. 1940)
2005 – Jack L. Chalker, American author (b. 1944)
2002 – Frankie Crosetti, American baseball player and coach (b. 1910)
1994 – Neil Bonnett, American race car driver and sportscaster (b. 1946)
1994 – Sorrell Booke, American lieutenant, actor, and director (b. 1930)
1994 – William Conrad, American actor, director, and producer (b. 1920)
1993 – Robert W. Holley, American biochemist and academic, Nobel Prize laureate (b. 1922)
1989 – George O'Hanlon, American actor and voice artist (b. 1912)
1986 – Frank Herbert, American journalist and author (b. 1920)
1985 – Henry Hathaway, American actor, director, and producer (b. 1898)
1982 – Eleanor Powell, American actress and dancer (b. 1912)
1978 – James Bryant Conant, American chemist, academic, and diplomat, 1st United States Ambassador to West Germany (b. 1893)
1976 – Lee J. Cobb, American actor (b. 1911)
1968 – Howard Lindsay, American actor, director, producer, and playwright (b. 1888)
1967 – A. J. Muste, Dutch-American minister and activist (b. 1885)
1963 – John Olof Dahlgren, Swedish-American soldier, Medal of Honor recipient (b. 1872)
1963 – Sylvia Plath, American poet, novelist, and short story writer (b. 1932)
1959 – Marshall Teague, American race car driver (b. 1922)
1942 – Jamnalal Bajaj, Indian businessman and philanthropist, founded Bajaj Group (b. 1884)
1940 – Ellen Day Hale, American painter and author (b. 1855)
1931 – Charles Algernon Parsons, English-Irish engineer, invented the steam turbine (b. 1854)
1358 – Ala-ud-Din Bahman Shah, first Bahmani Sultan of Deccan
Monday 11 February 2019
International Day of Women and Girls in Science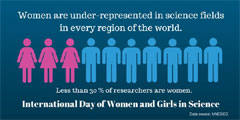 Although women make up 48 percent of the U.S. workforce, they comprise only 24 percent of the Science, Technology, Engineering and Mathematics (STEM) workforce. There's ..→