Thursday 6 April 2023 Calendar with holidays, observances and special days
Calendars
:
Argentina
,
Health Calendar
,
Israel
,
Sports and Fitness Special Days
,
US Holidays
,
US Virgin Islands
,
United Nations Holidays
,
Unusual Holidays (Weird and Funny Holidays)
,
Worldwide Holidays
,
Canada
,
Career Holidays (Recognition Holidays)
,
Dominican Republic
,
Environmental Dates
,
Food holidays
,
Italy
,
Japan
,
Pet and Animal Holidays
,
Poland
,
South Africa
,
Thailand
,
Wine holidays
,
special cat days
Holidays and observances
Events
2004 – Rolandas Paksas becomes the first president of Lithuania to be peacefully removed from office by impeachment.
1973 – The American League of Major League Baseball begins using the designated hitter.
1972 – Vietnam War: Easter Offensive: American forces begin sustained air strikes and naval bombardments.
1965 – Launch of Early Bird, the first commercial communications satellite to be placed in geosynchronous orbit.
1947 – The first Tony Awards are presented for theatrical achievement.
1926 – Varney Airlines makes its first commercial flight (Varney is the root company of United Airlines).
1917 – World War I: The United States declares war on Germany (see President Woodrow Wilson's address to Congress).
1911 – During the Battle of Deçiq, Dedë Gjon Luli Dedvukaj, leader of the Malësori Albanians, raises the Albanian flag in the town of Tuzi, Montenegro, for the first time after George Kastrioti (Skanderbeg).
1896 – In Athens, the opening of the first modern Olympic Games is celebrated, 1,500 years after the original games are banned by Roman emperor Theodosius I.
1869 – Celluloid is patented.
1866 – The Grand Army of the Republic, an American patriotic organization composed of Union veterans of the American Civil War, is founded. It lasts until 1956.
1865 – American Civil War: The Battle of Sailor's Creek: Confederate General Robert E. Lee's Army of Northern Virginia fights and loses its last major battle while in retreat from Richmond, Virginia during the Appomattox Campaign.
1862 – American Civil War: The Battle of Shiloh begins: In Tennessee, forces under Union General Ulysses S. Grant meet Confederate troops led by General Albert Sidney Johnston.
1861 – First performance of Arthur Sullivan's debut success, his suite of incidental music for The Tempest, leading to a career that included the famous Gilbert and Sullivan operas.
1808 – John Jacob Astor incorporates the American Fur Company, that would eventually make him America's first millionaire.
1776 – American Revolutionary War: Ships of the Continental Navy fail in their attempt to capture a Royal Navy dispatch boat.
1327 – The poet Petrarch first sees his idealized love, Laura, in the church of Saint Clare in Avignon.
Births
1990 – Charlie McDermott, American actor. Charles Joseph McDermott Jr. (born April 6, 1990) is an American television and film actor, best known for his role as Axl Heck on ABC's The Middle.
1988 – Carlton Mitchell, American football player. He played college football at South Florida.
1988 – Ivonne Orsini, Puerto Rican-American model and television host, Miss World Puerto Rico 2008. Ivonne Marie Orsini López (born April 6, 1988 at Bayamón) is a Puerto Rican actress, model and TV personality.
1987 – Heidi Mount, American model. She has appeared in campaigns for Chanel, Prada, and Bally.
1987 – Hilary Rhoda, American model. She is perhaps best known for her work with the brand Estée Lauder and her 2009, 2010, and 2011 appearances in the Sports Illustrated Swimsuit Issue.
1985 – Sinqua Walls, French/Native American/Jamaican-American basketball player and actor. Sinqua Walls (born April 6, 1985) is an American actor and former college basketball player for Cal Poly Pomona and the University of San Francisco.
1984 – Max Bemis, American singer-songwriter. Maxim Adam Bemis (/ˈbiːmɪs/) is the lead singer, primary composer and primary lyricist of the band Say Anything.
1981 – Jeff Faine, American football player. He played college football at Notre Dame.
1978 – Blaine Neal, American baseball player. He bats left-handed and throws right-handed.
1978 – Imani Coppola, Italian/African-American singer-songwriter and violinist. Her debut album, Chupacabra, released by Columbia Records, was praised by critics and appeared on the US Heatseekers Albums chart.
1978 – Tim Hasselbeck, American football player and sportscaster. Timothy Thomas "Tim" Hasselbeck (born April 6, 1978) is a retired American football quarterback who currently works as an analyst for ESPN.
1977 – Andy Phillips, American baseball player and coach. George Andrew "Andy" Phillips (born April 6, 1977) is the current assistant coach for The University of Alabama's baseball team.
1976 – Candace Cameron Bure, American actress and talk show panelist. Tanner on Full House, which she reprised as D.J.
1976 – Chris Hoke, American football player. Christopher L. "Chris" Hoke (born April 6, 1976) is a former American football defensive lineman in the National Football League.
1975 – Hal Gill, American ice hockey player. Harold Priestley Gill III (born April 6, 1975) is a retired American professional ice hockey defenseman who played 16 NHL seasons with six different teams, winning one Stanley Cup with the 2009 Pittsburgh Penguins.
1975 – Zach Braff, American actor, director, producer, and screenwriter. D. on the television series Scrubs (2001–2010), for which he was nominated for the Primetime Emmy Award for Outstanding Lead Actor in a Comedy Series in 2005 and for three Golden Globe Awards from 2005 to 2007.
1973 – Donnie Edwards, American football player. He began his career as an All-American Collegiate at the University of California, Los Angeles.
1973 – Randall Godfrey, American football player. He also played High School Football at Lowndes High School in Valdosta Georgia.
1972 – Dickey Simpkins, American basketball player and sportscaster. LuBara Dixon "Dickey" Simpkins (born April 6, 1972) is an American former professional basketball player best known for his tenure with the Chicago Bulls in the late 1990s.
1970 – Roy Mayorga, American drummer, songwriter, and producer. Roy Maurice Mayorga (born April 6, 1970) is an American musician, best known as the drummer for the American heavy metal bands Hellyeah and Stone Sour.
1969 – Bison Dele, American basketball player (d. 2002), was an American professional basketball player who played center. He played for the NBA's Orlando Magic, Denver Nuggets, Los Angeles Clippers, Chicago Bulls and Detroit Pistons.
1969 – Bret Boone, American baseball player and manager. Bret Robert Boone (born April 6, 1969) is a former Major League Baseball second baseman.
1969 – Paul Rudd, American actor. Paul Stephen Rudd (born April 6, 1969) is an American actor, comedian, screenwriter, and producer.
1969 – Spencer Wells, American geneticist and anthropologist. Rush Spencer Wells IV (born April 6, 1969) is a geneticist, anthropologist, author, entrepreneur, adjunct professor at the University of Texas at Austin, and co-owner of Antone's, an iconic nightclub in Austin, Texas.
1968 – Archon Fung, American political scientist, author, and academic. Archon Fung (born 6 April 1968), is the Ford Foundation Professor of Democracy and Citizenship at Harvard University's Kennedy School of Government and co-founder of the Transparency Policy Project.
1966 – Vince Flynn, American author (d. 2013), was an American author of political thriller novels surrounding the story of the fictional assassin Mitch Rapp. He was a story consultant for the fifth season of the television series 24.
1966 – Young Man Kang, South Korean-American director and producer. Young Man Kang (born April 6, 1966 in South Chungcheong, South Korea) is a Korean filmmaker based in Los Angeles, California, United States.
1965 – Black Francis, American singer-songwriter and guitarist. Following the band's breakup in 1993, he embarked on a solo career under the name Frank Black.
1965 – Sterling Sharpe, American football player and sportscaster. He attended the University of South Carolina, and played from 1988 to 1994 with the Green Bay Packers in a career shortened by injuries.
1963 – Derrick May, American electronic musician. Derrick May is the name of:
1960 – John Pizzarelli, American singer-songwriter and guitarist. He has recorded over twenty solo albums and has appeared on more than forty albums by other recording artists, including Paul McCartney, James Taylor, Rosemary Clooney; his father, jazz guitarist Bucky Pizzarelli; and his wife, singer Jessica Molaskey.
1960 – Warren Haynes, American singer-songwriter and guitarist. Early in his career he was a guitarist for David Allan Coe and The Dickey Betts Band.
1956 – Michele Bachmann, American lawyer and politician. The district includes St.
1956 – Sebastian Spreng, Argentinian-American painter and journalist. Sebastian Spreng (born April 6, 1956) is an Argentine-American visual artist and music journalist.
1955 – Michael Rooker, American actor, director, and producer. Michael Rooker (born April 6, 1955) is an American actor, best known for his roles as Henry in Henry: Portrait of a Serial Killer (1986), Chick Gandil in Eight Men Out (1988), Terry Cruger in Sea of Love (1989), Rowdy Burns in Days of Thunder (1990), Bill Broussard in JFK (1991), Hal Tucker in Cliffhanger (1993), Jared Svenning in Mallrats (1995), Merle Dixon in AMC's The Walking Dead (2010–2013) and Yondu Udonta in Guardians of the Galaxy (2014) and Guardians of the Galaxy Vol. 2 (2017).
1955 – Rob Epstein, American director and producer. Rob Epstein, also credited as Robert P.
1953 – Christopher Franke, German-American drummer and songwriter. Initially a drummer with The Agitation, later renamed Agitation Free, his primary focus eventually shifted to keyboards and synthesizers as the group moved away from its psychedelic rock origins.
1952 – Marilu Henner, Greek-Polish American actress and author. She began her career appearing in the original production of the musical Grease in 1971, before making her screen debut in the 1977 comedy-drama film Between the Lines.
1951 – Bert Blyleven, Dutch-American baseball player and sportscaster. Bert Blyleven (born Rik Aalbert Blijleven, April 6, 1951) is a former Major League Baseball pitcher who played from 1970 to 1992.
1951 – Phil Schaap, American jazz disc jockey and historian. He has hosted jazz shows on the Columbia University WKCR since 1970; he currently hosts two, Bird Flight and Traditions In Swing, both since 1981.
1950 – Cleo Odzer, Jewish-American anthropologist and author (d. 2001), was an American writer who authored books on prostitution in Thailand, the hippie culture of Goa, and cybersex.
1947 – André Weinfeld, French-American director, producer, and screenwriter. He is an alumnus of the prestigious Lycée Louis-le-Grand and the Sorbonne University in Paris.
1947 – John Ratzenberger, American actor and director. He is the only actor to appear in all of Pixar's feature films, and with minor appearances in major films such as Superman and The Empire Strikes Back, he is one of the most successful actors of all time in terms of box-office receipts.
1943 – Mitchell Melton, American lawyer and politician (d. 2013), was a former Democratic member of the Pennsylvania House of Representatives. He was the founder, organizer and original spokesman of the Pennsylvania Legislative Black Caucus, founded in 1969.
1942 – Barry Levinson, American actor, director, producer, and screenwriter. He won the Academy Award for Best Director for Rain Man (1988), which also won the Academy Award for Best Picture.
1941 – Don Prudhomme, American race car driver and manager. Don Prudhomme (born April 6, 1941, San Fernando, California), nicknamed "The Snake", is an American drag racer.
1941 – Phil Austin, American comedian, actor, and screenwriter (d. 2015), was an American comedian and writer, best known as a member of the Firesign Theatre.
1939 – John Sculley, American businessman, co-founded Zeta Interactive. In May 1987, Sculley was named Silicon Valley's top-paid executive, with an annual salary of US$10.2 million.:412
1937 – Billy Dee Williams, American actor, singer, and writer. He is best known as Lando Calrissian in the Star Wars franchise, first in the early 1980s, and nearly forty years later in The Rise of Skywalker (2019), marking one of the longest intervals between onscreen portrayals of a character by the same actor in American film history.
1937 – Merle Haggard, American singer-songwriter and guitarist (d. 2016), was an American country singer, songwriter, guitarist, and fiddler.
1933 – Eduardo Malapit, American lawyer and politician, Mayor of Kauai (d. 2007), was an American Democratic politician who served as Mayor of Kauai, Hawaii. Elected for four consecutive two-year terms as mayor of Kauai beginning in 1974, he was the first Filipino American mayor of any United States municipality.
1933 – Tom C. Korologos, American journalist and diplomat, United States Ambassador to Belgium. Tom Chris Korologos (born April 6, 1933) is a former United States Ambassador to Belgium.
1931 – Ivan Dixon, American actor, director, and producer (d. 2008), was an American actor, director, and producer best known for his series role in the 1960s sitcom Hogan's Heroes, for his role in the 1967 television film The Final War of Olly Winter, and for directing many episodes of television series. Active in the civil rights movement since 1961, he served as a president of Negro Actors for Action.
1931 – Ram Dass, American author and educator, was an American spiritual teacher, psychologist, and author. His best known book, Be Here Now (1971), has been described as "seminal," and helped popularize Eastern spirituality and yoga with the baby boomer generation in the West.
1929 – André Previn, American pianist, composer, and conductor, was a German-American pianist, composer, arranger, and conductor.
1929 – Joi Lansing, American model, actress and nightclub singer (d. 1972), was an American model, film and television actress, and nightclub singer. She was noted for her pin-up photos and roles in B-movies, as well as a prominent role in the famous opening "tracking shot" in Orson Welles' 1958 crime drama Touch of Evil.
1928 – James Watson, American biologist, geneticist, and zoologist, Nobel Prize laureate. Watson, Crick and Maurice Wilkins were awarded the 1962 Nobel Prize in Physiology or Medicine "for their discoveries concerning the molecular structure of nucleic acids and its significance for information transfer in living material".
1927 – Gerry Mulligan, American saxophonist, clarinet player, and composer (d. 1996), was an American jazz saxophonist, clarinetist, composer and arranger. Though Mulligan is primarily known as one of the leading jazz baritone saxophonists – playing the instrument with a light and airy tone in the era of cool jazz – he was also a significant arranger, working with Claude Thornhill, Miles Davis, Stan Kenton, and others.
1926 – Gil Kane, Latvian-American author and illustrator (d. 2000), was a Latvian-born American comics artist whose career spanned the 1940s to the 1990s and virtually every major comics company and character.
1926 – Ian Paisley, Northern Irish evangelical minister and politician, 2nd First Minister of Northern Ireland (d. 2014), was a loyalist politician and Protestant religious leader from Northern Ireland.
1926 – Randy Weston, American jazz pianist and composer, was an American jazz pianist and composer whose creativity was inspired by his ancestral African connection.
1926 – Sergio Franchi, Italian-American singer and actor (d. 1990), was an Italian-American tenor and actor who enjoyed success in the United States and internationally after gaining notice in Britain in the early 1960s. In 1962, RCA Victor signed him to a seven-year contract and in October of that year Franchi appeared on The Ed Sullivan Show and performed at Carnegie Hall.
1923 – Herb Thomas, American race car driver (d. 2000). 1953 NASCAR Grand National Series Champion 1951, 1954, 1955 Southern 500 Winner NASCAR's First Two-Time Champion Led Cup Series in Wins 3 times (1952, 1953, 1954)
1921 – Wilbur Thompson, American shot putter (d. 2013), was an American shot putter who won a gold medal at the 1948 Summer Olympics.
1920 – Edmond H. Fischer, Chinese-American biochemist and academic, Nobel Prize laureate. Krebs were awarded the Nobel Prize in Physiology or Medicine in 1992 for describing how reversible phosphorylation works as a switch to activate proteins and regulate various cellular processes.
1920 – Jack Cover, American pilot and physicist, invented the Taser gun (d. 2009), was the inventor of the Taser stun gun.
1916 – Phil Leeds, American actor (d. 1998), was an American character actor.
1916 – Vincent Ellis McKelvey, American geologist and author (d. 1987). He was married to Genevieve Bowman McKelvey.
1913 – Shannon Boyd-Bailey McCune, American geographer and academic (d. 1993). Shannon Boyd-Bailey McCune was born in Sonchon, in what is now North Korea, as the son of Presbyterian educational missionaries George McCune and his wife) Helen (McAfee.
1910 – Barys Kit, Belarusian-American rocket scientist. Kit was born on April 6, 1910 in Saint Petersburg, Russian Empire to the family of an employee at the Post and Telegraph Department of Belarusian origin.
1909 – William M. Branham, American minister and theologian (d. 1965), was an American Christian minister and faith healer who initiated the post–World War II healing revival. He left a lasting impact on televangelism and the modern Charismatic movement and is recognized as the "principal architect of restorationist thought" for Charismatics by some Christian historians.
1903 – Harold Eugene Edgerton, American engineer and academic (d. 1990), was a professor of electrical engineering at the Massachusetts Institute of Technology. He is largely credited with transforming the stroboscope from an obscure laboratory instrument into a common device.
1903 – Mickey Cochrane, American baseball player and manager (d. 1962). Cochrane was considered one of the best catchers in baseball history and is a member of the Baseball Hall of Fame.
1900 – Leo Robin, American composer and songwriter (d. 1984), was an American composer, lyricist and songwriter. He is probably best known for collaborating with Ralph Rainger on the 1938 Oscar-winning song "Thanks for the Memory", sung by Bob Hope and Shirley Ross in the film The Big Broadcast of 1938.
1895 – Dudley Nichols, American director, producer, and screenwriter (d. 1960), was an American screenwriter and director.
1894 – Gertrude Baines, African-American super-centenarian (d. 2009). These are lists of the 100 known verified oldest people sorted in descending order by age in years and days.
1892 – Donald Wills Douglas, Sr., American businessman, founded the Douglas Aircraft Company (d. 1981), was an American aircraft industrialist and engineer.
1892 – Lowell Thomas, American journalist and author (d. 1981), was an American writer, actor, broadcaster, and traveler, best remembered for publicising T. E.
1890 – Anthony Fokker, Dutch engineer and businessman, founded Fokker Aircraft Manufacturer (d. 1939), was a Dutch aviation pioneer and aircraft manufacturer. He is most famous for the fighter aircraft he produced in Germany during the First World War such as the Eindecker monoplanes, the Dr.1 triplane and the D.VII biplane.
1886 – Walter Dandy, American physician and neurosurgeon (d. 1946), was an American neurosurgeon and scientist. He is considered one of the founding fathers of neurosurgery, along with Victor Horsley (1857–1916) and Harvey Cushing (1869–1939).
1857 – Arthur Wesley Dow, American painter and photographer (d. 1922), was an American painter, printmaker, photographer and influential arts educator.
1823 – Joseph Medill, Canadian-American publisher and politician, 26th Mayor of Chicago (d. 1899), was a Canadian-American newspaper editor, publisher, and Republican Party politician. He was co-owner and managing editor of the Chicago Tribune, and he was Mayor of Chicago from after the Great Chicago Fire of 1871 until 1873.
Deaths
2017 – Don Rickles, American actor and comedian (b. 1926)
2016 – Merle Haggard, American singer-songwriter and guitarist (b. 1937)
2015 – James Best, American actor, director, and screenwriter (b. 1926)
2014 – Chuck Stone, American soldier, journalist, and academic (b. 1924)
2014 – Mary Anderson, American actress (b. 1918)
2014 – Massimo Tamburini, Italian motorcycle designer, co-founded Bimota (b. 1943)
2014 – Mickey Rooney, American soldier, actor, and dancer (b. 1920)
2012 – Reed Whittemore, American poet and critic (b. 1919)
2012 – Roland Guilbault, American admiral (b. 1934)
2012 – Thomas Kinkade, American painter and illustrator (b. 1958)
2011 – Gerald Finnerman, American director and cinematographer (b. 1931)
2006 – Francis L. Kellogg, American soldier and diplomat (b. 1917)
2006 – Maggie Dixon, American basketball player and coach (b. 1977)
2004 – Lou Berberet, American baseball player (b. 1929)
2003 – Anita Borg, American computer scientist and educator; founded Anita Borg Institute for Women and Technology (b. 1949)
2003 – David Bloom, American journalist (b. 1963)
2001 – Charles Pettigrew, American singer-songwriter (Charles & Eddie) (b. 1963)
1999 – Red Norvo, American vibraphone player and composer (b. 1908)
1998 – Tammy Wynette, American singer-songwriter (b. 1942)
1996 – Greer Garson, English-American actress (b. 1904)
1992 – Isaac Asimov, American science fiction writer (b. 1920)
1979 – Ivan Vasilyov, Bulgarian architect, designed the SS. Cyril and Methodius National Library (b. 1893)
1974 – Hudson Fysh, Australian pilot and businessman, co-founded Qantas Airways Limited (b. 1895)
1971 – Igor Stravinsky, Russian-American pianist, composer, and conductor (b. 1882)
1970 – Maurice Stokes, American basketball player (b. 1933)
1963 – Otto Struve, Ukrainian-American astronomer and academic (b. 1897)
1950 – Louis Wilkins, American pole vaulter (b. 1882)
1944 – Rose O'Neill, American cartoonist, illustrator, artist, and writer (b. 1874)
1935 – Edwin Arlington Robinson, American poet and playwright (b. 1869)
1927 – Florence Earle Coates, American poet (b. 1850)
1899 – Alvan Wentworth Chapman, American physician and botanist (b. 1809)
1883 – Benjamin Wright Raymond, American merchant and politician, 3rd Mayor of Chicago (b. 1801)
1862 – Albert Sidney Johnston, American general (b. 1803)
1860 – James Kirke Paulding, American author and politician, 11th United States Secretary of the Navy (b. 1778)
International Day of Sport for Development and Peace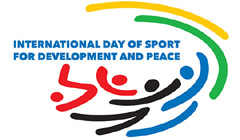 The International Day of Sport for Development and Peace (IDSDP) is an annual celebration that highlights and promotes the power of sport as a catalyst for social change ..→