Friday 7 April 2023 Calendar with holidays, observances and special days
Calendars
:
American Samoa
,
Angola
,
Anguilla
,
Antigua and Barbuda
,
Argentina
,
Armenia
,
Aruba
,
Bahamas
,
Bangladesh
,
Barbados
,
Belgium
,
Bermuda
,
Botswana
,
Brazil
,
Career Holidays (Recognition Holidays)
,
Chile
,
Denmark
,
Dominica
,
Dominican Republic
,
El Salvador
,
Finland
,
France
,
Ghana
,
Greenland
,
Grenada
,
Guatemala
,
Guyana
,
Health Calendar
,
Honduras
,
Hong Kong
,
Iceland
,
Jamaica
,
Kiribati
,
Malaysia
,
Malta
,
Mexico
,
Monaco
,
Namibia
,
New Zealand
,
Nicaragua
,
Norway
,
Panama
,
Saint Vincent and the Grenadines
,
Samoa
,
Seychelles
,
Solomon Islands
,
South Africa
,
Sweden
,
Switzerland
,
The Netherlands
,
Tokelau
,
Tonga
,
Trinidad and Tobago
,
Tuvalu
,
US Holidays
,
US Virgin Islands
,
United Kingdom
,
United Nations Holidays
,
Venezuela
,
Worldwide Holidays
,
Zambia
,
Food holidays
,
Pet and Animal Holidays
,
Professional Engineers Day
,
Unusual Holidays (Weird and Funny Holidays)
,
Wine holidays
,
Women's Days
Holidays and observances
Events
1999 – The World Trade Organization rules in favor of the United States in its long-running trade dispute with the European Union over bananas.
1995 – First Chechen War: Russian paramilitary troops begin a massacre of civilians in Samashki, Chechnya.
1983 – During STS-6, astronauts Story Musgrave and Don Peterson perform the first Space Shuttle spacewalk.
1980 – During the Iran hostage crisis, the United States severs relations with Iran.
1954 – United States President Dwight D. Eisenhower gives his "domino theory" speech during a news conference.
1945 – World War II: The Yamato, one of the two largest battleships ever constructed, is sunk by American aircraft during Operation Ten-Go.
1940 – Booker T. Washington becomes the first African American to be depicted on a United States postage stamp.
1933 – Prohibition in the United States is repealed for beer of no more than 3.2% alcohol by weight, eight months before the ratification of the XXI amendment. (Now celebrated as National Beer Day in the United States of America)
1927 – The first long-distance public television broadcast (from Washington, D.C., to New York City, displaying the image of Commerce Secretary Herbert Hoover).
1922 – The United States Secretary of the Interior leases federal petroleum reserves to private oil companies on excessively generous terms.
1890 – Completion of the first Lake Biwa Canal.
1862 – American Civil War: The Union's Army of the Tennessee and the Army of the Ohio defeat the Confederate Army of Mississippi near Shiloh, Tennessee.
1827 – John Walker, an English chemist, sells the first friction match that he had invented the previous year.
1805 – Lewis and Clark Expedition: The Corps of Discovery breaks camp among the Mandan tribe and resumes its journey West along the Missouri River.
1798 – The Mississippi Territory is organized from disputed territory claimed by both the United States and Spain. It is expanded in 1804 and again in 1812.
1788 – American pioneers to the Northwest Territory establish Marietta, Ohio as the first permanent American settlement in the Northwest Territory.
1348 – Charles University is founded in Prague.
1141 – Empress Matilda became the first female ruler of England, adopting the title 'Lady of the English'.
529 – First draft of the Corpus Juris Civilis (a fundamental work in jurisprudence) is issued by Eastern Roman Emperor Justinian I.
Births
1990 – Anna Bogomazova, Russian-American kick-boxer, martial artist, and wrestler. She worked in WWE competing in their developmental territory NXT Wrestling, under the ring name Anya.
1987 – Jamar Smith, American football player. He played collegiate basketball at Illinois and then at Southern Indiana.
1986 – Brooke Brodack, American comedian. Brooke Allison Brodack (born April 7, 1986, in Putnam, Connecticut), a.k.a.
1982 – Sonjay Dutt, American wrestler. Retesh Bhalla (born April 7, 1982) is an American professional wrestler best known for his time with Total Nonstop Action/Impact Wrestling under the ring name Sonjay Dutt.
1981 – Vanessa Olivarez, American singer-songwriter, and actress. She is the vocalist, songwriter and autoharpist for the country bands Granville Automatic and Mama's Blue Dress, has written songs for the country duo Sugarland, and was in the Top 12 of the second season of the television series American Idol in 2003.
1979 – Adrián Beltré, Dominican-American baseball player. He subsequently played for the Seattle Mariners, Boston Red Sox, and Texas Rangers.
1979 – Danny Sandoval, Venezuelan-American baseball player. Sandoval (born April 7, 1979) is a Venezuelan former infielder in Major League Baseball.
1979 – Patrick Crayton, American football player. Patrick Jamel Crayton (born April 7, 1979) is a former American football wide receiver in the National Football League (NFL) for the Dallas Cowboys and the San Diego Chargers.
1978 – Lilia Osterloh, American tennis player. Lilia Osterloh (born April 7, 1978) is a retired tennis player from the United States.
1976 – Barbara Jane Reams, American actress. Barbara Jane Calchera), born April 7, 1976, in Burley, Idaho, is a former American television actress.
1976 – Kevin Alejandro, American actor and producer. He is known for his roles as Nate Moretta in the crime drama Southland, Forklift Mike in Parenthood, Jesús Velázquez in the supernatural thriller True Blood, Sebastian Blood / Brother Blood in the superhero series Arrow, and as Daniel Espinoza in the comedy-crime drama Lucifer.
1975 – Ronde Barber, American football player and sportscaster. He is the identical twin brother of Tiki Barber, a former running back for the New York Giants.
1975 – Ronnie Belliard, American baseball player. Ronald Belliard (born April 7, 1975) is an American former professional baseball second baseman.
1975 – Tiki Barber, American football player and journalist. Atiim Kiambu "Tiki" Barber (/ˈtiːki/; born April 7, 1975) is an American former football running back who played for the New York Giants of the National Football League (NFL) for ten seasons.
1973 – Brett Tomko, American baseball player. Louis Cardinals, San Francisco Giants, Los Angeles Dodgers, New York Yankees, Oakland Athletics, Texas Rangers, and Kansas City Royals.
1969 – Ricky Watters, American football player. Richard James Watters (born April 7, 1969) is a former American football running back who played for the San Francisco 49ers, Philadelphia Eagles, and Seattle Seahawks of the National Football League.
1968 – Jennifer Lynch, American actress, director, producer, and screenwriter. She is also known as the author of the book The Secret Diary of Laura Palmer.
1965 – Bill Bellamy, American comedian, actor, and producer. Bellamy first gained national notoriety on HBO's Russell Simmons' Def Comedy Jam, where he is credited for creating or coining the phrase "booty call", described as a late night call to a potential paramour with the intention of meeting strictly for sex.
1964 – Jace Alexander, American actor and director. He was convicted in 2016 of promoting child pornography.
1962 – Andrew Hampsten, American cyclist. Andrew Hampsten (born April 7, 1962 in Columbus, Ohio) is an American former professional road bicycle racer who won the 1988 Giro d'Italia and the Alpe d'Huez stage of the 1992 Tour de France.
1961 – Thurl Bailey, American basketball player and actor. Thurl Lee Bailey (born April 7, 1961) is an American retired professional basketball player whose NBA career spanned from 1983 to 1999 with the Utah Jazz and the Minnesota Timberwolves.
1960 – Buster Douglas, American boxer and actor. At the time Tyson was undefeated and considered to be the best boxer in the world as well as one of the most feared heavyweight champions in history due to his domination of the division over the previous three years.
1958 – Brian Haner, American singer-songwriter and guitarist. Brian Elwin Haner Sr. (born April 7, 1958), also known as Guitar Guy or Papa Gates, is an American musician, comedian, and author.
1956 – Christopher Darden, American lawyer and author. J.
1955 – Gregg Jarrett, American lawyer and journalist. Gregory Walter Jarrett (born April 7, 1955) is an American news commentator, author, and attorney.
1955 – Tim Cochran, American mathematician and academic (d. 2014), was a professor of Mathematics at Rice University specializing in topology, especially low-dimensional topology, the theory of knots and links and associated algebra.
1954 – Tony Dorsett, American football player. Anthony Drew "Tony" Dorsett (born April 7, 1954) is a former American football running back who played professionally in the National Football League (NFL) for the Dallas Cowboys and Denver Broncos.
1952 – Jane Frederick, American hurdler and heptathlete. SAC Relays in Walnut, California. Frederick captured the bronze medal at the 1987 World Championships in Athletics, finishing behind teammate Jackie Joyner-Kersee
1951 – Bruce Gary, American drummer (d. 2006), was an American musician who was best known as the drummer for the music group the Knack. He was nominated for two Grammy Awards as a stage performer, producer, and recording artist.
1951 – Janis Ian, American singer-songwriter and guitarist, was most commercially successful in the 1960s and 1970s; her most widely recognized song, "At Seventeen", was released as a single from her 1975 album Between the Lines which reached number 1 on the Billboard chart.
1950 – Brian J. Doyle, American press secretary. Brian James Doyle (born April 7, 1950) is a former Deputy Press Secretary in the United States Department of Homeland Security.
1949 – John Oates, American singer-songwriter guitarist, and producer. John William Oates (born April 7, 1948) is an American rock, R&B and soul guitarist, singer, songwriter and record producer best known as half of the rock and soul duo, Hall & Oates (with Daryl Hall).
1949 – Mitch Daniels, American academic and politician, 49th Governor of Indiana. Since 2013, Daniels has been president of Purdue University.
1947 – Patricia Bennett, American singer. The Chiffons were an American all-girl group originating from the Bronx, a borough of New York City, in 1960.
1946 – Stan Winston, American special effects designer and makeup artist (d. 2008), was an American television and film special make-up effects creator. He was best known for his work in the Terminator series, the first three Jurassic Park films, Aliens, the first two Predator films, Inspector Gadget, Iron Man and Edward Scissorhands.
1946 – Zaid Abdul-Aziz, American basketball player. Donald Smith changed his name to Zaid Abdul-Aziz in 1976 after he converted to Islam.
1945 – Marilyn Friedman, American philosopher and academic. Alton Jones Chair of Philosophy at Vanderbilt University.
1944 – Bill Stoneman, American baseball player and manager. William Hambly Stoneman III (born April 7, 1944) is a former professional baseball player, a right-handed pitcher who threw two no-hitters during his eight-year major league career.
1944 – Julia Phillips, Jewish-American film producer and author (d. 2002). She co-produced with her husband, Michael (and others), three prominent films of the 1970s — The Sting, Taxi Driver, and Close Encounters of the Third Kind — and was the first female producer to win an Academy Award for Best Picture, for The Sting.
1944 – Warner Fusselle, American sportscaster (d. 2012), was an American sportscaster remembered for contributions to the television show This Week in Baseball and for his memorable Southern voice. He was an announcer for several Minor League Baseball teams such as the Spartanburg Phillies, Richmond Braves, and the Brooklyn Cyclones from 2001 until his death from a heart attack at age 68.
1941 – James Di Pasquale, American composer. James Di Pasquale (born April 7, 1941) is an American musician and composer of contemporary classical music and music for television and films.
1939 – Francis Ford Coppola, American director, producer, and screenwriter. He is widely considered to be one of the greatest filmmakers of all time.
1939 – Gary Kellgren, American record producer, co-founded Record Plant (d. 1977), was an American audio engineer and co-founder of The Record Plant recording studios, along with businessman Chris Stone.
1938 – Freddie Hubbard, American trumpet player and composer (d. 2008), was an American jazz trumpeter. He was known primarily for playing in the bebop, hard bop, and post-bop styles from the early 1960s onwards.
1938 – Iris Johansen, American author. Iris Johansen (born April 7, 1938) is an American author of crime fiction, suspense fiction, and romance novels.
1938 – Jerry Brown, American lawyer and politician, 34th and 39th Governor of California. He was both the oldest and sixth-youngest governor of California as a consequence of the 28-year gap between his second and third terms.
1938 – Spencer Dryden, American rock drummer (d. 2005), was an American musician best known as drummer for Jefferson Airplane and New Riders of the Purple Sage. He also played with The Dinosaurs, and The Ashes (later known as The Peanut Butter Conspiracy).
1935 – Bobby Bare, American singer-songwriter and guitarist. Robert Joseph Bare Sr. (born April 7, 1935) is an American country music singer and songwriter, best known for the songs "Detroit City" and "500 Miles Away from Home".
1935 – Hodding Carter III, American journalist and politician, Assistant Secretary of State for Public Affairs. William Hodding Carter III (born April 7, 1935) is an American journalist and politician best known for his role as Assistant Secretary of State for Public Affairs in the Jimmy Carter administration.
1933 – Wayne Rogers, American actor, investor, and producer (d. 2015), was an American actor, known for playing the role of Captain "Trapper" John McIntyre in the CBS television series M*A*S*H.
1932 – Cal Smith, American singer and guitarist (d. 2013), was an American country musician, most famous for his 1974 hits "Country Bumpkin" and "It's Time to Pay the Fiddler".
1931 – Daniel Ellsberg, American activist and author. Daniel Ellsberg (born April 7, 1931) is an American economist, activist and former United States military analyst who, while employed by the RAND Corporation, precipitated a national political controversy in 1971 when he released the Pentagon Papers, a top-secret Pentagon study of the U.S. government decision-making in relation to the Vietnam War, to The New York Times and other newspapers.
1931 – Donald Barthelme, American short story writer and novelist (d. 1989), was an American short story writer and novelist known for his playful, postmodernist style of short fiction. Barthelme also worked as a newspaper reporter for the Houston Post, was managing editor of Location magazine, director of the Contemporary Arts Museum in Houston (1961–1962), co-founder of Fiction (with Mark Mirsky and the assistance of Max and Marianne Frisch), and a professor at various universities.
1930 – Yves Rocher, French businessman, founded the Yves Rocher Company (d. 2009), was a French businessman and founder of the cosmetics company that bears his name. He was a pioneer of the modern use of natural ingredients in cosmetics.
1928 – Alan J. Pakula, American director, producer, and screenwriter (d. 1998), was an American film director, writer and producer. He was nominated for three Academy Awards: Best Picture for To Kill a Mockingbird (1962), Best Director for All the President's Men (1976) and Best Adapted Screenplay for Sophie's Choice (1982).
1928 – James Garner, American actor, singer, and producer (d. 2014), was an American actor, producer, and voice artist. He starred in several television series over more than five decades, including popular roles such as Bret Maverick in the 1950s western series Maverick and as Jim Rockford in the 1970s private detective show, The Rockford Files.
1927 – Babatunde Olatunji, Nigerian-American drummer, educator, and activist (d. 2003), was a Nigerian drummer, educator, social activist, and recording artist.
1922 – Mongo Santamaría, Cuban-American drummer (d. 2003), was a rumba quinto player and an Afro-Cuban Latin jazz percussionist. In 1950 he moved to New York City where he played with Perez Prado, Tito Puente, Cal Tjader, and the Fania All Stars.
1920 – Ravi Shankar, Indian-American sitar player and composer (d. 2012), was an Indian musician and a composer of Hindustani classical music. He was the best-known proponent of the sitar in the second half of the 20th century and influenced many other musicians throughout the world.
1918 – Bobby Doerr, American baseball player and coach, was an American professional baseball second baseman and coach. He played his entire 14-year Major League Baseball (MLB) career for the Boston Red Sox (1937–1951).
1917 – R. G. Armstrong, American actor and playwright (d. 2012). A veteran character actor who appeared in dozens of Westerns over the course of his 40-year career, he may be best remembered for his work with director Sam Peckinpah.
1916 – Anthony Caruso, American actor (d. 2003). Anthony Caruso can refer to:
1915 – Billie Holiday, American singer-songwriter and actress (d. 1959), was an African American jazz singer with a career spanning nearly thirty years. Nicknamed "Lady Day" by her friend and music partner Lester Young, Holiday had a seminal influence on jazz music and pop singing.
1915 – Henry Kuttner, American author (d. 1958), was an American author of science fiction, fantasy and horror.
1914 – Ralph Flanagan, American pianist, composer, and conductor (d. 1995), was an American big band leader, pianist, composer, and arranger for the orchestras of Hal McIntyre, Sammy Kaye, Blue Barron, Charlie Barnet, and Alvino Rey.
1913 – Charles Vanik, American soldier, judge, and politician (d. 2007), was a Democratic politician from Ohio. He served in the United States House of Representatives.
1913 – Louise Currie, American actress (d. 2013), was an American film actress, active from 1940 into the early 1950s.
1909 – Pete Zaremba, American hammer thrower (d. 1994), was an American athlete who competed mainly in the hammer throw. He was born and raised in the Pittsburgh area steel town of Aliquippa, Pennsylvania.
1903 – Edwin T. Layton, American admiral (d. 1984), was a rear admiral in the United States Navy. Layton is most noted for his work as an intelligence officer during and before World War II.
1897 – Walter Winchell, American journalist and radio host (d. 1972), was a syndicated American newspaper gossip columnist and radio news commentator. Originally a vaudeville performer, Winchell began his newspaper career as a Broadway reporter, critic and columnist for New York tabloids.
1896 – Frits Peutz, Dutch architect, designed the Glaspaleis (d. 1974). Peutz (7 April 1896 – 24 October 1974) was a Dutch (Limburgian) architect.
1895 – John Flannagan, American soldier and sculptor (d. 1942). John Flannagan may refer to:
1893 – Allen Dulles, American lawyer and diplomat, 5th Director of Central Intelligence (d. 1969), was an American diplomat and lawyer who became the first civilian Director of Central Intelligence (DCI), and its longest-serving director to date. As head of the Central Intelligence Agency (CIA) during the early Cold War, he oversaw the 1953 Iranian coup d'état, the 1954 Guatemalan coup d'état, the Lockheed U-2 aircraft program, the Project MKUltra mind control program and the Bay of Pigs Invasion.
1891 – Ole Kirk Christiansen, Danish businessman, founded the Lego Group (d. 1958), was a Danish carpenter. In 1932, Christiansen founded the Danish construction toy company The Lego Group.
1890 – Marjory Stoneman Douglas, American journalist and activist (d. 1998), was an American journalist, author, women's suffrage advocate, and conservationist known for her staunch defense of the Everglades against efforts to drain it and reclaim land for development. Moving to Miami as a young woman to work for The Miami Herald, she became a freelance writer, producing over one hundred short stories that were published in popular magazines.
1886 – Ed Lafitte, American baseball player and soldier (d. 1971), was a pitcher in Major League Baseball who played with the Detroit Tigers (1909–12), Brooklyn Tip-Tops (1914–15), and Buffalo Blues (1915). Born in New Orleans, Louisiana at his family's home located at 319 Bourbon Street, he batted and threw right-handed.
1884 – Clement Smoot, American golfer (d. 1963), was an American golfer who competed in the 1904 Summer Olympics.
1876 – Fay Moulton, American sprinter, football player, coach, and lawyer (d. 1945). He served as the fifth head football coach at Kansas State Agricultural College, now Kansas State University, holding the position for one season in 1900 and compiling a record of 2–4.
1874 – Frederick Carl Frieseke, German-American painter (d. 1939), was an American Impressionist painter who spent most of his life as an expatriate in France. An influential member of the Giverny art colony, his paintings often concentrated on various effects of dappled sunlight.
1873 – John McGraw, American baseball player and manager (d. 1934). John Joseph McGraw (April 7, 1873 – February 25, 1934), nicknamed "Little Napoleon" and "Mugsy", was a Major League Baseball (MLB) player and manager of the New York Giants.
1860 – Will Keith Kellogg, American businessman, founded the Kellogg Company (d. 1951). He was a member of the Seventh-day Adventist Church and practiced vegetarianism as a dietary principle taught by his church.
1859 – Walter Camp, American football player and coach (d. 1925), was an American football player, coach, and sports writer known as the "Father of American Football". Among a long list of inventions, he created the sport's line of scrimmage and the system of downs.
1803 – James Curtiss, American journalist and politician, 11th Mayor of Chicago (d. 1859), was an American politician who twice served as Mayor of Chicago, Illinois (1847–1848 and 1850–1851) for the Democratic Party.
1780 – William Ellery Channing, American preacher and theologian (d. 1842), was the foremost Unitarian preacher in the United States in the early nineteenth century and, along with Andrews Norton (1786–1853), one of Unitarianism's leading theologians. Channing was known for his articulate and impassioned sermons and public speeches, and as a prominent thinker in the liberal theology of the day.
1506 – Francis Xavier, Spanish missionary and saint, co-founded the Society of Jesus (d. 1552), was a Navarrese Catholic missionary who was a co-founder of the Society of Jesus.
Deaths
2016 – Blackjack Mulligan, American professional wrestler (b. 1942)
2015 – José Capellán, Dominican-American baseball player (b. 1981)
2015 – Stan Freberg, American puppeteer, voice actor, and singer (b. 1926)
2015 – Tim Babcock, American soldier and politician, 16th Governor of Montana (b. 1919)
2014 – George Dureau, American painter and photographer (b. 1930)
2014 – George Shuffler, American guitarist (b. 1925)
2014 – James Alexander Green, American-English mathematician and academic (b. 1926)
2014 – Royce Waltman, American basketball player and coach (b. 1942)
2014 – Zeituni Onyango, Kenyan-American computer programmer (b. 1952)
2013 – Andy Johns, English-American record producer (b. 1950)
2013 – Les Blank, American director and producer (b. 1935)
2013 – Lilly Pulitzer, American fashion designer (b. 1931)
2013 – Marty Blake, American businessman (b. 1927)
2013 – Mickey Rose, American screenwriter (b. 1935)
2012 – David E. Pergrin, American colonel and engineer (b. 1917)
2012 – Mike Wallace, American television news journalist (b. 1918)
2009 – Dave Arneson, American game designer, co-created Dungeons & Dragons (b. 1947)
2007 – Barry Nelson, American actor (b. 1917)
2007 – Johnny Hart, American author and illustrator (b. 1931)
2005 – Bob Kennedy, American baseball player, coach, and manager (b. 1920)
2004 – Victor Argo, American actor (b. 1934)
2003 – David Greene, English-American actor, director, producer, and screenwriter (b. 1921)
2002 – John Agar, American actor (b. 1921)
2001 – Beatrice Straight, American actress (b. 1914)
2001 – David Graf, American actor (b. 1950)
1998 – Alex Schomburg, Puerto Rican-American painter and illustrator (b. 1905)
1997 – Luis Aloma, Cuban-American baseball player (b. 1923)
1984 – Frank Church, American soldier, lawyer, and politician (b. 1924)
1981 – Norman Taurog, American director and screenwriter (b. 1899)
1966 – Walt Hansgen, American race car driver (b. 1919)
1955 – Theda Bara, American actress (b. 1885)
1950 – Walter Huston, Canadian-American actor and singer (b. 1883)
1947 – Henry Ford, American engineer and businessman, founded the Ford Motor Company (b. 1863)
1943 – Jovan Dučić, Serbian-American poet and diplomat (b. 1871)
1918 – George E. Ohr, American potter (b. 1857)
1891 – P. T. Barnum, American businessman and politician, co-founded The Barnum & Bailey Circus (b. 1810)
1719 – Jean-Baptiste de La Salle, French priest and saint, founded the Institute of the Brothers of the Christian Schools (b. 1651)
1663 – Francis Cooke, English-American settler (b. 1583)
International Day of Reflection on the Genocide in Rwanda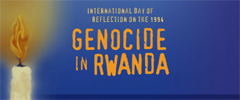 The Rwandan Genocide was a genocidal mass slaughter of Tutsi and moderate Hutu in Rwanda by members of the Hutu majority. During the approximate 100-day period from April..→