Sunday 7 April 2019 Calendar with holidays, observances and special days
Holidays and observances
Engineer's Day in Jordan (7-8 April in 2017. Jordan Engineers Association (JEA) was established in 1953 as "engineers' society" to organize the services of few hundreds of engineers)
International Beaver Day (The largest beaver-built dam is in Wood Buffalo National Park, Alberta, Canada and is 850m long)
Motherhood and Beauty Day in Armenia
National Dental Hygienists Week in Canada (April 7 to 13)
No Housework Day
Women's Day in Mozambique
Events
1999 – The World Trade Organization rules in favor of the United States in its long-running trade dispute with the European Union over bananas.
1995 – First Chechen War: Russian paramilitary troops begin a massacre of civilians in Samashki, Chechnya.
1983 – During STS-6, astronauts Story Musgrave and Don Peterson perform the first Space Shuttle spacewalk.
1980 – During the Iran hostage crisis, the United States severs relations with Iran.
1954 – United States President Dwight D. Eisenhower gives his "domino theory" speech during a news conference.
1945 – World War II: The Yamato, one of the two largest battleships ever constructed, is sunk by American aircraft during Operation Ten-Go.
1940 – Booker T. Washington becomes the first African American to be depicted on a United States postage stamp.
1933 – Prohibition in the United States is repealed for beer of no more than 3.2% alcohol by weight, eight months before the ratification of the XXI amendment. (Now celebrated as National Beer Day in the United States of America)
1927 – The first long-distance public television broadcast (from Washington, D.C., to New York City, displaying the image of Commerce Secretary Herbert Hoover).
1922 – The United States Secretary of the Interior leases federal petroleum reserves to private oil companies on excessively generous terms.
1890 – Completion of the first Lake Biwa Canal.
1862 – American Civil War: The Union's Army of the Tennessee and the Army of the Ohio defeat the Confederate Army of Mississippi near Shiloh, Tennessee.
1827 – John Walker, an English chemist, sells the first friction match that he had invented the previous year.
1805 – Lewis and Clark Expedition: The Corps of Discovery breaks camp among the Mandan tribe and resumes its journey West along the Missouri River.
1798 – The Mississippi Territory is organized from disputed territory claimed by both the United States and Spain. It is expanded in 1804 and again in 1812.
1788 – American pioneers to the Northwest Territory establish Marietta, Ohio as the first permanent American settlement in the Northwest Territory.
1348 – Charles University is founded in Prague.
1141 – Empress Matilda became the first female ruler of England, adopting the title 'Lady of the English'.
529 – First draft of the Corpus Juris Civilis (a fundamental work in jurisprudence) is issued by Eastern Roman Emperor Justinian I.
Births
1990 – Anna Bogomazova, Russian-American kick-boxer, martial artist, and wrestler
1987 – Jamar Smith, American football player
1986 – Brooke Brodack, American comedian
1982 – Sonjay Dutt, American wrestler
1981 – Vanessa Olivarez, American singer-songwriter, and actress
1979 – Adrián Beltré, Dominican-American baseball player
1979 – Danny Sandoval, Venezuelan-American baseball player
1979 – Patrick Crayton, American football player
1978 – Lilia Osterloh, American tennis player
1976 – Barbara Jane Reams, American actress
1976 – Kevin Alejandro, American actor and producer
1975 – John Cooper, American singer-songwriter and bass player
1975 – Ronde Barber, American football player and sportscaster
1975 – Ronnie Belliard, American baseball player
1975 – Tiki Barber, American football player and journalist
1973 – Brett Tomko, American baseball player
1969 – Ricky Watters, American football player
1968 – Jennifer Lynch, American actress, director, producer, and screenwriter
1965 – Bill Bellamy, American comedian, actor, and producer
1964 – Jace Alexander, American actor and director
1963 – Dave Johnson, American decathlete and educator
1962 – Andrew Hampsten, American cyclist
1961 – Thurl Bailey, American basketball player and actor
1960 – Buster Douglas, American boxer and actor
1958 – Brian Haner, American singer-songwriter and guitarist
1956 – Christopher Darden, American lawyer and author
1955 – Gregg Jarrett, American lawyer and journalist
1955 – Tim Cochran, American mathematician and academic (d. 2014)
1954 – Tony Dorsett, American football player
1952 – Dennis Hayden, American actor
1952 – Jane Frederick, American hurdler and heptathlete
1951 – Bruce Gary, American drummer (d. 2006)
1951 – Janis Ian, American singer-songwriter and guitarist
1950 – Brian J. Doyle, American press secretary
1949 – John Oates, American singer-songwriter guitarist, and producer
1949 – Mitch Daniels, American academic and politician, 49th Governor of Indiana
1947 – Patricia Bennett, American singer
1946 – Stan Winston, American special effects designer and makeup artist (d. 2008)
1946 – Zaid Abdul-Aziz, American basketball player
1945 – Marilyn Friedman, American philosopher and academic
1944 – Bill Stoneman, American baseball player and manager
1944 – Julia Phillips, Jewish-American film producer and author (d. 2002)
1944 – Warner Fusselle, American sportscaster (d. 2012)
1941 – James Di Pasquale, American composer
1939 – Francis Ford Coppola, American director, producer, and screenwriter
1939 – Gary Kellgren, American record producer, co-founded Record Plant (d. 1977)
1938 – Freddie Hubbard, American trumpet player and composer (d. 2008)
1938 – Iris Johansen, American author
1938 – Jerry Brown, American lawyer and politician, 34th and 39th Governor of California
1938 – Spencer Dryden, American rock drummer (d. 2005)
1937 – Charlie Thomas, American R&B singer
1935 – Bobby Bare, American singer-songwriter and guitarist
1935 – Hodding Carter III, American journalist and politician, Assistant Secretary of State for Public Affairs
1933 – Wayne Rogers, American actor, investor, and producer (d. 2015)
1932 – Cal Smith, American singer and guitarist (d. 2013)
1931 – Daniel Ellsberg, American activist and author
1931 – Donald Barthelme, American short story writer and novelist (d. 1989)
1930 – Yves Rocher, French businessman, founded the Yves Rocher Company (d. 2009)
1928 – Alan J. Pakula, American director, producer, and screenwriter (d. 1998)
1928 – James Garner, American actor, singer, and producer (d. 2014)
1927 – Babatunde Olatunji, Nigerian-American drummer, educator, and activist (d. 2003)
1922 – Mongo Santamaría, Cuban-American drummer (d. 2003)
1920 – Ravi Shankar, Indian-American sitar player and composer (d. 2012)
1918 – Bobby Doerr, American baseball player and coach
1917 – R. G. Armstrong, American actor and playwright (d. 2012)
1916 – Anthony Caruso, American actor (d. 2003)
1915 – Billie Holiday, American singer-songwriter and actress (d. 1959)
1915 – Henry Kuttner, American author (d. 1958)
1915 – Stanley Adams, American actor and screenwriter (d. 1977)
1914 – Ralph Flanagan, American pianist, composer, and conductor (d. 1995)
1913 – Charles Vanik, American soldier, judge, and politician (d. 2007)
1913 – Louise Currie, American actress (d. 2013)
1909 – Pete Zaremba, American hammer thrower (d. 1994)
1903 – Edwin T. Layton, American admiral (d. 1984)
1897 – Walter Winchell, American journalist and radio host (d. 1972)
1896 – Frits Peutz, Dutch architect, designed the Glaspaleis (d. 1974)
1895 – John Flannagan, American soldier and sculptor (d. 1942)
1893 – Allen Dulles, American lawyer and diplomat, 5th Director of Central Intelligence (d. 1969)
1891 – Ole Kirk Christiansen, Danish businessman, founded the Lego Group (d. 1958)
1890 – Marjory Stoneman Douglas, American journalist and activist (d. 1998)
1886 – Ed Lafitte, American baseball player and soldier (d. 1971)
1884 – Clement Smoot, American golfer (d. 1963)
1876 – Fay Moulton, American sprinter, football player, coach, and lawyer (d. 1945)
1874 – Frederick Carl Frieseke, German-American painter (d. 1939)
1873 – John McGraw, American baseball player and manager (d. 1934)
1860 – Will Keith Kellogg, American businessman, founded the Kellogg Company (d. 1951)
1859 – Walter Camp, American football player and coach (d. 1925)
1803 – James Curtiss, American journalist and politician, 11th Mayor of Chicago (d. 1859)
1780 – William Ellery Channing, American preacher and theologian (d. 1842)
1506 – Francis Xavier, Spanish missionary and saint, co-founded the Society of Jesus (d. 1552)
Deaths
2016 – Blackjack Mulligan, American professional wrestler (b. 1942)
2015 – Geoffrey Lewis, American actor (b. 1935)
2015 – José Capellán, Dominican-American baseball player (b. 1981)
2015 – Stan Freberg, American puppeteer, voice actor, and singer (b. 1926)
2015 – Tim Babcock, American soldier and politician, 16th Governor of Montana (b. 1919)
2014 – George Dureau, American painter and photographer (b. 1930)
2014 – George Shuffler, American guitarist (b. 1925)
2014 – James Alexander Green, American-English mathematician and academic (b. 1926)
2014 – Royce Waltman, American basketball player and coach (b. 1942)
2014 – Zeituni Onyango, Kenyan-American computer programmer (b. 1952)
2013 – Andy Johns, English-American record producer (b. 1950)
2013 – Carl Williams, American boxer (b. 1959)
2013 – Les Blank, American director and producer (b. 1935)
2013 – Lilly Pulitzer, American fashion designer (b. 1931)
2013 – Marty Blake, American businessman (b. 1927)
2013 – Mickey Rose, American screenwriter (b. 1935)
2012 – David E. Pergrin, American colonel and engineer (b. 1917)
2012 – Mike Wallace, American television news journalist (b. 1918)
2009 – Dave Arneson, American game designer, co-created Dungeons & Dragons (b. 1947)
2007 – Barry Nelson, American actor (b. 1917)
2007 – Johnny Hart, American author and illustrator (b. 1931)
2005 – Bob Kennedy, American baseball player, coach, and manager (b. 1920)
2004 – Victor Argo, American actor (b. 1934)
2003 – David Greene, English-American actor, director, producer, and screenwriter (b. 1921)
2002 – John Agar, American actor (b. 1921)
2001 – Beatrice Straight, American actress (b. 1914)
2001 – David Graf, American actor (b. 1950)
1998 – Alex Schomburg, Puerto Rican-American painter and illustrator (b. 1905)
1997 – Luis Aloma, Cuban-American baseball player (b. 1923)
1990 – Ronald Evans, American captain, engineer, and astronaut (b. 1933)
1984 – Frank Church, American soldier, lawyer, and politician (b. 1924)
1981 – Norman Taurog, American director and screenwriter (b. 1899)
1966 – Walt Hansgen, American race car driver (b. 1919)
1955 – Theda Bara, American actress (b. 1885)
1950 – Walter Huston, Canadian-American actor and singer (b. 1883)
1947 – Henry Ford, American engineer and businessman, founded the Ford Motor Company (b. 1863)
1943 – Jovan Dučić, Serbian-American poet and diplomat (b. 1871)
1918 – George E. Ohr, American potter (b. 1857)
1891 – P. T. Barnum, American businessman and politician, co-founded The Barnum & Bailey Circus (b. 1810)
1719 – Jean-Baptiste de La Salle, French priest and saint, founded the Institute of the Brothers of the Christian Schools (b. 1651)
1663 – Francis Cooke, English-American settler (b. 1583)
Sunday 7 April 2019
International Day of Reflection on the Genocide in Rwanda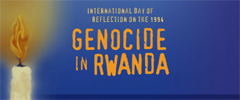 The Rwandan Genocide was a genocidal mass slaughter of Tutsi and moderate Hutu in Rwanda by members of the Hutu majority. During the approximate 100-day period from April..→