Thursday 9 April 2020 Calendar with holidays, observances and special days
Holidays and observances
Events
2003 – Iraq War: Baghdad falls to American forces; Iraqis turn on symbols of their former leader Saddam Hussein, pulling down a grand statue of him and tearing it to pieces.
1975 – The first game of the Philippine Basketball Association, the second oldest professional basketball league in the world.
1969 – The first British-built Concorde 002 makes its maiden flight from Filton to RAF Fairford.
1967 – The first Boeing 737 (a 100 series) makes its maiden flight.
1965 – Astrodome opens. First indoor baseball game is played.
1959 – Project Mercury: NASA announces the selection of the United States' first seven astronauts, whom the news media quickly dub the "Mercury Seven".
1947 – The Journey of Reconciliation, the first interracial Freedom Ride begins through the upper South in violation of Jim Crow laws. The riders wanted enforcement of the United States Supreme Court's 1946 Irene Morgan decision that banned racial segregation in interstate travel.
1945 – The United States Atomic Energy Commission is formed.
1942 – World War II: The Battle of Bataan/Bataan Death March: United States forces surrender on the Bataan Peninsula. The Japanese Navy launches an air raid on Trincomalee in Ceylon (Sri Lanka); Royal Navy aircraft carrier HMS Hermes and Royal Australian Navy Destroyer HMAS Vampire are sunk off the island's east coast.
1939 – Marian Anderson sings at the Lincoln Memorial, after being denied the right to sing at the Daughters of the American Revolution's Constitution Hall.
1937 – The Kamikaze arrives at Croydon Airport in London. It is the first Japanese-built aircraft to fly to Europe.
1914 – Mexican Revolution: One of the world's first naval/air skirmishes takes place off the coast of western Mexico.
1865 – American Civil War: Robert E. Lee surrenders the Army of Northern Virginia (26,765 troops) to Ulysses S. Grant at Appomattox Courthouse, Virginia, effectively ending the war.
1782 – American War of Independence: Battle of the Saintes begins.
1682 – Robert Cavelier de La Salle discovers the mouth of the Mississippi River, claims it for France and names it Louisiana.
1511 – St John's College, Cambridge, England, founded by Lady Margaret Beaufort, receives its charter.
Births
2000 – Jackie Evancho, American singer
1998 – Elle Fanning, American actress
1996 – Emerson Hyndman, American soccer player
1994 – Joey Pollari, American actor
1992 – Joshua Ledet, American singer
1991 – Mary Killman, American synchronized swimmer
1991 – Ryan Kelly, American basketball player
1990 – Kristen Stewart, American actress
1990 – Ryan Williams, American football player
1989 – Danielle Kahle, American figure skater
1987 – Craig Mabbitt, American singer
1987 – Graham Gano, American football player
1987 – Jazmine Sullivan, American singer-songwriter
1987 – Jesse McCartney, American singer-songwriter and actor
1986 – Leighton Meester, American actress
1986 – Mike Hart, American football player
1985 – David Robertson, American baseball player
1983 – Willie Colon, American football player
1982 – Kathleen Munroe, Canadian-American actress
1981 – A. J. Ellis, American baseball player
1981 – Dennis Sarfate, American baseball player
1979 – Albert Hammond, Jr., American singer-songwriter and guitarist
1979 – Jeff Reed, American football player
1977 – Gerard Way, American singer-songwriter and comic book writer
1976 – Kyle Peterson, American baseball player and sportscaster
1975 – David Gordon Green, American director and screenwriter
1974 – Jenna Jameson, American actress and pornographic performer
1971 – Austin Peck, American actor
1968 – Jay Chandrasekhar, American actor, comedian, writer and director
1967 – Sam Harris, American author, philosopher, and neuroscientist
1966 – Cynthia Nixon, American actress
1965 – Jeff Zucker, American businessman
1965 – Paulina Porizkova, Czech-born Swedish-American model and actress
1964 – Margaret Peterson Haddix, American author
1964 – Rick Tocchet, Canadian-American ice hockey player and coach
1964 – Rob Awalt, German-American football player
1963 – Joe Scarborough, American journalist, lawyer, and politician
1963 – Marc Jacobs, American-French fashion designer
1962 – Jeff Turner, American basketball player, coach, and sportscaster
1962 – John Eaves, American production designer and illustrator
1961 – Kirk McCaskill, Canadian-American baseball and hockey player
1954 – Dennis Quaid, American actor
1954 – Ken Kalfus, American journalist and author
1953 – Hal Ketchum, American singer-songwriter and guitarist
1952 – Robert Clark, American author
1950 – Nathan Cook, American actor (d. 1998)
1946 – Nate Colbert, American baseball player
1945 – Peter Gammons, American journalist
1945 – Steve Gadd, American drummer and percussionist
1944 – Joe Brinkman, American baseball player and umpire
1943 – Terry Knight, American singer-songwriter and producer (d. 2004)
1942 – Brandon deWilde, American actor (d. 1972)
1942 – Margo Smith, American singer-songwriter
1941 – Kay Adams, American singer-songwriter
1940 – Jim Roberts, Canadian-American ice hockey player and coach (d. 2015)
1939 – Michael Learned, American actress
1936 – Valerie Solanas, American radical feminist author, attempted murderer (d. 1988)
1935 – Avery Schreiber, American actor and comedian (d. 2002)
1933 – Fern Michaels, American author
1933 – Richard Rose, American political scientist and academic
1932 – Carl Perkins, American singer-songwriter and guitarist (d. 1998)
1932 – Jim Fowler, American zoologist and television host
1930 – F. Albert Cotton, American chemist and academic (d. 2007)
1930 – Nathaniel Branden, Canadian-American psychotherapist and author (d. 2014)
1930 – Wallace McCain, Canadian businessman, founded McCain Foods (d. 2011)
1929 – Paule Marshall, American author and academic
1928 – Paul Arizin, American basketball player (d. 2006)
1928 – Tom Lehrer, American singer-songwriter, pianist, and mathematician
1926 – Hugh Hefner, American publisher, founded Playboy Enterprises (d. 2017)
1925 – Art Kane, American photographer (d. 1995)
1925 – Virginia Gibson, American actress, singer, and dancer (d. 2013)
1923 – Leonard Levy, American historian and author (d. 2006)
1921 – Frankie Thomas, American actor (d. 2006)
1921 – Mary Jackson, African American mathematician and aerospace engineer (d. 2005)
1919 – J. Presper Eckert, American engineer, invented the ENIAC (d. 1995)
1918 – Jørn Utzon, Danish architect, designed the Sydney Opera House (d. 2008)
1917 – Brad Dexter, American actor (d. 2002)
1916 – Bill Leonard, American journalist (d. 1994)
1916 – Julian Dash, American swing music jazz tenor saxophonist (d. 1974)
1910 – Abraham A. Ribicoff, American lawyer and politician, 4th United States Secretary of Health and Human Services (d. 1998)
1908 – Joseph Krumgold, American author and screenwriter (d. 1980)
1906 – Antal Doráti, Hungarian-American conductor and composer (d. 1988)
1905 – J. William Fulbright, American lawyer and politician (d. 1995)
1904 – Sharkey Bonano, American singer, trumpet player, and bandleader (d. 1972)
1903 – Ward Bond, American actor (d. 1960)
1901 – Paul Willis, American actor and director (d. 1960)
1900 – Allen Jenkins, American actor and singer (d. 1974)
1898 – Curly Lambeau, American football player and coach (d. 1965)
1898 – Paul Robeson, American singer, actor, and activist (d. 1976)
1897 – John B. Gambling, American radio host (d. 1974)
1895 – Mance Lipscomb, American singer-songwriter and guitarist (d. 1976)
1893 – Charles E. Burchfield, American painter (d.1967)
1893 – Victor Gollancz, English publisher, founded Victor Gollancz Ltd (d. 1967)
1888 – Sol Hurok, Ukrainian-American talent manager (d. 1974)
1883 – Frank King, American cartoonist (d. 1969)
1875 – Jacques Futrelle, American journalist and author (d. 1912)
1865 – Charles Proteus Steinmetz, Polish-American mathematician and engineer (d. 1923)
1806 – Isambard Kingdom Brunel, English engineer, designed the Clifton Suspension Bridge (d. 1859)
1597 – John Davenport, English minister, co-founded the New Haven Colony (d. 1670)
Deaths
2016 – Duane Clarridge, American spy (b. 1932)
2016 – Will Smith, American football player (b. 1981)
2015 – Ivan Doig, American journalist and author (b. 1939)
2015 – Paul Almond, Canadian-American director, producer, and screenwriter (b. 1931)
2015 – Tsien Tsuen-hsuin, Chinese-American academic (b. 1909)
2014 – Chris Banks, American football player (b. 1973)
2014 – Gil Askey, American trumpet player, composer, and producer (b. 1925)
2014 – Rory Ellinger, American lawyer and politician (b. 1941)
2013 – David Hayes, American sculptor and painter (b. 1931)
2013 – Greg McCrary, American football player (b. 1952)
2013 – McCandlish Phillips, American journalist and author (b. 1927)
2013 – Paolo Soleri, Italian-American architect, designed the Cosanti (b. 1919)
2011 – Sidney Lumet, American director, producer, and screenwriter (b. 1924)
2009 – Nick Adenhart, American baseball player (b. 1986)
2007 – Dorrit Hoffleit, American astronomer and academic (b. 1907)
2006 – Billy Hitchcock, American baseball player, coach, manager (b. 1916)
2003 – Jerry Bittle, American cartoonist (b. 1949)
2002 – Pat Flaherty, American race car driver (b. 1926)
2001 – Willie Stargell, American baseball player and coach (b. 1940)
1998 – Tom Cora, American cellist and composer (b. 1953)
1997 – Helene Hanff, American author and screenwriter (b. 1916)
1997 – Mae Boren Axton, American singer-songwriter (b. 1914)
1996 – Richard Condon, American author and publicist (b. 1915)
1993 – Joseph B. Soloveitchik, American rabbi and philosopher (b. 1903)
1991 – Forrest Towns, American hurdler and coach (b. 1914)
1988 – Brook Benton, American singer-songwriter and actor (b. 1931)
1988 – Dave Prater, American singer (b. 1937)
1978 – Clough Williams-Ellis, English-Welsh architect, designed Portmeirion (b. 1883)
1976 – Dagmar Nordstrom, American singer-songwriter and pianist (b. 1903)
1976 – Phil Ochs, American singer-songwriter and guitarist (b. 1940)
1970 – Gustaf Tenggren, Swedish-American illustrator and animator (b. 1896)
1963 – Eddie Edwards, American trombonist (b. 1891)
1959 – Frank Lloyd Wright, American architect, designed the Price Tower and Fallingwater (b. 1867)
1953 – Eddie Cochems, American football player and coach (b. 1877)
1926 – Zip the Pinhead, American freak show performer (b. 1857)
1909 – Helena Modjeska, Polish-American actress (b. 1840)
1876 – Charles Goodyear, American lawyer, judge, and politician (b. 1804)
1872 – Erastus Corning, American businessman and politician (b. 1794)
585 BC – Emperor Jimmu, the first Emperor of Japan (b. 711 BC)
Thursday 9 April 2020
Holy Thursday in U.S. Virgin Islands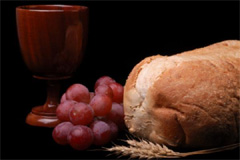 Maundy Thursday (also known as Holy Thursday, Covenant Thursday, Great and Holy Thursday, Sheer Thursday, and Thursday of Mysteries) is the Christian holy day falling on ..→
Thursday 9 April 2020
Prisoners of War Remembrance Day in Wisconsin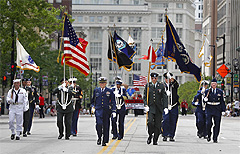 Many Americans across the United States pause to remember the sacrifices and service of those who were prisoners of war (POW), as well as those who are missing in action ..→