Sunday 14 April 2019 Calendar with holidays, observances and special days
Holidays and observances
Ambedkar Jayanti in India
Mahl New Year, or Alathu Aharudhuvas (Maldives and India's Lakshadweep and Kerala state)
National Coffee Day in Portugal
Palmesøndag in Norway (Date for 2019)
Pan American Day (several countries in The Americas)
The first day of Takayama Spring Festival (Takayama, Gifu, Japan)
Events
2003 – U.S. troops in Baghdad capture Abu Abbas, leader of the Palestinian group that killed an American on the hijacked cruise liner the MS Achille Lauro in 1985.
1994 – In a U.S. friendly fire incident during Operation Provide Comfort in northern Iraq, two United States Air Force aircraft mistakenly shoot-down two United States Army helicopters, killing 26 people.
1981 – STS-1: The first operational Space Shuttle, Columbia completes its first test flight.
1958 – The Soviet satellite Sputnik 2 falls from orbit after a mission duration of 162 days. This was the first spacecraft to carry a living animal, a female dog named Laika, who likely lived only a few hours.
1939 – The Grapes of Wrath, by American author John Steinbeck is first published by the Viking Press.
1928 – The Bremen, a German Junkers W 33 type aircraft, reaches Greenly Island, Canada - the first successful transatlantic aeroplane flight from east to west.
1927 – The first Volvo car premieres in Gothenburg, Sweden.
1894 – The first ever commercial motion picture house opened in New York City using ten Kinetoscopes, a device for peep-show viewing of films.
1890 – The Pan-American Union is founded by the First International Conference of American States in Washington, D.C.
1828 – Noah Webster copyrights the first edition of his dictionary.
1816 – Bussa, a slave in British-ruled Barbados, leads a slave rebellion and is killed. For this, he is remembered as the first national hero of Barbados.
1775 – The first abolition society in North America is established. The Society for the Relief of Free Negroes Unlawfully Held in Bondage is organized in Philadelphia by Benjamin Franklin and Benjamin Rush.
Births
1996 – Abigail Breslin, American actress
1993 – Graham Phillips, American actor
1993 – Kent Jones, American rapper
1989 – Joe Haden, American football player
1987 – Michael Baze, American jockey (d. 2011)
1984 – Adán Sánchez, American-Mexican musician (d. 2004)
1984 – Blake Costanzo, American football player
1984 – Tyler Thigpen, American football player
1983 – William Obeng, Ghanaian-American football player
1980 – Win Butler, American-Canadian singer-songwriter and guitarist
1979 – Patrick Somerville, American novelist and short story writer
1979 – Rebecca DiPietro, American wrestler and model
1977 – Nate Fox, American basketball player (d. 2014)
1977 – Rob McElhenney, American actor, producer, and screenwriter
1977 – Sarah Michelle Gellar, American actress and producer
1976 – Anna DeForge, American basketball player
1976 – Georgina Chapman, English model, actress, and fashion designer, co-founded Marchesa
1976 – Kyle Farnsworth, American baseball player
1975 – Avner Dorman, Israeli-American composer and academic
1975 – Lita, American wrestler
1974 – Da Brat, American rapper
1973 – Adrien Brody, American actor
1973 – David Miller, American tenor
1972 – Dean Potter, American rock climber and BASE jumper (d. 2015)
1971 – Carlos Pérez, Dominican-American baseball player
1971 – Gregg Zaun, American baseball player and sportscaster
1970 – Steve Avery, American baseball player
1969 – Brad Ausmus, American baseball player and manager
1969 – Martyn LeNoble, Dutch-American bass player
1968 – Anthony Michael Hall, American actor
1967 – Barrett Martin, American drummer, songwriter, and producer
1966 – David Justice, American baseball player and sportscaster
1966 – Greg Maddux, American baseball player, coach, and manager
1965 – Tom Dey, American director and producer
1964 – Brian Adams, American wrestler (d. 2007)
1964 – Greg Battle, American-Canadian football player
1964 – Jeff Andretti, American race car driver
1964 – Stuart Duncan, American bluegrass musician
1961 – Daniel Clowes, American cartoonist and screenwriter
1960 – Brad Garrett, American actor and comedian
1960 – Tina Rosenberg, American journalist and author
1952 – Kenny Aaronson, American bass player
1950 – Francis Collins, American physician and geneticist
1949 – DeAnne Julius, American-British economist and academic
1949 – John Shea, American actor and director
1948 – Berry Berenson, American model, actress, and photographer (d. 2001)
1946 – Mireille Guiliano, French-American author
1941 – Pete Rose, American baseball player and manager
1937 – Efi Arazi, Israeli businessman, founded the Scailex Corporation (d. 2013)
1936 – Arlene Martel, American actress and singer (d. 2014)
1936 – Bobby Nichols, American golfer
1936 – Frank Serpico, American-Italian soldier, police officer and lecturer
1934 – Fredric Jameson, American philosopher and theorist
1933 – Shani Wallis, English-American actress and singer
1932 – Loretta Lynn, American singer-songwriter and musician
1930 – Arnold Burns, American lawyer and politician, 21st United States Deputy Attorney General (d. 2013)
1930 – Bradford Dillman, American actor and author
1929 – Inez Andrews, African-American singer-songwriter (d. 2012)
1926 – Gloria Jean, American actress and singer
1926 – Liz Renay, American actress and author (d. 2007)
1925 – Rod Steiger, American soldier and actor (d. 2002)
1924 – Joseph Ruskin, American actor and producer (d. 2013)
1924 – Shorty Rogers, American trumpet player and composer (d. 1994)
1922 – Audrey Long, American actress (d. 2014)
1921 – Thomas Schelling, American economist and academic, Nobel Prize laureate (d. 2016)
1918 – Mary Healy, American actress and singer (d. 2015)
1917 – Marvin Miller, American baseball executive (d. 2012)
1905 – Elizabeth Huckaby, American author and educator (d. 1999)
1892 – Claire Windsor, American actress (d. 1972)
1868 – Peter Behrens, German architect, designed the AEG turbine factory (d. 1940)
1866 – Anne Sullivan, American educator (d. 1936)
1788 – David G. Burnet, American politician, 2nd Vice-President of Texas (d. 1870)
Deaths
2015 – Mark Reeds, Canadian-American ice hockey player and coach (b. 1960)
2015 – Percy Sledge, American singer (b. 1940)
2014 – Crad Kilodney, American-Canadian author (b. 1948)
2014 – Mick Staton, American soldier and politician (b. 1940)
2013 – Charlie Wilson, American politician (b. 1943)
2013 – Efi Arazi, Israeli businessman, founded the Scailex Corporation (b. 1937)
2013 – George Jackson, American singer-songwriter (b. 1945)
2013 – R. P. Goenka, Indian businessman, founded RPG Group (b. 1930)
2010 – Peter Steele, American singer-songwriter and bass player (b. 1962)
2008 – Ollie Johnston, American animator and voice actor (b. 1912)
2008 – Tommy Holmes, American baseball player and manager (b. 1917)
2007 – Don Ho, American singer and ukulele player (b. 1930)
2004 – Micheline Charest, English-Canadian television producer, co-founded the Cookie Jar Group (b. 1953)
2000 – Phil Katz, American computer programmer, co-created the zip file format (b. 1962)
1999 – Bill Wendell, American television announcer (b. 1924)
1999 – Ellen Corby, American actress and screenwriter (b. 1911)
1995 – Burl Ives, American actor, folk singer, and writer (b. 1909)
1990 – Thurston Harris, American singer (b. 1931)
1978 – Joe Gordon, American baseball player and manager (b. 1915)
1975 – Fredric March, American actor (b. 1897)
1968 – Al Benton, American baseball player (b. 1911)
1964 – Rachel Carson, American biologist and author (b. 1907)
1951 – Al Christie, Canadian-American director, producer, and screenwriter (b. 1881)
1935 – Emmy Noether, German-American mathematician and academic (b. 1882)
1925 – John Singer Sargent, American painter (b. 1856)
1914 – Hubert Bland, English activist, co-founded the Fabian Society (b. 1855)
1911 – Addie Joss, American baseball player and journalist (b. 1880)
1864 – Charles Lot Church, American-Canadian politician (b. 1777)
Sunday 14 April 2019
Palm Sunday (Jesusí Triumphal Entry into Jerusalem)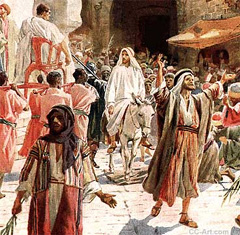 Palm Sunday is a Christian moveable feast that falls on the Sunday before Easter. The feast commemorates Jesusí triumphal entry into Jerusalem, an event mentioned in each..→