Monday 24 April 2023 Calendar with holidays, observances and special days
Calendars
:
Pet and Animal Holidays
,
US Holidays
,
Worldwide Holidays
,
Argentina
,
Armenia
,
Australia
,
Bangladesh
,
Canada
,
Career Holidays (Recognition Holidays)
,
Children's Days
,
Dog Holidays and Celebrations
,
Dominican Republic
,
Food holidays
,
France
,
Health Calendar
,
India
,
Mexico
,
New Zealand
,
South Africa
,
Spain
,
United Kingdom
,
United Nations Holidays
,
Unusual Holidays (Weird and Funny Holidays)
,
Zambia
Holidays and observances
Events
2004 – The United States lifts economic sanctions imposed on Libya 18 years previously, as a reward for its cooperation in eliminating weapons of mass destruction.
1996 – In the United States, the Antiterrorism and Effective Death Penalty Act of 1996 is passed into law.
1990 – STS-31: The Hubble Space Telescope is launched from the Space Shuttle Discovery.
1970 – The Gambia becomes a republic within the Commonwealth of Nations, with Dawda Jawara as its first President.
1967 – Cosmonaut Vladimir Komarov dies in Soyuz 1 when its parachute fails to open. He is the first human to die during a space mission.
1967 – Vietnam War: American General William Westmoreland says in a news conference that the enemy had "gained support in the United States that gives him hope that he can win politically that which he cannot win militarily."
1922 – The first segment of the Imperial Wireless Chain providing wireless telegraphy between Leafield in Oxfordshire, England, and Cairo, Egypt, comes into operation.
1918 – First tank-to-tank combat, at Villers-Bretonneux, France, when three British Mark IVs meet three German A7Vs.
1895 – Joshua Slocum, the first person to sail single-handedly around the world, sets sail from Boston, Massachusetts aboard the sloop "Spray".
1885 – American sharpshooter Annie Oakley is hired by Nate Salsbury to be a part of Buffalo Bill's Wild West.
1800 – The United States Library of Congress is established when President John Adams signs legislation to appropriate $5,000 to purchase "such books as may be necessary for the use of Congress".
1704 – The first regular newspaper in British Colonial America, The Boston News-Letter, is published.
Births
1998 – Ryan Newman (actress), American actress. As a child model, Newman has participated in photo shoots such as Inspire Magazine, Kaiya Eve Photoshoots 2009 and Dream Magazine, as well as modeling for fashion designer Sherri Hill.
1989 – David Boudia, American diver. He also won a bronze medal with Nick McCrory in the men's synchronized 10 metre platform at the 2012 Summer Olympics and a silver medal in the same event with Steele Johnson at the 2016 Summer Olympics.
1986 – Aaron Cunningham, American baseball player. He has played in Major League Baseball for the Oakland Athletics, San Diego Padres and Cleveland Indians.
1985 – Mike Rodgers, American sprinter. Michael Rodgers (born April 24, 1985) is an American professional track and field sprinter who specializes in the 100 m and the 60 m.
1982 – Kelly Clarkson, American singer-songwriter, producer, and actress. Clarkson's debut single, "A Moment Like This", topped the US Billboard Hot 100 chart and became the country's best-selling single of 2002.
1981 – Taylor Dent, American tennis player. Taylor Phillip Dent (born April 24, 1981) is a retired professional tennis player from the United States.
1977 – Carlos Beltrán, Puerto Rican-American baseball player. He played in MLB from 1998 to 2017 for the Kansas City Royals, Houston Astros, New York Mets, San Francisco Giants, St.
1974 – Eric Kripke, American director, producer, and screenwriter. He is the creator of The WB (now The CW) series Supernatural, the NBC series Revolution, and the Amazon series The Boys.
1973 – Brian Marshall, American bass player and songwriter. Brian Aubrey Marshall (born April 24, 1973) is an American musician, songwriter, record producer, and real estate broker best known as the bassist and co-founder of the rock bands Creed and Alter Bridge.
1973 – Damon Lindelof, American screenwriter and producer. He has written for and produced Crossing Jordan (2001–04) and wrote for Nash Bridges (2000–01).
1973 – Eric Snow, American basketball player and coach. Known for his defense, Snow was named to the NBA All-Defensive Second Team in 2003.
1972 – Chipper Jones, American baseball player. He was also a member of their 1995 World Series championship that beat the Cleveland Indians.
1968 – Todd Jones, American baseball player. Todd Barton Jones (born April 24, 1968) is a former Major League Baseball relief pitcher.
1967 – Omar Vizquel, Venezuelan-American baseball player and coach. Omar Enrique Vizquel González (Spanish pronunciation: ; born April 24, 1967), nicknamed "Little O", is a Venezuelan former professional baseball shortstop.
1964 – Cedric the Entertainer, American comedian, actor, and producer. Cedric Antonio Kyles (born April 24, 1964), better known by his stage name Cedric the Entertainer, is an American actor, stand-up comedian, and game show host.
1964 – Djimon Hounsou, Beninese-American actor and producer. He made his film debut in the Sandra Bernhard film Without You I'm Nothing (1990) and gained widespread recognition for his role as Cinqué in the Steven Spielberg film Amistad (1997).
1963 – Billy Gould, American bass player, songwriter, and producer. William David "Billy" Gould (born April 24, 1963 in Los Angeles, California) is an American musician and producer.
1963 – Paula Frazer, American singer-songwriter and guitarist. Her music is frequently described as melancholic alternative country, but with an eclectic mix of folk, blues and pop, among other genres.
1955 – John de Mol Jr., Dutch businessman, co-founded Endemol. Johannes Hendrikus Hubert "John" de Mol Jr. (born 24 April 1955) is a Dutch media tycoon and television producer.
1955 – Michael O'Keefe, American actor. Michael O'Keefe (born Raymond Peter O'Keefe, Jr.; April 24, 1955) is an American film and television actor, best known for his roles as Danny Noonan in Caddyshack and Ben Meechum in The Great Santini, for which he received a nomination for the Academy Award for Best Supporting Actor.
1954 – Jack Blades, American singer-songwriter and bass player. Jack Martin Blades (born April 24, 1954) is an American musician.
1954 – Mumia Abu-Jamal, American journalist, activist, and convicted murderer, was convicted of murder and sentenced to death in 1982 for the 1981 murder of Philadelphia police officer Daniel Faulkner. He became widely known while on death row for his writings and commentary on the criminal justice system in the United States.
1953 – Eric Bogosian, American actor and writer. His numerous plays include subUrbia (1994) and the Pulitzer-nominated Talk Radio (1987), both of which were adapted to film.
1950 – Rob Hyman, American singer-songwriter and musician. Robert Andrew "Rob" Hyman (born April 24, 1950 in Meriden, Connecticut) is an American singer, songwriter, keyboard and accordion player, producer, arranger and recording studio owner, best known for being a founding member of the rock band The Hooters.
1948 – Eliana Gil, Ecuadorian-American psychiatrist, therapist, and author. Eliana Gil RPT-S, ATR (born 24 April 1948), is a lecturer, writer, and clinician of marriage, family and child.
1948 – Paul Cellucci, American soldier and politician, 69th Governor of Massachusetts (d. 2013), was an American politician and diplomat from Massachusetts. A Republican, he served in the House of Representatives and Senate of Massachusetts, was state's lieutenant governor, a position he held from 1991 to 1997 under Governor Bill Weld.
1947 – Roger D. Kornberg, American biochemist and academic, Nobel Prize laureate. Roger David Kornberg (born April 24, 1947) is an American biochemist and professor of structural biology at Stanford University School of Medicine.
1945 – Doug Clifford, American drummer and songwriter. Douglas Raymond "Cosmo" Clifford (born April 24, 1945) is an American drummer, best known as a founding member of Creedence Clearwater Revival.
1944 – Tony Visconti, American record producer, musician and singer. His lengthiest involvement was with David Bowie: intermittently from the production and arrangement of Bowie's 1968 single "In the Heat of the Morning" / "London Bye Ta-Ta" to the 2016 release Blackstar, Visconti produced and occasionally performed on many of Bowie's albums.
1943 – Richard Sterban, American country & gospel bass singer. He joined the country and gospel quartet The Oak Ridge Boys in 1972.
1942 – Barbra Streisand, American singer, actress, activist, and producer. She is among a small group of entertainers who have been honored with an Emmy, Grammy, Oscar, and Tony Award – though only three were competitive awards – and is one of only two artists in that group who have also won a Peabody.
1942 – Richard M. Daley, American lawyer and politician, 54th Mayor of Chicago. Richard Michael Daley (born April 24, 1942) is an American politician who served as the 54th Mayor of Chicago, Illinois from 1989 to 2011.
1941 – Richard Holbrooke, American journalist, banker, and diplomat, 22nd United States Ambassador to the United Nations (d. 2010), was an American diplomat and author. He was the only person to have held the position of Assistant Secretary of State for two different regions of the world (Asia from 1977 to 1981 and Europe from 1994 to 1996).
1940 – Sue Grafton, American author, was an American author of detective novels. She is best known as the author of the "alphabet series" ("A" Is for Alibi, etc.) featuring private investigator Kinsey Millhone in the fictional city of Santa Teresa, California.
1937 – Joe Henderson, African-American saxophonist and composer (d. 2001), was an American jazz tenor saxophonist. In a career spanning more than four decades, Henderson played with many of the leading American players of his day and recorded for several prominent labels, including Blue Note.
1934 – Shirley MacLaine, American actress, singer, and dancer. She is known for her New Age beliefs, and has an interest in spirituality and reincarnation.
1930 – Jerome Callet, American instrument designer, educator, and author, was a brass embouchure clinician, and designer of brass instruments and mouthpieces.
1930 – Richard Donner, American actor, director, and producer. Richard Donner (born Richard Donald Schwartzberg, April 24, 1930) is an American director and producer of film and television and occasional comic-book writer.
1928 – Johnny Griffin, American saxophonist (d. 2008), was an American jazz tenor saxophonist. Nicknamed "the Little Giant" for his short stature and forceful playing, Griffin's career began in the early 1940s and continued until the month of his death.
1924 – Ruth Kobart, American actress and singer (d. 2002), was an American performer, whose six-decade career encompassed opera, Broadway musical theatre, regional theatre, films, and television.
1923 – Doris Burn, American author and illustrator (d. 2011), was an American children's book author and illustrator. She lived most of her life on Waldron Island in the San Juan Islands archipelago of Washington.
1919 – David Blackwell, African-American mathematician and academic (d. 2010), was an American statistician and mathematician who made significant contributions to game theory, probability theory, information theory, and Bayesian statistics. He is one of the eponyms of the Rao–Blackwell theorem.
1916 – Lou Thesz, American wrestler and trainer (d. 2002), was an American professional wrestler. A fifteen-time world champion, he held the NWA World Heavyweight Championship three times for a combined total of 10 years, three months and nine days (3,749 days) – longer than anyone else in history.
1914 – William Castle, American director, producer, and screenwriter (d. 1977), was an American film director, producer, screenwriter, and actor.
1913 – Dieter Grau, German-American scientist and engineer (d. 2014), was an aerospace engineer and member of the "von Braun rocket group", at Peenemünde (1939–1945) working on the V-2 rockets in World War II. He was among the engineers who surrendered to the United States and traveled there, providing rocketry expertise via Operation Paperclip, which took them first to Fort Bliss, Texas.
1912 – Ruth Osburn, American discus thrower (d. 1994), was an American athlete who competed mainly in the discus. She was born in Shelbyville, Missouri, United States.
1908 – Marceline Day, American actress (d. 2000), was an American motion picture actress whose career began as a child in the 1910s and ended in the 1930s.
1906 – William Joyce, American-born Irish-British Nazi propaganda broadcaster (d. 1946), was an American-born Fascist politician and Nazi propaganda broadcaster to the United Kingdom during World War II. He took German citizenship in 1940.
1905 – Al Bates, American long jumper (d. 1999), was an American athlete who competed mainly in the long jump.
1905 – Robert Penn Warren, American novelist, poet, and literary critic (d. 1989), was an American poet, novelist, and literary critic and was one of the founders of New Criticism. He was also a charter member of the Fellowship of Southern Writers.
1904 – Willem de Kooning, Dutch-American painter and educator (d. 1997), was a Dutch-American abstract expressionist artist. He was born in Rotterdam and moved to the United States in 1926, becoming an American citizen in 1962.
1903 – José Antonio Primo de Rivera, Spanish lawyer and politician, founded the Falange (d. 1936), was a Spanish politician who founded the Fascist Falange Española ("Spanish Phalanx"), later Falange Española de las JONS.
1899 – Oscar Zariski, Russian-American mathematician and academic (d. 1986), was a Russian-born American mathematician and one of the most influential algebraic geometers of the 20th century.
1897 – Benjamin Lee Whorf, American linguist, anthropologist, and engineer (d. 1941), was an American linguist and fire prevention engineer. Whorf is widely known as an advocate for the idea that differences between the structures of different languages shape how their speakers perceive and conceptualize the world.
1885 – Thomas Cronan, American triple jumper (d. 1962), was an American athlete who competed mainly in the triple jump.
1880 – Gideon Sundback, Swedish-American engineer and businessman, developed the zipper (d. 1954), was a Swedish-American electrical engineer, who is most commonly associated with his work in the development of the zipper.
1879 – Susanna Bokoyni, Hungarian-American circus performer (d. 1984), was a Hungarian centenarian and circus performer who was listed in Guinness World Records as the longest-lived dwarf on record. The second-longest lived is Rozika Ovitz Ovitz, a Holocaust survivor from Rozavlea, Romania, who died at age 98.
1743 – Edmund Cartwright, English clergyman and engineer, invented the power loom (d. 1823), was an English inventor. He graduated from Oxford University very early and went on to invent the power loom.
Deaths
2017 – Robert Pirsig, American author and philosopher (b. 1928)
2016 – Tommy Kono, American weightlifter and coach (b. 1930)
2014 – Hans Hollein, Austrian architect, designed Haas House (b. 1934)
2008 – Jimmy Giuffre, American clarinet player, and saxophonist, and composer (b. 1921)
2001 – Johnny Valentine, American wrestler (b. 1928)
1997 – Allan Francovich, American director and producer (b. 1941)
1997 – Eugene Stoner, American engineer, designed the AR-15 rifle (b. 1922)
1997 – Pat Paulsen, American comedian and activist (b. 1927)
1976 – Mark Tobey, American-Swiss painter and educator (b. 1890)
1974 – Bud Abbott, American comedian and producer (b. 1895)
1970 – Otis Spann, American singer and pianist (b. 1930)
1965 – Louise Dresser, American actress (b. 1878)
1962 – Milt Franklyn, American composer (b. 1897)
1961 – Lee Moran, American actor, director and screenwriter (b. 1888)
1947 – Willa Cather, American novelist, short story writer, and poet (b. 1873)
1944 – Charles Jordan, American magician (b. 1888)
1938 – George Grey Barnard, American sculptor (b. 1863)
1924 – G. Stanley Hall, American psychologist and academic (b. 1844)
1779 – Eleazar Wheelock, American minister and academic, founded Dartmouth College (b. 1711)
Confederate Memorial Day in Alabama, Florida, and Georgia (State holiday)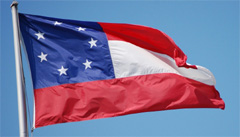 While Florida would later join Georgia in marking April 26 as Confederate Memorial Day, other states celebrated different dates. By 1916, ten southern states marked June ..→
Confederate Memorial Day in Mississippi (State holiday)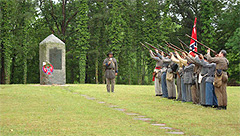 Whereas, the Legislature has designated the last Monday of April as the day for the observance of Confederate Memorial Day, and under the provisions of Section 3-3-7, Mis..→