Saturday 27 April 2019 Calendar with holidays, observances and special days
Calendars:
Environmental Dates
,
Women's Days
,
Aruba
,
Austria
,
Food holidays
,
Health Calendar
,
Israel
,
Pet and Animal Holidays
,
South Africa
,
Togo
,
Unusual Holidays
,
Worldwide Holidays
Holidays and observances
Babe Ruth Day (On April 27, 1947, Babe Ruth attended Yankee Stadium for Babe Ruth Day. It was to be the second last time he was at the stadium)
Day of the Second Republic in Austria
Free Feral Cat Spay Day
Freedom Day in South Africa (UnFreedom Day - unofficial)
Go Birding Day
Israel memmorial day (Yom Hazikaron; יוֹם הַזִּכָּרוֹן‬ - on the forth of Lyar)
King's Day (Netherlands, Aruba, Curaçao, Sint Maarten. Celebrated on April 26 if April 27 falls on a Sunday)
Morse Code Day
National Prime Rib Day in USA
Save The Frogs Day
Sense Of Smell Day
Tell a Story Day
Togo Independence Day (celebrates the independence of Togo from France in 1960)
World Tapir Day
Events
2011 – The 2011 Super Outbreak devastates parts of the Southeastern United States, especially the states of Alabama, Mississippi, Georgia, and Tennessee. Two hundred five tornadoes touched down on April 27 alone, killing more than 300 and injuring hundreds more.
1994 – South African general election: The first democratic general election in South Africa, in which black citizens could vote. The Interim Constitution comes into force.
1992 – Betty Boothroyd becomes the first woman to be elected Speaker of the British House of Commons in its 700-year history.
1978 – Former United States President Nixon aide John D. Ehrlichman is released from an Arizona prison after serving 18 months for Watergate-related crimes.
1961 – Sierra Leone is granted its independence from the United Kingdom, with Milton Margai as the first Prime Minister.
1953 – Operation Moolah offers $50,000 to any pilot who defected with a fully mission-capable Mikoyan-Gurevich MiG-15 to South Korea. The first pilot was to receive $100,000.
1936 – The United Auto Workers (UAW) gains autonomy from the American Federation of Labor.
1911 – Following the resignation and death of William P. Frye, a compromise is reached to rotate the office of President pro tempore of the United States Senate.
1906 – The State Duma of the Russian Empire meets for the first time.
1861 – American President Abraham Lincoln suspends the writ of habeas corpus.
1813 – War of 1812: American troops capture York, the capital of Upper Canada, in the Battle of York.
1805 – First Barbary War: United States Marines and Berbers attack the Tripolitan city of Derna (The "shores of Tripoli" part of the Marines' Hymn).
1777 – American Revolutionary War: The Battle of Ridgefield: A British invasion force engages and defeats Continental Army regulars and militia irregulars at Ridgefield, Connecticut.
1565 – Cebu is established becoming the first Spanish settlement in the Philippines.
1296 – First War of Scottish Independence: John Balliol's Scottish army is defeated by an English army commanded by John de Warenne, 6th Earl of Surrey at the Battle of Dunbar.
Births
1994 – Corey Seager, American baseball player
1987 – Taylor Chorney, American ice hockey player
1984 – Patrick Stump, American singer-songwriter, guitarist, and producer
1983 – Ari Graynor, American actress and producer
1981 – Joey Gathright, American baseball player
1979 – Will Boyd, American bass player
1975 – Chris Carpenter, American baseball player and manager
1975 – Rabih Abdullah, American football player
1974 – Frank Catalanotto, American baseball player
1969 – Cory Booker, African-American lawyer and politician
1968 – Dana Milbank, American journalist and author
1967 – Jason Whitlock, American football player and journalist
1961 – Andrew Schlafly, American lawyer and activist, founded Conservapedia
1959 – Sheena Easton, Scottish-American singer-songwriter, actress, and producer
1957 – Willie Upshaw, American baseball player and manager
1956 – Bryan Harvey, American singer-songwriter and guitarist (d. 2006)
1955 – Eric Schmidt, American engineer and businessman
1954 – Herman Edwards, American football player, coach, and sportscaster
1953 – Arielle Dombasle, French-American actress and model
1952 – George Gervin, American basketball player
1952 – Larry Elder, American lawyer and talk show host
1951 – Ace Frehley, American guitarist and songwriter
1948 – Frank Abagnale Jr., CEO of Abagnale & Associates, famous criminal
1948 – Kate Pierson, American singer-songwriter and bass player
1947 – Ann Peebles, American soul singer-songwriter
1947 – G. K. Butterfield, African-American soldier, lawyer, and politician
1945 – August Wilson, American author and playwright (d. 2005)
1944 – Cuba Gooding Sr., American singer (d. 2017)
1944 – Herb Pedersen, American singer-songwriter and guitarist
1942 – Jim Keltner, American drummer
1942 – Ruth Glick, American author
1941 – Lee Roy Jordan, American football player
1938 – Earl Anthony, American bowler and sportscaster (d. 2001)
1937 – Sandy Dennis, American actress (d. 1992)
1935 – Ron Morris, American pole vaulter and coach
1932 – Casey Kasem, American disc jockey, music historian, radio celebrity, and voice actor; co-created American Top 40 (d. 2014)
1932 – Chuck Knox, American football coach
1932 – Gian-Carlo Rota, Italian-American mathematician and philosopher (d. 1999)
1932 – Pik Botha, South African lawyer, politician, and diplomat, 8th South African Ambassador to the United States
1927 – Coretta Scott King, African-American activist and author (d. 2006)
1927 – Joe Moakley, American soldier, lawyer, and politician (d. 2001)
1926 – Basil A. Paterson, American lawyer and politician, 59th Secretary of State of New York (d. 2014)
1926 – Tim LaHaye, American minister, activist, and author (d. 2016)
1924 – Vernon B. Romney, American lawyer and politician, 14th Attorney General of Utah (d. 2013)
1922 – Jack Klugman, American actor (d. 2012)
1920 – James Robert Mann, American colonel, lawyer, and politician (d. 2010)
1916 – Enos Slaughter, American baseball player and manager (d. 2002)
1916 – Robert Hugh McWilliams, Jr., American sergeant, lawyer, and judge (d. 2013)
1913 – Irving Adler, American mathematician, author, and academic (d. 2012)
1913 – Philip Abelson, American physicist and author (d. 2004)
1905 – John Kuck, American javelin thrower and shot putter (d. 1986)
1899 – Walter Lantz, American animator, producer, screenwriter, and actor (d. 1994)
1898 – Ludwig Bemelmans, Italian-American author and illustrator (d. 1962)
1896 – Rogers Hornsby, American baseball player, coach, and manager (d. 1963)
1896 – Wallace Carothers, American chemist and inventor of nylon (d. 1937)
1894 – George Petty, American painter and illustrator (d. 1975)
1893 – Allen Sothoron, American baseball player, coach, and manager (d. 1939)
1887 – Warren Wood, American golfer (d. 1926)
1882 – Jessie Redmon Fauset, American author and poet (d. 1961)
1861 – William Arms Fisher, American composer and music historian (d. 1948)
1822 – Ulysses S. Grant, American general and politician, 18th President of the United States (d. 1885)
1812 – William W. Snow, American lawyer and politician (d. 1886)
1791 – Samuel Morse, American painter and inventor, co-invented the Morse code (d. 1872)
1718 – Thomas Lewis, Irish-born American surveyor and lawyer (d. 1790)
Deaths
2015 – Alexander Rich, American biologist, biophysicist, and academic (b. 1924)
2015 – Gene Fullmer, American boxer (b. 1931)
2015 – Verne Gagne, American football player, wrestler, and trainer (b. 1926)
2014 – Daniel Colchico, American football player and coach (b. 1935)
2012 – Bill Skowron, American baseball player (b. 1930)
2012 – Daniel E. Boatwright, American soldier and politician (b. 1930)
2011 – Marian Mercer, American actress and singer (b. 1935)
2009 – Frankie Manning, American dancer and choreographer (b. 1914)
2006 – Julia Thorne, American author (b. 1944)
2002 – George Alec Effinger, American author (b. 1947)
2002 – Ruth Handler, American inventor and businesswoman, created the Barbie doll (b. 1916)
1999 – Al Hirt, American trumpet player and bandleader (b. 1922)
1998 – Browning Ross, American runner and soldier (b. 1924)
1998 – Carlos Castaneda, Peruvian-American anthropologist and author (b. 1925)
1996 – William Colby, American diplomat, 10th Director of Central Intelligence (b. 1920)
1995 – Katherine DeMille, Canadian-American actress (b. 1911)
1992 – Gerard K. O'Neill, American physicist and astronomer (b. 1927)
1989 – Konosuke Matsushita, Japanese businessman, founded Panasonic (b. 1894)
1988 – Fred Bear, American hunter and author (b. 1902)
1977 – Stanley Adams, American actor and screenwriter (b. 1915)
1967 – William Douglas Cook, New Zealand farmer, founded the Eastwoodhill Arboretum (b. 1884)
1965 – Edward R. Murrow, American journalist (b. 1908)
1961 – Roy Del Ruth, American director, producer, and screenwriter (b. 1893)
1932 – Hart Crane, American poet (b. 1899)
1882 – Ralph Waldo Emerson, American poet and philosopher (b. 1803)
1813 – Zebulon Pike, American general and explorer (b. 1779)
Saturday 27 April 2019
Emma 'Grandma' Gatewood Day in Ohio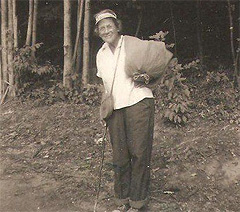 Emma Rowena Gatewood, better known as Grandma Gatewood (October 25, 1887–June 4, 1973), was an extreme hiker and ultra-light hiking pioneer who was the first woman to hik..→