Friday 23 August 2019 Calendar with holidays, observances and special days
Holidays and observances
Events
2007 – The skeletal remains of Russia's last royal family members Alexei Nikolaevich, Tsarevich of Russia, and his sister Grand Duchess Anastasia are discovered near Yekaterinburg, Russia.
1994 – Eugene Bullard, the only black pilot in World War I, is posthumously commissioned as Second Lieutenant in the United States Air Force.
1987 – The American male basketball team lost the gold medal to Brazilian team at the Pan American Games in Indianapolis, 120–115.
1970 – Organized by Mexican American labor union leader César Chávez, the Salad Bowl strike, the largest farm worker strike in U.S. history, begins.
1966 – Lunar Orbiter 1 takes the first photograph of Earth from orbit around the Moon.
1954 – First flight of the Lockheed C-130 multi-role aircraft.
1944 – Freckleton Air Disaster: A United States Army Air Forces B-24 Liberator bomber crashes into a school in Freckleton, England, killing 61 people.
1923 – Captain Lowell Smith and Lieutenant John P. Richter performed the first mid-air refueling on De Havilland DH-4B, setting an endurance flight record of 37 hours.
1921 – British airship R-38 experiences structural failure over Hull in England and crashes in the Humber estuary. Of her 49 British and American training crew, only four survive.
1904 – The automobile tire chain is patented.
1898 – The Southern Cross Expedition, the first British venture of the Heroic Age of Antarctic Exploration, departs from London.
1839 – The United Kingdom captures Hong Kong as a base as it prepares for war with Qing China. The ensuing three-year conflict will later be known as the First Opium War.
1784 – Western North Carolina (now eastern Tennessee) declares itself an independent state under the name of Franklin; it is not accepted into the United States, and only lasts for four years.
1775 – American Revolutionary War: King George III delivers his Proclamation of Rebellion to the Court of St James's stating that the American colonies have proceeded to a state of open and avowed rebellion.
1628 – George Villiers, the first Duke of Buckingham, is assassinated by John Felton.
Births
1997 – Lil Yachty, American rapper and singer
1990 – Seth Curry, American basketball player
1989 – Breanna Conrad, American fashion designer
1988 – Jeremy Lin, American basketball player
1986 – Sky Blu, American rapper
1983 – Tony Moll, American football player
1982 – Natalie Coughlin, American swimmer
1982 – Scott Palguta, American soccer player
1980 – Rex Grossman, American football player
1978 – Julian Casablancas, American singer-songwriter and producer
1978 – Kobe Bryant, American basketball player and businessman
1978 – Randal Tye Thomas, American journalist and politician (d. 2014)
1976 – Pat Garrity, American basketball player
1974 – Mark Bellhorn, American baseball player
1973 – Casey Blake, American baseball player
1972 – Raul Casanova, Puerto Rican-American baseball player
1970 – Jay Mohr, American actor, producer, and screenwriter
1970 – Lawrence Frank, American basketball player and coach
1970 – River Phoenix, American actor (d. 1993)
1969 – Jeremy Schaap, American journalist and author
1968 – Chris DiMarco, American golfer
1968 – Laura Claycomb, American soprano
1966 – Rik Smits, Dutch-American basketball player
1963 – Kenny Wallace, American race car driver
1961 – Dean DeLeo, American guitarist and songwriter
1960 – Gary Hoey, American guitarist, songwriter, and producer
1960 – Rodney Greenblat, American painter and graphic designer
1954 – Charles Busch, American actor and screenwriter
1951 – Allan Bristow, American basketball player and coach
1951 – Jimi Jamison, American singer-songwriter and musician (Survivor) (d. 2014)
1951 – Mark Hudson, American musician, songwriter, and producer
1949 – Rick Springfield, Australian-American singer-songwriter, guitarist, and actor
1949 – Shelley Long, American actress
1948 – Rudy Ruettiger, American football player
1945 – Rayfield Wright, American football player and coach
1944 – Antonia Novello, Puerto Rican-American physician and admiral, 14th Surgeon General of the United States
1943 – Nelson DeMille, American lieutenant and author
1942 – Nancy Richey, American tennis player
1940 – Galen Rowell, American mountaineer and photographer (d. 2002)
1940 – Richard Sanders, American actor and screenwriter
1936 – Henry Lee Lucas, American murderer (d. 2001)
1936 – Rudy Lewis, American R&B singer (The Drifters) (d. 1964)
1934 – Sonny Jurgensen, American football player and sportscaster
1933 – Pete Wilson, American commander and politician, 36th Governor of California
1933 – Robert Curl, American chemist and academic, Nobel Prize laureate
1932 – Mark Russell, American comedian and pianist
1931 – Barbara Eden, American actress and singer
1931 – Hamilton O. Smith, American microbiologist and academic, Nobel Prize laureate
1928 – Marian Seldes, American actress (d. 2014)
1927 – Allan Kaprow, American painter and author (d. 2006)
1926 – Clifford Geertz, American anthropologist and academic (d. 2006)
1925 – Robert Mulligan, American director and producer (d. 2008)
1924 – Robert Solow, American economist and academic, Nobel Prize laureate
1923 – Edgar F. Codd, English-American computer scientist and programmer (d. 2003)
1922 – George Kell, American baseball player and sportscaster (d. 2009)
1922 – Jean Darling, American actress and singer (d. 2015)
1921 – Kenneth Arrow, American economist and academic, Nobel Prize laureate (d. 2017)
1917 – Tex Williams, American singer-songwriter and guitarist (d. 1985)
1913 – Bob Crosby, American swing singer and bandleader (d. 1993)
1912 – Gene Kelly, American actor, singer, and dancer (d. 1996)
1910 – Lonny Frey, American baseball player and soldier (d. 2009)
1905 – Ernie Bushmiller, American cartoonist (d. 1982)
1901 – Guy Bush, American baseball player and manager (d. 1985)
1901 – John Sherman Cooper, American captain, lawyer, and politician, 2nd United States Ambassador to East Germany (d. 1991)
1900 – Ernst Krenek, Austrian-American composer and educator (d. 1991)
1900 – Malvina Reynolds, American singer-songwriter and activist (d. 1978)
1897 – Henry F. Pringle, American historian and journalist (d. 1958)
1890 – Harry Frank Guggenheim, American businessman and publisher, co-founded Newsday (d. 1971)
1884 – Ogden L. Mills, American captain, lawyer, and politician, 50th United States Secretary of the Treasury (d. 1937)
1884 – Will Cuppy, American author and critic (d. 1949)
1883 – Jonathan M. Wainwright, American general, Medal of Honor recipient (d. 1953)
1868 – Edgar Lee Masters, American lawyer, author, poet, and playwright (d. 1950)
1847 – Sarah Frances Whiting, American physicist and astronomer (d. 1927)
1846 – Alexander Milne Calder, Scottish-American sculptor (d. 1923)
1814 – James Roosevelt Bayley, American archbishop (d. 1877)
1785 – Oliver Hazard Perry, American commander (d. 1819)
1783 – William Tierney Clark, English engineer, designed the Hammersmith Bridge (d. 1852)
1724 – Abraham Yates, Jr., American lawyer and civil servant (d. 1796)
Deaths
2016 – Steven Hill, American actor (b. 1922)
2014 – Dan Magill, American swimmer, tennis player, and coach (b. 1921)
2013 – Charles Lisanby, American production designer and set director (b. 1924)
2013 – Richard J. Corman, American businessman, founded the R.J. Corman Railroad Group (b. 1955)
2013 – William Glasser, American psychiatrist and author (b. 1925)
2012 – Jerry Nelson, American puppeteer and voice actor (b. 1934)
2012 – Josepha Sherman, American anthologist and author (b. 1946)
2008 – John Russell, English-American author and critic (b. 1919)
2005 – Brock Peters, American actor (b. 1927)
2003 – Bobby Bonds, American baseball player and manager (b. 1946)
2002 – Hoyt Wilhelm, American baseball player and coach (b. 1922)
2001 – Kathleen Freeman, American actress (b. 1919)
2001 – Peter Maas, American journalist and author (b. 1929)
2000 – John Anthony Kaiser, American priest and missionary (b. 1932)
1999 – Norman Wexler, American screenwriter (b. 1926)
1995 – Alfred Eisenstaedt, German-American photographer and journalist (b. 1898)
1990 – David Rose, American pianist and composer (b. 1910)
1982 – Stanford Moore, American biochemist and academic, Nobel Prize laureate (b. 1913)
1967 – Nathaniel Cartmell, American runner and coach (b. 1883)
1966 – Francis X. Bushman, American actor, director, and screenwriter (b. 1883)
1962 – Hoot Gibson, American actor, director, and producer (b. 1892)
1960 – Oscar Hammerstein II, American director, producer, and composer (b. 1895)
1949 – Helen Churchill Candee, American geographer, journalist, and author (b. 1858)
1933 – Adolf Loos, Austrian architect and theoretician, designed Villa Müller (b. 1870)
1853 – Alexander Calder, American lawyer and politician (b. 1806)
1819 – Oliver Hazard Perry, American commander (b. 1785)
1813 – Alexander Wilson (ornithologist), Scottish-American poet, ornithologist, and illustrator (b. 1766)
1723 – Increase Mather, American minister and author (b. 1639)
International Day for the Remembrance of the Slave Trade and Its Abolition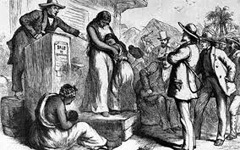 In 2015 year's celebration of the International Day for the Remembrance of the Slave Trade and its Abolition coincides with the launch of the International Decade for Peo..→