Wednesday 23 August 2023 Calendar with holidays, observances and special days
Calendars
:
US Holidays
,
United Nations Holidays
,
Worldwide Holidays
,
Argentina
,
Brazil
,
Career Holidays (Recognition Holidays)
,
Chile
,
Cyber Holidays
,
Food holidays
,
Health Calendar
,
Italy
,
Lithuania
,
Mexico
,
Smart events
,
Spain
,
Unusual Holidays (Weird and Funny Holidays)
Holidays and observances
Events
2007 – The skeletal remains of Russia's last royal family members Alexei Nikolaevich, Tsarevich of Russia, and his sister Grand Duchess Anastasia are discovered near Yekaterinburg, Russia.
1994 – Eugene Bullard, the only black pilot in World War I, is posthumously commissioned as Second Lieutenant in the United States Air Force.
1987 – The American male basketball team lost the gold medal to Brazilian team at the Pan American Games in Indianapolis, 120–115.
1970 – Organized by Mexican American labor union leader César Chávez, the Salad Bowl strike, the largest farm worker strike in U.S. history, begins.
1966 – Lunar Orbiter 1 takes the first photograph of Earth from orbit around the Moon.
1954 – First flight of the Lockheed C-130 multi-role aircraft.
1944 – Freckleton Air Disaster: A United States Army Air Forces B-24 Liberator bomber crashes into a school in Freckleton, England, killing 61 people.
1923 – Captain Lowell Smith and Lieutenant John P. Richter performed the first mid-air refueling on De Havilland DH-4B, setting an endurance flight record of 37 hours.
1921 – British airship R-38 experiences structural failure over Hull in England and crashes in the Humber estuary. Of her 49 British and American training crew, only four survive.
1904 – The automobile tire chain is patented.
1898 – The Southern Cross Expedition, the first British venture of the Heroic Age of Antarctic Exploration, departs from London.
1839 – The United Kingdom captures Hong Kong as a base as it prepares for war with Qing China. The ensuing three-year conflict will later be known as the First Opium War.
1784 – Western North Carolina (now eastern Tennessee) declares itself an independent state under the name of Franklin; it is not accepted into the United States, and only lasts for four years.
1775 – American Revolutionary War: King George III delivers his Proclamation of Rebellion to the Court of St James's stating that the American colonies have proceeded to a state of open and avowed rebellion.
1628 – George Villiers, the first Duke of Buckingham, is assassinated by John Felton.
Births
1997 – Lil Yachty, American rapper and singer. Miles Parks McCollum (born August 23, 1997), known professionally as Lil Yachty, is an American rapper, singer and songwriter.
1990 – Seth Curry, American basketball player. Seth Adham Curry (born August 23, 1990) is an American professional basketball player for the Dallas Mavericks of the National Basketball Association (NBA).
1989 – Breanna Conrad, American fashion designer. Laguna Beach: The Real Orange County (or simply Laguna Beach) is an American reality television series that originally aired on MTV from September 28, 2004 until November 15, 2006.
1988 – Jeremy Lin, American basketball player. Jeremy Shu-How Lin (born August 23, 1988) is an American professional basketball player for the Beijing Ducks of the Chinese Basketball Association (CBA).
1986 – Sky Blu, American rapper. Sky Blu is a forward operating station for the British Antarctic Survey located in southern Palmer Land, Antarctica.
1983 – Tony Moll, American football player. Tony Moll (born August 23, 1983) is a retired American football guard and offensive tackle of the National Football League (NFL).
1982 – Natalie Coughlin, American swimmer. Natalie Anne Coughlin Hall (born August 23, 1982) is an American competition swimmer and twelve-time Olympic medalist.
1982 – Scott Palguta, American soccer player, was named the head men's soccer coach at Colorado College on February 6, 2015. He is a former American soccer player who most recently played for Colorado Rapids in Major League Soccer.
1980 – Rex Grossman, American football player. Rex Daniel Grossman III (born August 23, 1980) is a former American football quarterback who played in the National Football League for nine seasons.
1978 – Julian Casablancas, American singer-songwriter and producer. He is best known as the lead singer and primary songwriter of American rock band The Strokes.
1978 – Kobe Bryant, American basketball player and businessman. He entered the NBA directly from high school and won five NBA championships.
1978 – Randal Tye Thomas, American journalist and politician (d. 2014). Randal Tye Thomas (August 23, 1978 – January 13, 2014) served as Mayor of Gun Barrel City, Texas.
1976 – Pat Garrity, American basketball player. Patrick Joseph Garrity (born August 23, 1976) is an American former professional basketball player who played for ten years in the National Basketball Association (NBA).
1974 – Mark Bellhorn, American baseball player. In his ten-year Major League Baseball career, Bellhorn was best known for being the starting second baseman for the Boston Red Sox during their 2004 World Series championship season.
1973 – Casey Blake, American baseball player. He had alternated between playing at third base and first base before becoming a full-time third baseman with the Indians.
1972 – Raul Casanova, Puerto Rican-American baseball player, was a catcher from 1996 to 2008 with the exception of 1999, 2003, 2004, and 2006.
1970 – Jay Mohr, American actor, producer, and screenwriter. Jon Ferguson "Jay" Mohr (born August 23, 1970) is an American actor, comedian and radio host.
1970 – Lawrence Frank, American basketball player and coach. Lawrence Adam Frank (born August 23, 1970) is an American basketball coach who is currently working as the President of Basketball Operations for the Los Angeles Clippers of the National Basketball Association (NBA).
1970 – River Phoenix, American actor (d. 1993), was an American actor, musician, and animal activist. He was the older brother of Rain Phoenix, Joaquin Phoenix, Liberty Phoenix, and Summer Phoenix.
1969 – Jeremy Schaap, American journalist and author. Schaap is an eleven-time Emmy Award winner for his work on ESPN's E:60, SportsCenter, and Outside the Lines.
1968 – Chris DiMarco, American golfer. DiMarco has won seven tournaments as a pro, including three PGA Tour events.
1968 – Laura Claycomb, American soprano. Laura Claycomb (born August 23, 1968) is an American lyric coloratura soprano opera singer.
1966 – Rik Smits, Dutch-American basketball player, was drafted by the Pacers out of Marist College with the second overall pick in the 1988 NBA draft. An NBA All-Star in 1998, Smits reached the NBA Finals in 2000.
1963 – Kenny Wallace, American race car driver. In a career spanning twenty-five years in NASCAR, Wallace had nine wins, all occurring in the Xfinity Series.
1961 – Dean DeLeo, American guitarist and songwriter. Dean DeLeo (born August 23, 1961 in Glen Ridge, New Jersey) is an American guitarist and songwriter known for his work with rock band Stone Temple Pilots.
1960 – Gary Hoey, American guitarist, songwriter, and producer. He has recorded over 20 albums and had five Top 20 Billboard hits.
1954 – Charles Busch, American actor and screenwriter. Charles Louis Busch (born August 23, 1954) is an American actor, screenwriter, playwright and female impersonator, known for his appearances on stage in his own camp style plays and in film and television.
1951 – Allan Bristow, American basketball player and coach. A 6 ft 7 in, 210 lb (95 kg) forward, he had a 10-year career in both the NBA and the ABA, playing for the Sixers, the San Antonio Spurs (in both leagues), the Utah Jazz, and finishing his playing career with the Dallas Mavericks.
1951 – Jimi Jamison, American singer-songwriter and musician (Survivor) (d. 2014), was an American musician, singer, and songwriter. Jamison was the frontman of the platinum-selling rock band Survivor from 1984 to 1989, a short period in 1992, from 2000 to 2006, and from 2011 until his death.
1949 – Rick Springfield, Australian-American singer-songwriter, guitarist, and actor. Richard Lewis Springthorpe (born 23 August 1949) is an Australian musician and actor, known by his stage name Rick Springfield.
1949 – Shelley Long, American actress. She won two Golden Globe Awards for the role.
1948 – Rudy Ruettiger, American football player. Daniel Eugene "Rudy" Ruettiger (born August 22, 1948) is a motivational speaker who played college football at the University of Notre Dame.
1945 – Rayfield Wright, American football player and coach. Larry Rayfield Wright (born August 23, 1945) is a former American football player, an offensive tackle for the Dallas Cowboys of the National Football League for thirteen seasons and a member of the Pro Football Hall of Fame, having been inducted in 2006.
1944 – Antonia Novello, Puerto Rican-American physician and admiral, 14th Surgeon General of the United States. Antonia Coello Novello, M.D., (born August 23, 1944) is a physician and public health administrator.
1943 – Nelson DeMille, American lieutenant and author. Nelson Richard DeMille (born August 23, 1943) is an American author of action adventure and suspense novels.
1942 – Nancy Richey, American tennis player. Nancy Richey (born August 23, 1942) is a former tennis player from the United States, who won two Grand Slam singles titles (1967 Australian Championships and 1968 French Open) and four Grand Slam women's doubles titles (1965 U.S.
1940 – Galen Rowell, American mountaineer and photographer (d. 2002), was a wilderness photographer, adventure photojournalist and climber. Born in Oakland, California, he became a full-time photographer in 1972.
1936 – Henry Lee Lucas, American murderer (d. 2001), was an American convicted serial killer whose crimes spanned from 1960 to 1983. He was convicted of murdering eleven people and condemned to death for the murder of Debra Jackson, although his sentence would be commuted to life in prison in 1998.
1936 – Rudy Lewis, American R&B singer (The Drifters) (d. 1964), was an American rhythm and blues singer known for his work with the Drifters. In 1988, he was posthumously inducted into the Rock and Roll Hall of Fame.
1934 – Sonny Jurgensen, American football player and sportscaster. Christian Adolph Jurgensen III (born August 23, 1934), known better as Sonny Jurgensen, is a former American football quarterback in the National Football League (NFL) for the Philadelphia Eagles and Washington Redskins.
1933 – Pete Wilson, American commander and politician, 36th Governor of California. A Republican, he served as a United States Senator and the 36th Governor of California.
1933 – Robert Curl, American chemist and academic, Nobel Prize laureate. Robert Floyd Curl Jr. (born August 23, 1933) is a University Professor Emeritus, Pitzer–Schlumberger Professor of Natural Sciences Emeritus, and Professor of Chemistry Emeritus at Rice University.
1932 – Mark Russell, American comedian and pianist. His routines were a mix of political stand-up humor covering current events, and musical parodies in which he accompanied himself on his trademark American flag-themed piano.
1931 – Barbara Eden, American actress and singer. Barbara Eden (born Barbara Jean Morehead, August 23, 1931) is an American film, stage, and television actress, and singer, best known for her starring role of "Jeannie" in the sitcom I Dream of Jeannie.
1931 – Hamilton O. Smith, American microbiologist and academic, Nobel Prize laureate. Hamilton Othanel Smith (born August 23, 1931) is an American microbiologist and Nobel laureate.
1928 – Marian Seldes, American actress (d. 2014), was an American stage, film, radio, and television actress whose career spanned over 60 years. A five-time Tony Award nominee, she won the Tony Award for Best Featured Actress in a Play for A Delicate Balance in 1967, and received subsequent nominations for Father's Day (1971), Deathtrap (1978–82), Ring Round the Moon (1999), and Dinner at Eight (2002).
1927 – Allan Kaprow, American painter and author (d. 2006), was an American painter, assemblagist and a pioneer in establishing the concepts of performance art. He helped to develop the "Environment" and "Happening" in the late 1950s and 1960s, as well as their theory.
1926 – Clifford Geertz, American anthropologist and academic (d. 2006), was an American anthropologist who is remembered mostly for his strong support for and influence on the practice of symbolic anthropology, and who was considered "for three decades...the single most influential cultural anthropologist in the United States." He served until his death as professor emeritus at the Institute for Advanced Study, Princeton.
1925 – Robert Mulligan, American director and producer (d. 2008), was an American film and television director best known as the director of humanistic American dramas, including To Kill a Mockingbird (1962), Summer of '42 (1971), The Other (1972), Same Time, Next Year (1978) and The Man in the Moon (1991). He was also known in the 1960s for his extensive collaborations with producer Alan J.
1924 – Robert Solow, American economist and academic, Nobel Prize laureate. Robert Merton Solow, GCIH (/ˈsoʊloʊ/; born August 23, 1924), is an American economist whose work on the theory of economic growth culminated in the exogenous growth model named after him.
1923 – Edgar F. Codd, English-American computer scientist and programmer (d. 2003), was an English computer scientist who, while working for IBM, invented the relational model for database management, the theoretical basis for relational databases and relational database management systems. He made other valuable contributions to computer science, but the relational model, a very influential general theory of data management, remains his most mentioned, analyzed and celebrated achievement.
1922 – George Kell, American baseball player and sportscaster (d. 2009), was an American Major League Baseball third baseman who played fifteen seasons for the Philadelphia Athletics (1943–1946), Detroit Tigers (1947–1952), Boston Red Sox (1952–1954), Chicago White Sox (1954–1956), and Baltimore Orioles (1956–57). Kell went on to become a Detroit Tigers broadcaster for thirty-seven years.
1922 – Jean Darling, American actress and singer (d. 2015), was an American child actress who was a regular in the Our Gang short subjects series from 1927-29. Prior to her death, she was one of four surviving cast members from the silent era cast of Our Gang (Lassie Lou Ahern, Mildred Kornman and Dorothy Morrison being the others).
1921 – Kenneth Arrow, American economist and academic, Nobel Prize laureate (d. 2017), was an American economist, mathematician, writer, and political theorist. He was the joint winner of the Nobel Memorial Prize in Economic Sciences with John Hicks in 1972.
1917 – Tex Williams, American singer-songwriter and guitarist (d. 1985), was an American Western swing musician from Ramsey, Illinois. He is best known for his talking blues style; his biggest hit was the novelty song, "Smoke! Smoke! Smoke! (That Cigarette)", which held the number one position on the Billboard charts for sixteen weeks in 1947. "Smoke" was the No. 5 song on Billboard's Top 100 list for 1947, and was No. 1 on the country chart that year.
1913 – Bob Crosby, American swing singer and bandleader (d. 1993), was an American jazz singer and bandleader, best known for his group the Bob-Cats, which formed around 1935. The Bob-Cats was a New Orleans Dixieland-style jazz octet.
1912 – Gene Kelly, American actor, singer, and dancer (d. 1996), was an American-Irish dancer, actor of film, stage, and television, singer, film director, producer, screenwriter, comedian and choreographer. He was known for his energetic and athletic dancing style, his good looks, and the likable characters that he played on screen.
1910 – Lonny Frey, American baseball player and soldier (d. 2009), was an American infielder in Major League Baseball who played from 1933 through 1948 for the Brooklyn Dodgers (1933–1936), Chicago Cubs (1937, 1947), Cincinnati Reds (1938–1943, 1946), New York Yankees (1947–1948), and New York Giants (1948). He was born in Saint Louis, Missouri, and was listed as 5 feet 10 inches (1.78 m) tall and 160 pounds (73 kg).
1905 – Ernie Bushmiller, American cartoonist (d. 1982), was an American cartoonist, best known for creating the daily comic strip Nancy, which premiered in 1938 and has been around for over 85 years. His work is noted for its simple graphic style.
1901 – Guy Bush, American baseball player and manager (d. 1985), was an American right-handed pitcher in Major League Baseball, nicknamed the Mississippi Mudcat.
1901 – John Sherman Cooper, American captain, lawyer, and politician, 2nd United States Ambassador to East Germany (d. 1991), was an American politician, jurist, and diplomat from the U.S. state of Kentucky. He served three non-consecutive, partial terms in the United States Senate before being elected to two full terms in 1960 and 1966.
1900 – Ernst Krenek, Austrian-American composer and educator (d. 1991), was an Austrian, later American, composer of Czech origin. He explored atonality and other modern styles and wrote a number of books, including Music Here and Now (1939), a study of Johannes Ockeghem (1953), and Horizons Circled: Reflections on my Music (1974).
1900 – Malvina Reynolds, American singer-songwriter and activist (d. 1978), was an American folk/blues singer-songwriter and political activist, best known for her songwriting, particularly the songs "Little Boxes" and "Morningtown Ride."
1897 – Henry F. Pringle, American historian and journalist (d. 1958). Pringle (1897 - 1958) was an American historian and author most famous for his witty but scholarly biography of Theodore Roosevelt which won the Pulitzer prize in 1932, as well as a scholarly biography of William Howard Taft.
1890 – Harry Frank Guggenheim, American businessman and publisher, co-founded Newsday (d. 1971), was an American businessman, diplomat, publisher, philanthropist, aviator, and horseman.
1884 – Ogden L. Mills, American captain, lawyer, and politician, 50th United States Secretary of the Treasury (d. 1937), was an American lawyer, businessman and politician. He served as United States Secretary of the Treasury in President Herbert Hoover's cabinet, during which time Mills pushed for tax increases, spending cuts and other austerity measures that would deepen the economic crisis.
1884 – Will Cuppy, American author and critic (d. 1949), was an American humorist and literary critic, known for his satirical books about nature and historical figures. Writing funny but factual magazine articles was Cuppy's real talent.
1883 – Jonathan M. Wainwright, American general, Medal of Honor recipient (d. 1953). Jonathan Wainwright may refer to several members of the Wainwright family of the United States:
1868 – Edgar Lee Masters, American lawyer, author, poet, and playwright (d. 1950), was an American attorney, poet, biographer, and dramatist. He is the author of Spoon River Anthology, The New Star Chamber and Other Essays, Songs and Satires, The Great Valley, The Serpent in the Wilderness, An Obscure Tale, The Spleen, Mark Twain: A Portrait, Lincoln: The Man, and Illinois Poems.
1847 – Sarah Frances Whiting, American physicist and astronomer (d. 1927), was the instructor to several astronomers, including Annie Jump Cannon.
1846 – Alexander Milne Calder, Scottish-American sculptor (d. 1923), was a Scottish American sculptor best known for the architectural sculpture of Philadelphia City Hall. Both his son, Alexander Stirling Calder, and grandson, Alexander "Sandy" Calder, became significant sculptors in the 20th century.
1814 – James Roosevelt Bayley, American archbishop (d. 1877), was an American prelate of the Catholic Church. He served as the first Bishop of Newark (1853–72) and the eighth Archbishop of Baltimore (1872–77).
1785 – Oliver Hazard Perry, American commander (d. 1819), was an American naval commander, born in South Kingstown, Rhode Island. As the most well-known and prominent member of The Perry Family naval dynasty, he was the son of Sarah Wallace Alexander and United States Navy Captain Christopher Raymond Perry, and older brother of Commodore Matthew C.
1783 – William Tierney Clark, English engineer, designed the Hammersmith Bridge (d. 1852), was an English civil engineer particularly associated with the design and construction of bridges. He was among the earliest designers of suspension bridges.
1724 – Abraham Yates, Jr., American lawyer and civil servant (d. 1796), was an American lawyer, civil servant, and pamphleteer from Albany, New York.
Deaths
2016 – Steven Hill, American actor (b. 1922)
2014 – Dan Magill, American swimmer, tennis player, and coach (b. 1921)
2013 – Charles Lisanby, American production designer and set director (b. 1924)
2013 – Richard J. Corman, American businessman, founded the R.J. Corman Railroad Group (b. 1955)
2013 – William Glasser, American psychiatrist and author (b. 1925)
2012 – Jerry Nelson, American puppeteer and voice actor (b. 1934)
2012 – Josepha Sherman, American anthologist and author (b. 1946)
2008 – John Russell, English-American author and critic (b. 1919)
2005 – Brock Peters, American actor (b. 1927)
2003 – Bobby Bonds, American baseball player and manager (b. 1946)
2002 – Hoyt Wilhelm, American baseball player and coach (b. 1922)
2001 – Kathleen Freeman, American actress (b. 1919)
2001 – Peter Maas, American journalist and author (b. 1929)
2000 – John Anthony Kaiser, American priest and missionary (b. 1932)
1999 – Norman Wexler, American screenwriter (b. 1926)
1995 – Alfred Eisenstaedt, German-American photographer and journalist (b. 1898)
1982 – Stanford Moore, American biochemist and academic, Nobel Prize laureate (b. 1913)
1967 – Nathaniel Cartmell, American runner and coach (b. 1883)
1966 – Francis X. Bushman, American actor, director, and screenwriter (b. 1883)
1962 – Hoot Gibson, American actor, director, and producer (b. 1892)
1960 – Oscar Hammerstein II, American director, producer, and composer (b. 1895)
1949 – Helen Churchill Candee, American geographer, journalist, and author (b. 1858)
1933 – Adolf Loos, Austrian architect and theoretician, designed Villa Müller (b. 1870)
1853 – Alexander Calder, American lawyer and politician (b. 1806)
1819 – Oliver Hazard Perry, American commander (b. 1785)
1723 – Increase Mather, American minister and author (b. 1639)
International Day for the Remembrance of the Slave Trade and Its Abolition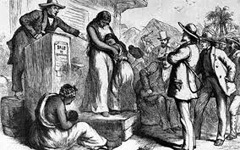 In 2015 year's celebration of the International Day for the Remembrance of the Slave Trade and its Abolition coincides with the launch of the International Decade for Peo..→