Friday 30 August 2019 Calendar with holidays, observances and special days
Holidays and observances
Events
1984 – STS-41-D: The Space Shuttle Discovery takes off on its maiden voyage.
1967 – Thurgood Marshall is confirmed as the first African American Justice of the Supreme Court of the United States.
1962 – Japan conducts a test of the NAMC YS-11, its first aircraft since World War II and its only successful commercial aircraft from before or after the war.
1909 – Burgess Shale fossils are discovered by Charles Doolittle Walcott.
1873 – Austrian explorers Julius von Payer and Karl Weyprecht discover the archipelago of Franz Josef Land in the Arctic Sea.
1862 – American Civil War: Battle of Richmond: Confederates under Edmund Kirby Smith rout Union forces under General William "Bull" Nelson.
1835 – Australia: Melbourne, Victoria is founded.
1813 – First Battle of Kulm: French forces are defeated by an Austrian-Prussian-Russian alliance.
Births
1991 – Jacqueline Cako, American tennis player
1989 – Bebe Rexha, American singer-songwriter
1986 – Ryan Ross, American singer-songwriter and guitarist
1985 – Joe Inoue, American singer-songwriter
1982 – Andy Roddick, American tennis player
1981 – Adam Wainwright, American baseball player
1981 – Germán Legarreta, Puerto Rican-American actor
1980 – Derrick Ward, American football player
1978 – Cliff Lee, American baseball player
1977 – Félix Sánchez, American-Dominican runner and hurdler
1977 – Marlon Byrd, American baseball player
1977 – Shaun Alexander, American football player
1976 – Mike Koplove, American baseball player
1974 – Aaron Barrett, American singer-songwriter, guitarist, and producer
1973 – Lisa Ling, American journalist and author
1972 – Cameron Diaz, American model, actress, and producer
1971 – Lars Frederiksen, American singer-songwriter and guitarist
1963 – Dave Brockie, Canadian-American singer-songwriter and bass player (d. 2014)
1963 – Michael Chiklis, American actor, director, and producer
1962 – Ricky Sanders, American football player
1960 – Gary Gordon, American sergeant, Medal of Honor recipient (d. 1993)
1958 – Fran Fraschilla, American basketball player, coach, and sportscaster
1956 – Frank Conniff, American actor, producer, and screenwriter
1955 – Jamie Moses, English-American guitarist
1954 – David Paymer, American actor and director
1953 – Robert Parish, American basketball player
1953 – Ron George, American businessman and politician
1951 – Timothy Bottoms, American actor and producer
1949 – Ted Ammon, American financier and banker (d. 2001)
1948 – Fred Hampton, American activist and revolutionary, chairman of the Illinois chapter of the Black Panther Party
1948 – Lewis Black, American comedian, actor, and author
1946 – Peggy Lipton, American model and actress
1944 – Molly Ivins, American journalist and author (d. 2007)
1944 – Tug McGraw, American baseball player (d. 2004)
1943 – David Maslanka, American composer and academic
1943 – Robert Crumb, American illustrator
1943 – Tal Brody, American-Israeli basketball player and coach
1941 – Ben Jones, American actor and politician
1939 – Elizabeth Ashley, American actress
1937 – Bruce McLaren, New Zealand race car driver and engineer, founded the McLaren racing team (d. 1970)
1935 – Alexandra Bellow, Romanian-American mathematician
1935 – John Phillips, American singer-songwriter and guitarist (d. 2001)
1931 – Jack Swigert, American pilot and astronaut (d. 1982)
1930 – Warren Buffett, American businessman and philanthropist
1928 – Johnny Mann, American singer-songwriter and conductor (d. 2014)
1928 – Lloyd Casner, American race car driver (d. 1965)
1927 – Bill Daily, American actor
1927 – Geoffrey Beene, American fashion designer (d. 2004)
1926 – Daryl Gates, American police officer, created the D.A.R.E. Program (d. 2010)
1925 – Donald Symington, American actor (d. 2013)
1924 – Kenny Dorham, American singer-songwriter and trumpet player (d. 1972)
1923 – Vic Seixas, American tennis player
1922 – Regina Resnik, American soprano and actress (d. 2013)
1919 – Kitty Wells, American singer-songwriter and guitarist (d. 2012)
1919 – Maurice Hilleman, American microbiologist and vaccinologist (d. 2005)
1918 – Billy Johnson, American baseball player (d. 2006)
1918 – Ted Williams, American baseball player and manager (d. 2002)
1915 – Robert Strassburg, American composer, conductor, and educator (d. 2003)
1912 – Edward Mills Purcell, American physicist and academic, Nobel Prize laureate (d. 1997)
1909 – Virginia Lee Burton, American author and illustrator (d. 1968)
1908 – Fred MacMurray, American actor (d. 1991)
1907 – Bertha Parker Pallan, American archaeologist (d. 1978)
1907 – John Mauchly, American physicist and co-founder of the first computer company (d. 1980)
1906 – Joan Blondell, American actress and singer (d. 1979)
1901 – John Gunther, American journalist and author (d. 1970)
1901 – Roy Wilkins, American journalist and activist (d. 1981)
1898 – Shirley Booth, American actress and singer (d. 1992)
1896 – Raymond Massey, Canadian-American actor and playwright (d. 1983)
1893 – Huey Long, American lawyer and politician, 40th Governor of Louisiana (d. 1935)
1852 – J. Alden Weir, American painter and academic (d. 1919)
1848 – Andrew Onderdonk, American surveyor and contractor (d. 1905)
1839 – Gulstan Ropert, French-American bishop and missionary (d. 1903)
1818 – Alexander H. Rice, American businessman and politician, 30th Governor of Massachusetts (d. 1895)
1812 – Agoston Haraszthy, Hungarian-American businessman, founded Buena Vista Winery (d. 1869)
1768 – Joseph Dennie, American author and journalist (d. 1812)
1720 – Samuel Whitbread, English brewer and politician, founded Whitbread (d. 1796)
Deaths
2017 – Louise Hay, American motivational author, (b. 1926)
2015 – Edward Fadeley, American lawyer and politician (b. 1929)
2015 – Marvin Mandel, American lawyer and politician, 56th Governor of Maryland (b. 1920)
2015 – Oliver Sacks, English-American neurologist, author, and academic (b. 1933)
2015 – Wes Craven, American director, producer, screenwriter, and actor (b. 1939)
2014 – Andrew V. McLaglen, English-American director and producer (b. 1920)
2013 – Allan Gotthelf, American philosopher and academic (b. 1942)
2013 – Howie Crittenden, American basketball player and coach (b. 1933)
2013 – Leo Lewis, American football player and coach (b. 1933)
2013 – William C. Campbell, American golfer (b. 1923)
2010 – J. C. Bailey, American wrestler (b. 1983)
2008 – Killer Kowalski, Canadian-American wrestler and trainer (b. 1926)
2007 – Charles Vanik, American soldier and politician (b. 1918)
2006 – Glenn Ford, Canadian-American actor and producer (b. 1916)
2004 – Fred Lawrence Whipple, American astronomer and academic (b. 1906)
2003 – Charles Bronson, American actor and soldier (b. 1921)
2003 – Donald Davidson, American philosopher and academic (b. 1917)
2001 – Ivor Spencer-Thomas, Welsh farmer and inventor (b. 1907)
1995 – Fischer Black, American economist and academic (b. 1938)
1995 – Sterling Morrison, American guitarist and singer (b. 1942)
1993 – Richard Jordan, American actor (b. 1938)
1989 – Seymour Krim, American journalist and critic (b. 1922)
1985 – Taylor Caldwell, English-American author (b. 1900)
1981 – Vera-Ellen, American actress and dancer (b. 1921)
1979 – Jean Seberg, American actress (b. 1938)
1970 – Del Moore, American comedian and actor (b. 1916)
1968 – William Talman, American actor and screenwriter (b. 1915)
1967 – Ad Reinhardt, American painter, illustrator, and academic (b. 1913)
1961 – Charles Coburn, American actor (b. 1877)
1938 – Max Factor, Sr., Polish-born American make-up artist and businessman, founded the Max Factor Company (b. 1877)
1908 – Alexander P. Stewart, American general (b. 1821)
1907 – Richard Mansfield, American actor and manager (b. 1857)
1906 – Hans Auer, Swiss-Austrian architect and educator, designed the Federal Palace of Switzerland (b. 1847)
1886 – Ferris Jacobs, Jr., American general and politician (b. 1836)
1879 – John Bell Hood, American general (b. 1831)
Friday 30 August 2019
International Day of the Victims of Enforced Disappearances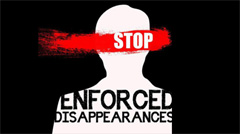 On 21 December 2010, by its resolution 65/209 the UN General Assembly expressed its deep concern, in particular, by the increase in enforced or involuntary disappearances..→